This Instant Pot Split Pea Soup, made with a leftover ham bone (or any other ham), is a game-changer. The pressure cooker cuts the cooking time in half and imparts the flavor of the ham into every scrumptious bite. It's so simple, but SO delicious. And it's ridiculously easy to make!
What are split peas?
Dried split peas are part of a food group known as pulses, which include beans, chickpeas, peas, and lentils. I love cooking pulses in my pressure cooker because it takes such a short amount of time, meaning you can start it on a weeknight and have it ready in less than an hour for dinner. My last pressure cooker pulse creation was this Instant Pot Chili, made with dried kidney beans and ground beef.
I love cooking with split peas because they have many of the same health benefits as other pulses, but take a shorter time to cook and don't require pre-soaking. And they are just so tasty!
And my favorite part about pulses: you get a lot of nutritional bang for your buck. They are one of the cheapest and healthiest foods out there- a whole 1lb. bag of split peas cost me only $0.89 when I made this recipe.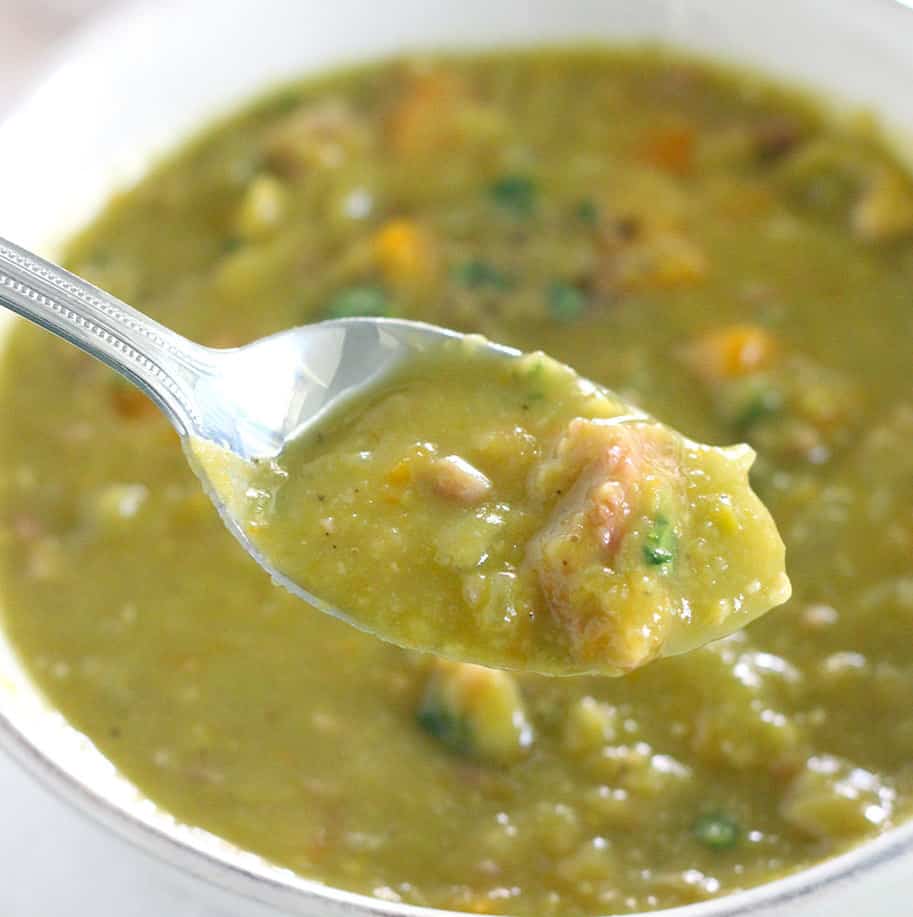 How to make split pea soup with a ham bone
If you're planning on having ham this holiday season, do NOT throw out the bone! And don't let the person hosting throw it out either. I fully plan on being "that person" who asks to take the turkey carcass home after Thanksgiving at my in-laws so I can make homemade turkey stock. I don't care, I am who I am :-)
Adding a ham bone to split pea soup elevates it to a whole new level. There is a ton of flavor in the bone itself, as well as marrow and gelatin, which infuses into the soup as it cooks (which both thickens it and gives it many of the same health benefits as bone broth). And there's also still likely a lot of meat left on the bone, which will easily come off after letting it simmer in the soup for so long.
Confession: I actually bought a whole ham JUST so I would have the bone to make this soup. Such is the life of a food blogger.
What to do if you don't have a ham bone
You don't have to be like me and buy a whole ham just for the bone! If you don't have a ham bone – since it's not very often in life that we come across them, is it? – you can definitely just use thick-cut diced ham, or a ham hock.
You can use a smoked turkey leg if you want a pork-free version.
And you can even make this soup vegetarian or vegan by omitting the ham and making a few other changes (see notes in recipe below).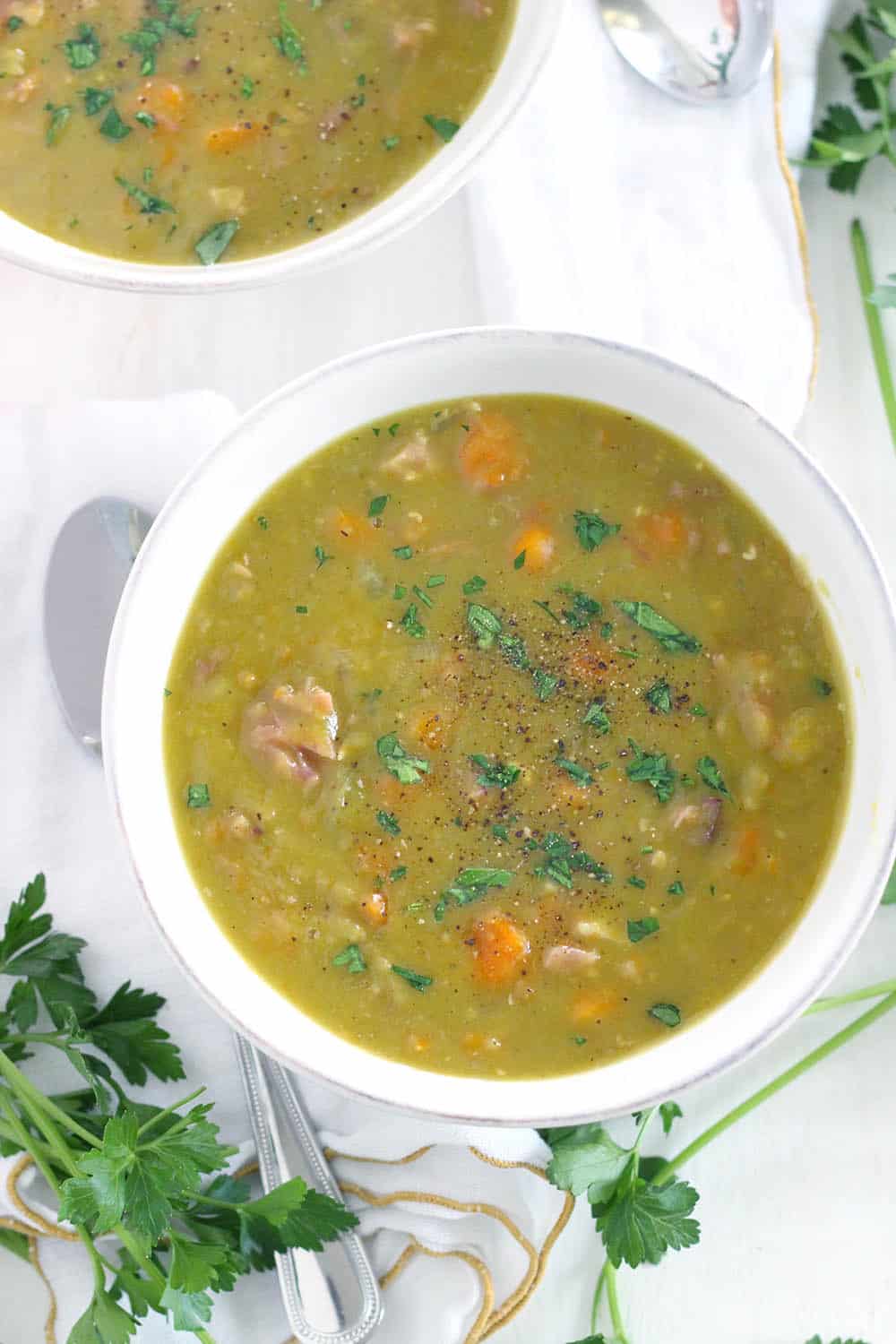 What kind of pressure cooker to use
I made my Instant Pot split pea soup in (you guessed it!) an Instant Pot. It's a very popular and high-quality pressure cooker, and I've been LOVING it.
You can even replace it for your slow cooker (it has a slow cooker setting as well). Pressure cookers not only cut the cooking time of things like pulses and tough cuts of meat wayyyyy down, but I find it also tends to cook things with better flavor than a slow cooker. It also has a sauté function, so you can cook up the mirepoix (that's the fancy word for the celery, carrots, and onions) right in the pot.
Keep an eye out for black Friday sales- I got my six quart Instant Pot for only around $60 last year (what a deal!).
Don't have a pressure cooker or instant pot? Just look at the recipe notes below for how to make this on your stovetop or in your slow cooker.
Other Easy Instant Pot Recipes
Here's a link to all of my pressure cooker/instant pot recipes! For a plant-based version, try this vegetarian split pea soup with potatoes, lemon, and dill.
Did you know commenting and rating recipes is one of the best ways you can support your favorite food bloggers? If you made this recipe, please click the stars below to comment and Rate this Recipe and/or share photos on social media using the hashtag #bowlofdelicious or tagging @bowlofdelicious!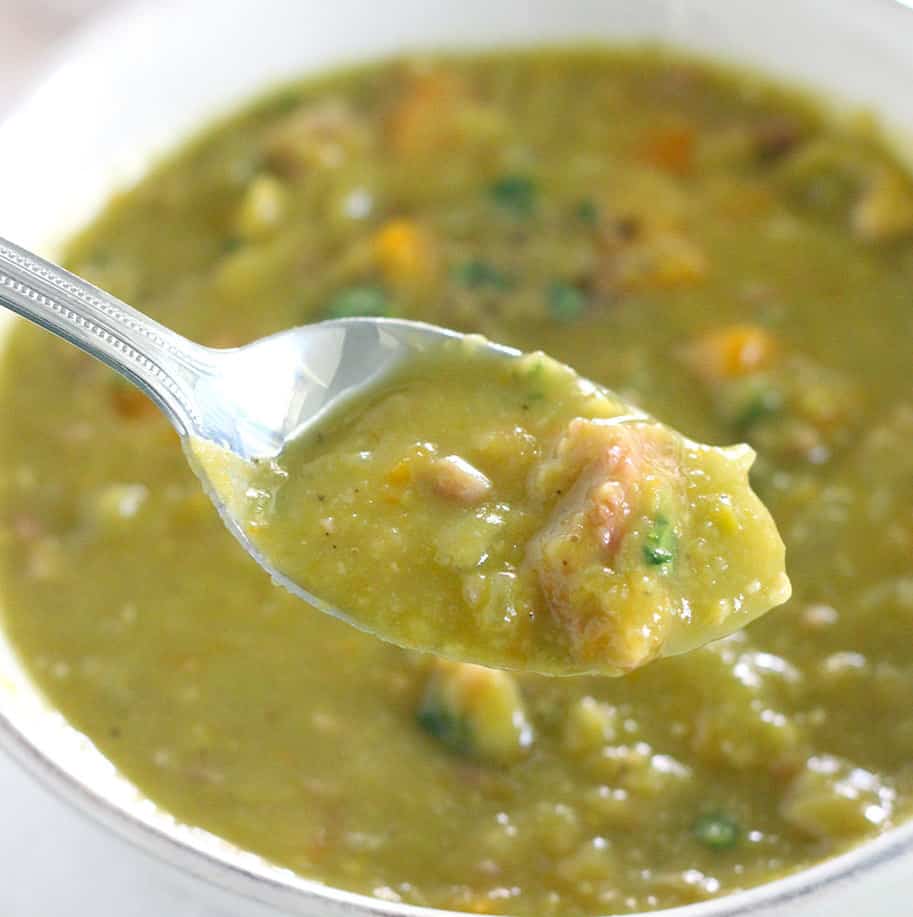 Instant Pot Split Pea Soup with Ham
This Instant Pot Split Pea Soup is made with a leftover ham bone (or any ham you have), for a super easy, freezable weeknight meal! The pressure cooker cuts the cooking time in half.
Save this Recipe
Saved!
Print
Pin
Rate
Ingredients
3

tablespoons

butter

1

onion

diced

2

ribs

celery

diced

2

carrots

diced

1

ham bone

a smoked ham hock or 6 oz. diced deli ham can also be used

1

lb.

dry split peas

sorted through and rinsed

6

cups

low sodium chicken stock/broth

or veggie stock, water, or a mixture

2

bay leaves

kosher salt and black pepper

(see notes)

chopped fresh parsley

for garnish, optional
Instructions
Turn pressure cooker to the "sauté" setting. Melt butter (3 tablespoons) and sauté onion, celery, and carrots for about 5 minutes, until softened.

Add the split peas, chicken stock (6 cups), ham bone (or hock or 6 oz. diced cooked ham), and the 2 bay leaves. Turn off the "sauté" function.

Cover pressure cooker and set to manual, high pressure for 15 minutes.

Allow the pressure to naturally release for 10-15 minutes. Then, quick release the pressure valve.

If you used a ham bone or hock: remove the it from the soup and remove the ham meat that's still attached to it. Add the ham meat back into the soup.

Taste and season with salt and pepper if necessary (see notes). Serve immediately, or store in your refrigerator for up to 1 week or freezer in an airtight container for up to 6 months.
Notes
A note about salt: if you use salty chicken broth, you may not need to add any salt at all since ham is also usually very salty.
The peas may take longer to cook depending on their age – the older dried legumes are, the longer they take to cook. This can vary based on brand, how long they've sat on grocery store shelves, or how long they've been in your pantry.
If you want to use a frozen ham bone, you shouldn't need to adjust the cooking time, since ham bones are technically already cooked, you're just reheating it! Keep in mind though, the colder your ingredients are, the longer it will take to come to pressure.
For a vegetarian version, omit the ham, use more salt and pepper, and make sure to use vegetable stock or water instead of chicken. For a vegan version, use olive oil instead of butter.
If you don't eat pork, you can substitute the ham bone for a smoked turkey leg.
To make this in your slow cooker, add all ingredients (omitting the butter) to slow cooker and cook on low for 8 hours or high for 4 hours, or until split peas are cooked to desired tenderness.
To make this on your stovetop, sauté veggies as instructed in a large pot. After adding the remaining ingredients, bring to a boil, cover, and simmer for approximately one hour (or until split peas are cooked to desired tenderness).
Ham usually comes cured/smoked, which means it's cooked and ready to eat. However, sometimes stores sell "fresh ham," which means it's uncooked. Do NOT use fresh ham for this recipe- use already cooked, smoked, and/or cured ham.
This soup will likely thicken once it cools and is refrigerated, especially if you use a ham bone to make it because of the gelatin. Thin out with water and adjust seasonings as necessary.
I made this recipe in my 6 qt. Instant pot. It should work the same in an 8 qt., but you may need to cut the ingredients in half for a 3 qt. mini. You should also be able to double the batch in an 8 quart pressure cooker.
The provided nutrition information does not include any added sodium from seasoning to taste, any optional ingredients, and it does not take brands into account. Feel free to calculate it yourself using this calculator or by adding the recipe to Yummly.
Nutrition
Serving:
1.5
cups
|
Calories:
307
kcal
|
Carbohydrates:
43
g
|
Protein:
18
g
|
Fat:
7
g
|
Saturated Fat:
3
g
|
Cholesterol:
16
mg
|
Sodium:
315
mg
|
Potassium:
814
mg
|
Fiber:
15
g
|
Sugar:
8
g
|
Vitamin A:
2765
IU
|
Vitamin C:
3.3
mg
|
Calcium:
46
mg
|
Iron:
3
mg
Nutrition Information Disclaimer
The provided nutrition information is my best estimate and does not include any added sodium from seasoning to taste, any optional ingredients, and it does not take brands into account. I use an automatic API to calculate this information. Feel free to calculate it yourself using one of these tools:
Very Well Fit Nutrition Information Calculator