This, my friends, is comfort food at its finest. It has all the taste of chicken pot pie without the effort (who has time to deal with a pie crust on a busy weeknight?).
This easy version of Chicken and Dumplings is made almost completely from scratch… with just a couple of cheats to make it extra fast and easy.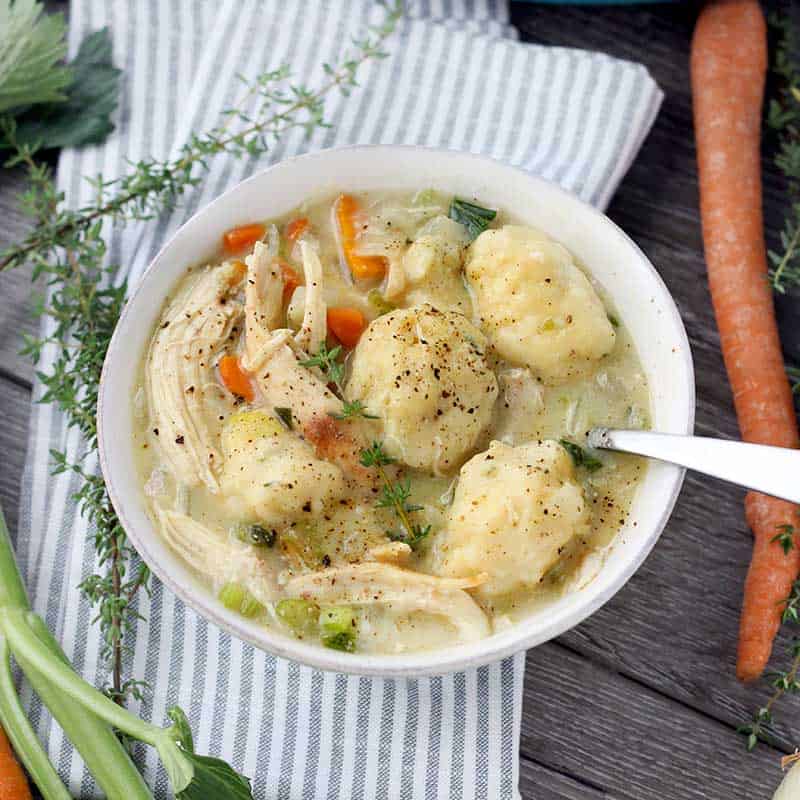 Traditionally, chicken and dumplings is a somewhat labor-intensive process, involving boiling an entire chicken to make stock, waiting for it to cool, and de-boning it, not to mention making dumpling dough by rolling and flattening out biscuit dough, creating a floury mess in your kitchen.
But almost every "quick and easy" recipe for chicken and dumplings I've come across has taken unhealthy shortcuts, such as using condensed canned creamed soup and pre-made biscuit dough.
I wanted to make a version of chicken and dumplings that was fast and easy to make but used as few pre-made, processed ingredients as possible.
This recipe only takes 30 minutes to make and has all that scratch-made, comforting flavor you crave!
This version is scratch-made, and you don't have to worry about any processed ingredients in here besides white flour.
When I can, I like to use whole wheat flour for my recipes, but for something like chicken and dumplings, I don't recommend it.
First of all, you need to thicken the stew to give it that luscious, creamy base, and white flour works much better for thickening because it has a higher starch content. It's like all the ingredients are swimming in a delicious gravy (what could be better?).
Second of all, the dumplings should be fluffy and soft and perfect. The density of whole wheat flour would make them a bit heavier.
In my recipe research, I did come across some recipes for chicken and dumplings that use a mixture of both whole wheat and white flour for the dumpling dough (like this one), so that might be worth a shot if you're interested!
I love that this recipe is so fast and easy to make, but you can also make it in advance. It reheats beautifully, so you can take it for cozy lunches all week long, and will keep in your refrigerator for about a week.
It's also freezable, so you can make a double batch and freeze one.
Expecting a baby or know someone who is? Need to bring something to someone who's going through a rough time? This would be PERFECT for stocking a freezer.
Another thing I LOVE about this recipe? It's super cheap to make.
It's a popular recipe in the American South and Midwest, but it actually may have originated in French Canada during the Great Depression.
If you want to save more money, making your own chicken broth and cooking your own chicken to make this will help. But on the whole, it's still pretty inexpensive if you use rotisserie chicken and store-bought broth.
I'd say this whole recipe only cost me about $12 to make using rotisserie chicken and store-bought broth, and it serves four people with generous portions.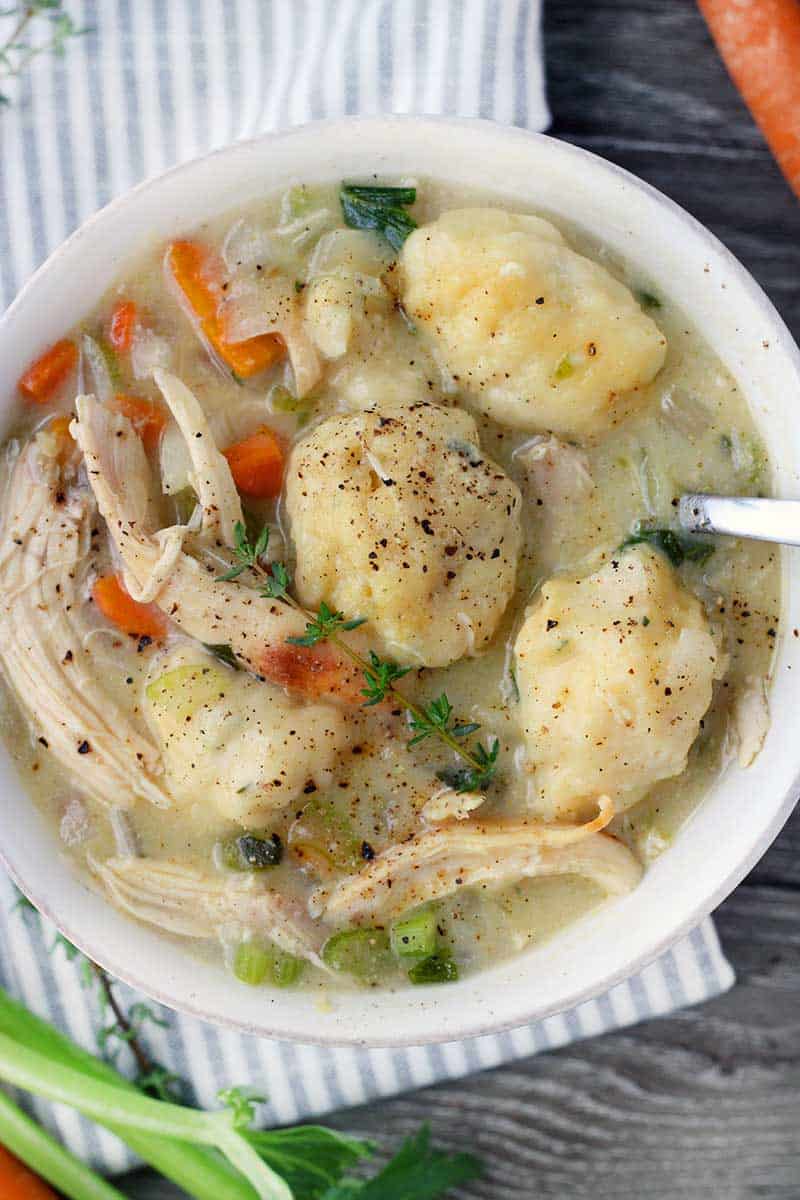 Here are the tricks to find that happy balance between a two-hour labor-intensive ordeal and dumping pre-made ingredients into a pot:
Use already cooked chicken and pre-made chicken broth. I'm an overachiever, so I used leftover meat from roasted chicken thighs and I simmered the bones, skin, and veggie scraps in the slow cooker overnight to make broth. You can certainly use a rotisserie chicken and store-bought stock for this.
Mix a simple biscuit dough and drop it directly in the broth with a small cookie scoop rather than rolling it/flattening it out. The dough will cook and expand directly in the stew and will be fluffy and delicious.
Love this recipe? You'll love this Chicken Pot Pie with a Whole Wheat Biscuit Crust, this Healthy 20-Minute Chicken and Mushroom Stroganoff, and this Easy Chicken Noodle Soup.

Printable recipe for these super easy chicken and dumplings below!
Print
Easy Chicken and Dumplings from Scratch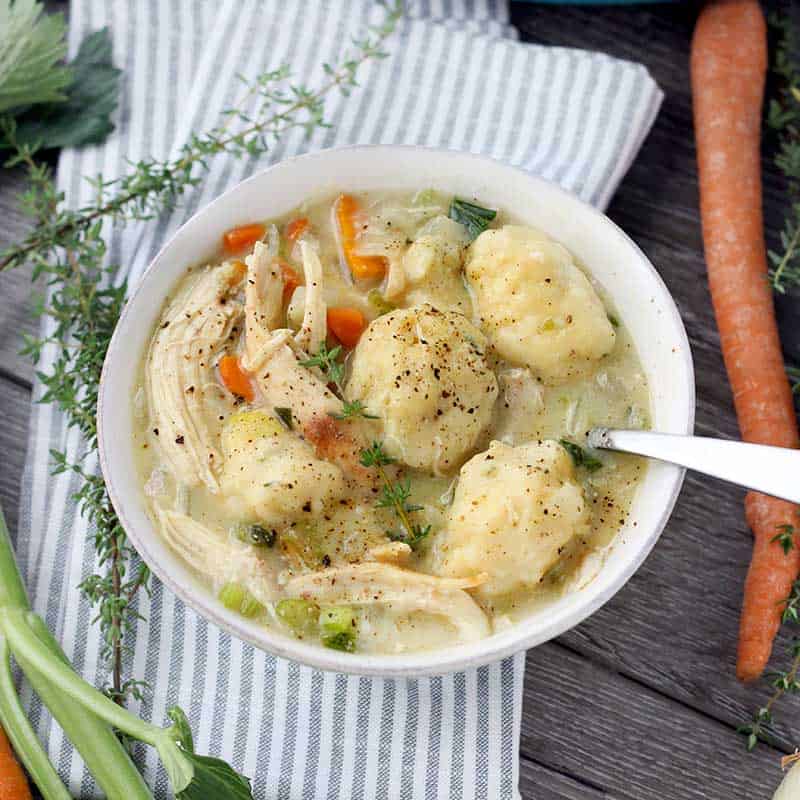 Easy Chicken and Dumplings from Scratch – If you use already cooked chicken (such as rotisserie) and store-bought broth, chicken and dumplings from scratch is a fast and easy comfort food meal to make on busy nights! The fresh thyme in the dumplings sets it over the edge.
Author:
Prep Time:

5 mins

Cook Time:

25 mins

Total Time:

30 mins

Yield:

4 servings

Category:

Soup

Method:

Stovetop

Cuisine:

American
Ingredients
4 tablespoons butter, divided
2 carrots, diced small
2 stalks celery plus their leaves, diced
1 onion, diced
1 1/4 cup flour, divided
4 cups chicken broth
1 cup whole milk, divided
1 teaspoon salt
1 teaspoon baking powder
1 teaspoon fresh thyme leaves (or 1/2 teaspoon dried), plus more for garnish
2 cups cooked diced or shredded chicken
extra salt and pepper
Instructions
Saute the carrots, celery, and onions in 2 tablespoons of the butter in a large pot over medium high heat until browned and soft (about 3 minutes).
Add 1/4 cup flour, stir to coat.
Add chicken broth and bring to a boil.
Turn the heat down to simmer and add 1/2 cup milk and the chicken. Season with salt and pepper.
Meanwhile, to make the dumplings, mix together the remaining 1 cup of flour, 1 teaspoon salt, baking powder, and fresh thyme leaves. Stir in the remaining 2 tablespoons of butter, melted, until flour mixture is crumbly looking. Add the remaining 1/2 cup of milk and stir until just combined.
Add spoonfuls of the dumpling mixture to the simmering pot- I recommend using a small cookie scoop for this.
Cover and simmer for 15 minutes, or until dumplings are fluffy, cooked, and float to the top.
Serve garnished with extra fresh thyme and fresh ground pepper, if desired.
Notes
Freeze the leftovers, or double the batch and freeze one for later in an airtight container for up to 6 months.
I do my best to provide accurate nutrition information for my recipes, but I am not a nutritionist. The provided nutrition information is my best estimate. It does not include any added sodium from seasoning to taste, any optional ingredients, and it does not take brands into account. Feel free to calculate it yourself using this calculator or by adding the recipe to Yummly.
Nutrition
Calories:

451

Sugar:

6.8 g

Sodium:

1526 mg

Fat:

17.4 g

Saturated Fat:

9.5 g

Carbohydrates:

40.1 g

Fiber:

2.7 g

Protein:

31.9 g

Cholesterol:

91 mg
Keywords: Southern food, freezer meals, comfort food, real food