Most people's comfort food is some kind of casserole, mac'n'cheese, or other simple American fare.
Manestra is mine.
Comfort food really is what you grow up eating, and my mom had lots of delicious, simple Greek recipes that I still make when I want something warm, comforting, and non-vegetable based (because what comfort food is made of vegetables?) :-)
This recipe is simple, and I sometimes refer to it as "Greek Chop Suey" – Ground beef or turkey (or lamb, if you want to get fancy) is cooked with onions in a tomato-based broth with orzo, with mint and cinnamon added for a unique Greek flavor.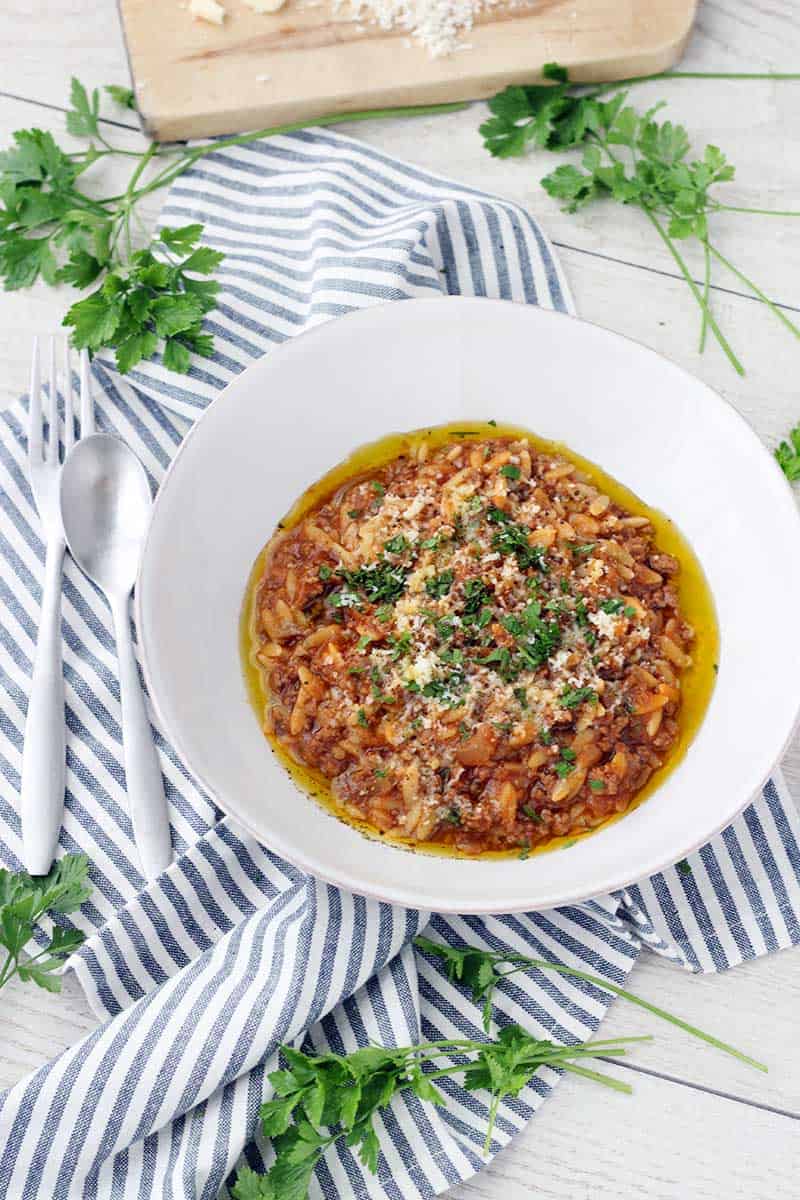 I know what you are thinking.
Mint and cinnamon?
Really?
Trust me, it works.
Cinnamon is added to a lot of meat-based Greek recipes (have you ever had Cincinnati-style chili? Chili with cinnamon added to it, first made by Greek immigrants in the area). The mint is super unique but subtle and gives the whole thing a great flavor.
You will just have to trust me and go make it for yourself :-)
Start by browning 1 pound of ground beef or turkey with one large diced onion. I used ground turkey for this one- both are delicious!
Once the meat is cooked through, add 1 small can of tomato paste, 1 teaspoon salt and pepper to taste, and the spices.
There isn't a lot of cinnamon in this dish- only 1/8 teaspoon. For the mint, I use dried spearmint
leaves (I have never tried fresh, but I have a mind to start an herb garden in the spring and will try it later for sure!).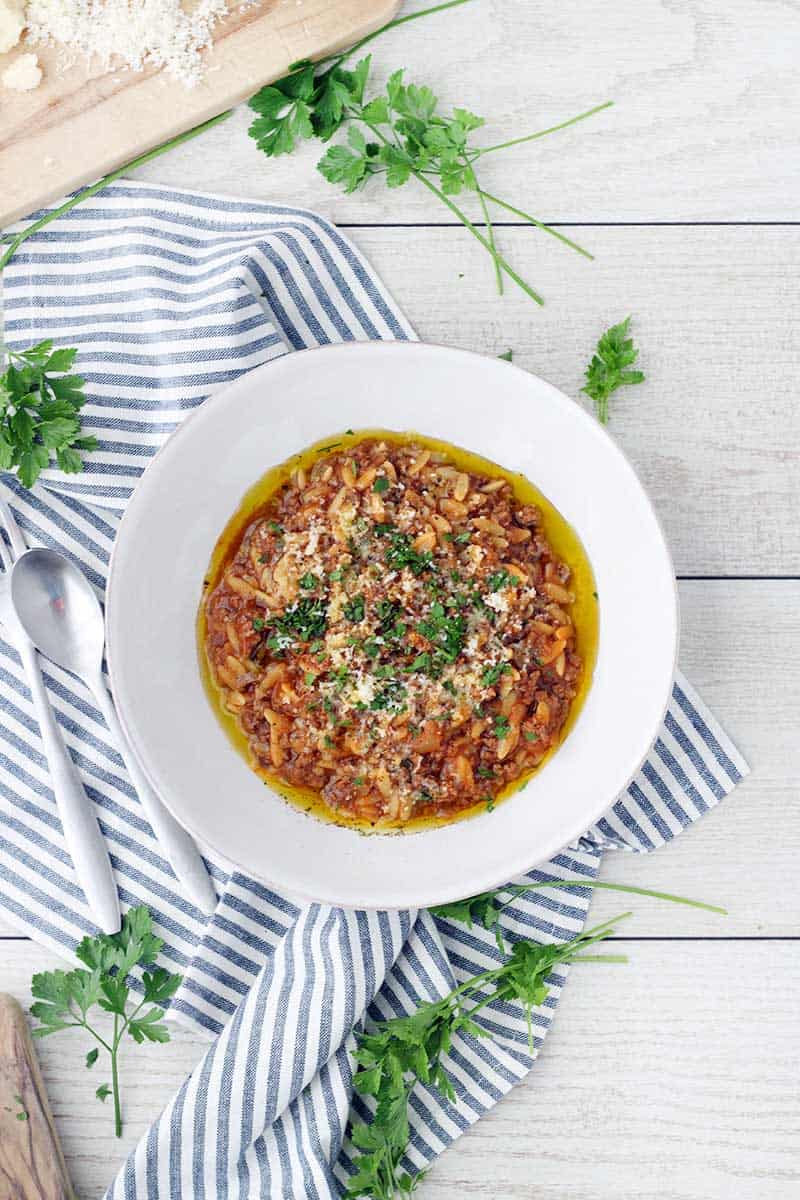 Get a heaping teaspoon of the mint, and put it in the palm of your hand.
Crush the dried leaves when you add it to the pot by rubbing it between your hands as you add it to maximize the flavor of the mint. This part is fun- it kind of feels like I'm making a potion and I actually live in Hogwarts, and I should be saying some kind of spell while adding it.
Stir to coat the meat in the tomato and spice mixture, and add 4 cups of water. Bring to a boil, add 1 cup regular or whole wheat orzo
(you can find this at Whole Foods or in bulk on Amazon
), stir, and simmer on low, covered, until cooked, stirring occasionally (about 20 minutes).
Serve with Romano or parmesan cheese on top. Get second helpings (and thirds) :-)
Here's the printable recipe for Manestra!
Manestra (simple Greek orzo comfort food)
Manestra- the BEST simple Greek comfort food made with orzo, ground beef (or lamb or turkey), onions, and tomato with mint and cinnamon.
Save this Recipe
Saved!
Print
Pin
Rate
Ingredients
1

lb.

ground beef

or lamb or turkey

1

large onion

diced

8

oz.

tomato paste

1

teaspoon

kosher salt

plus more if needed

black pepper

to taste

1/4

teaspoon

ground cinnamon

1

heaping teaspoon

dried spearmint

or 1 tablespoon fresh chopped mint

4

cups

water

1

cup

orzo

whole wheat or regular is fine

grated romano cheese, fresh chopped mint or parsley, and/or extra-virgin olive oil, for serving

optional
Instructions
Brown the ground beef and onion in a

large pot

over medium-high heat until fully cooked, about 6 minutes.

Add the whole can of tomato paste, kosher salt (1 teaspoon), black pepper to taste, ground cinnamon (1/4 teaspoon), and dried spearmint (1 heaping teaspoon).

Stir to coat the meat in the tomato paste and spices and cook until tomato paste begins to brown, about two minutes.

Add the four cups of water; bring to a boil.

Add orzo (1 cup); stir, cover, and simmer on low, stirring occasionally, until orzo is cooked (approximately 20 minutes).

Serve with grated Romano cheese and chopped fresh mint or parsley, and a drizzle of olive oil, if desired.
Notes
I recommend using lean ground beef for this. If you use a fattier kind, or with ground lamb, it may be greasy, so I recommend using a spoon to scoop out and discard some of the fat after browning the meat.
If you use ground turkey, I recommend adding 1 tablespoon of butter or olive oil to the pan when you cook it, since turkey is so lean.
The provided nutrition information does not include any added sodium from seasoning to taste, any optional ingredients, and it does not take brands into account. Feel free to calculate it yourself using this calculator or by adding the recipe to Yummly.
Nutrition
Calories:
486
kcal
|
Carbohydrates:
42
g
|
Protein:
27
g
|
Fat:
24
g
|
Saturated Fat:
9
g
|
Polyunsaturated Fat:
1
g
|
Monounsaturated Fat:
10
g
|
Trans Fat:
1
g
|
Cholesterol:
81
mg
|
Sodium:
1121
mg
|
Potassium:
1010
mg
|
Fiber:
4
g
|
Sugar:
9
g
|
Vitamin A:
892
IU
|
Vitamin C:
14
mg
|
Calcium:
67
mg
|
Iron:
5
mg
Nutrition Information Disclaimer
The provided nutrition information is my best estimate and does not include any added sodium from seasoning to taste, any optional ingredients, and it does not take brands into account. I use an automatic API to calculate this information. Feel free to calculate it yourself using one of these tools:
Very Well Fit Nutrition Information Calculator