This Easy Dinner Rolls recipe come together so quickly, with no kneading required and no electric mixer required! Using instant yeast and letting the rolls rise in a warm place cuts the time needed way down, so you can have these fluffy, soft pull-apart dinner rolls on your table in under an hour.
I am a self-confessed horrible bread baker. Let me rephrase that… I'm "still learning" how to bake bread. That's better. Growth mindset!
When asked in a recent podcast interview what my biggest cooking fail was, it was with baking bread that came out hard as a rock.
But you guys- these easy dinner rolls have completely changed my outlook on bread-making. And while I have yet to master that gorgeous rustic crusty loaf, these pull-apart rolls are so perfectly soft, fluffy, and delicious, and are so fast easy to make that they've given me renewed confidence to work with yeast dough!
These rolls are perfect with any dinner, whether at your Thanksgiving table to sop up all that gravy, or on a casual weeknight with a bowl of lentil soup. And the leftovers, if you have any, are great for breakfast in the morning slathered with butter and jam or leftover homemade cranberry sauce. I can't wait to share how easy and fast this recipe is to make!
What kind of yeast to use
The quick rising time of these rolls is from using instant dry yeast, also known as quick-rise or rapid-rise. You can't use regular active dry yeast in this recipe and expect the same results.
Instant dry yeast is yeast in smaller granules, which means they take less time to dissolve and therefore the yeast multiplies more quickly. In addition, instant yeast is often sold with added enzymes that help speed up the rise time.
Many bread recipes that use active dry yeast require two rises, but when using instant yeast you only need one rise. This is one of the reasons this dinner roll recipe is so fast!
If you're interested, here's more information about the difference between active dry and instant yeast.
How to make no-knead easy dinner rolls
Just whisk together instant yeast, warm milk, and honey until dissolved, mix in some melted butter, salt, and an egg, and stir in some flour with a spoon. Divide into 12 balls, place in a buttered baking dish, let rise, and bake! Then when they're done, brush some melted butter on top. YUM.
No electric mixing, no kneading. You're welcome.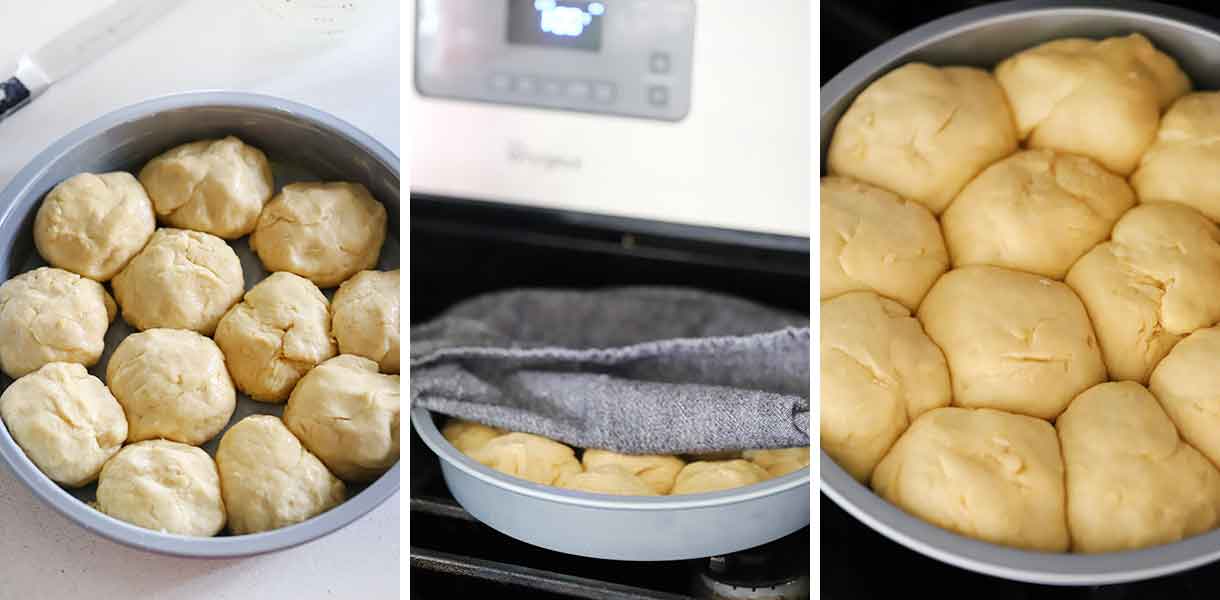 Here are some tips and tricks for success:
Make sure the milk is 110 degrees. A little less is OK too. You want it to be warm enough to activate the yeast, but not kill it. I use a meat thermometer after microwaving the milk to check the temp.
Use SALTED butter. God I love salted butter. I almost never use unsalted for any reason (even when I make cookies), but in these dinner rolls, it's especially important, because it adds tons of flavor, especially when you brush it on top.
Rolling the dough into balls can be tough, because the dough is sticky. I suggest using butter or oil to coat your hands, or using flour. You can also use a disher scoop to help you get the dough out from the bowl in an already ball-like shape.
Use a lot of butter to grease the pan. Not only will this make it easier to remove the rolls, but it will help flavor the rolls from the bottom.
Don't skip brushing the rolls with butter! Not only does it help add flavor and moisture to the tops, but it also gives them an irresistible, gorgeous sheen.
Let the dough rise in a warm place. If it's warm outside, stick it outside! But if it's not, I suggest placing it on top of your oven while it preheats. Otherwise, the dough will take a lot longer to rise.
Can I make these ahead of time?
Theoretically, you can par-bake these rolls (or halfway bake them), then treat them like brown-n-serve rolls! I haven't tried it, but here's what I suggest based on this homemade brown-n-serve rolls recipe from Tastes of Lizzy T.
Prepare the rolls as directed and bake for only 15 minutes, before they've browned. Then you can freeze or refrigerate until you need them. Make sure they're fully defrosted, and bake for 10-15 minutes more at 400 degrees until they're browned and ready to go!
If you try this, let me know how it comes out :-)
Do the leftovers keep?
YES! You can store these dinner rolls in an airtight container at room temperature for 3-4 days. They will dry out a bit as time goes on, but it's nothing a zap in the microwave and a generous smear of butter and jam won't help.
You can also freeze them in an airtight bag or container for a couple of months.
The leftovers are great on their own, but you can also use them to make homemade croutons or panzanella salad.
Other yeast bread recipes:
I recommend pairing these rolls with a good soup or stew, or serving them at your Thanksgiving table with juicy slow cooker turkey breast and sweet potato casserole.
Did you make this Easy Dinner Rolls recipe? Please click the stars below to comment and Rate this Recipe!
Quick and Easy Dinner Rolls
These fluffy and soft pull-apart Easy Dinner Rolls come together in only an hour total, with one 25 minute rise, and NO KNEADING or electric mixer required!
Save this Recipe
Saved!
Print
Pin
Rate
Ingredients
1

packet

instant dry yeast

or 2 1/4 teaspoons (aka quick rise)

1

cup

milk

warmed to about 110 degrees F

1/4

cup

honey

6

tablespoons

melted salted butter

divided

1

teaspoon

kosher salt

1

large egg

2.5-3

cups

all-purpose flour

more if needed
Instructions
In a large mixing bowl, whisk together the warm milk (1 cup), honey (1/4 cup), and instant dry yeast (1 packet) until yeast and honey are fully dissolved. Whisk in the kosher salt (1 teaspoon), egg, and 1/4 cup (4 tablespoons) of the melted butter, until everything is well-combined.

Add the flour to the bowl 1/2 cup at a time, until dough easily comes off the sides of the bowl and forms a sticky ball in the center. Use a wooden spoon to stir. I had to use all three cups of flour, but you may need less or even a bit more.

Grease the bottom of a 9" round pan (see notes for alternatives) with 1 tablespoon of the butter, generously coating the bottom and sides.

Form 12 equal-ish balls with the dough and place them in the prepared pan. The dough is quite sticky, so this may be a little frustrating, but I found it helpful to coat my hands in a little melted butter as I worked (or, use olive oil or flour to coat your hands). You can also use a large disher scoop to help get the dough out of the bowl.

Preheat your oven to 400 degrees F. While the oven is preheating, set the prepared rolls on the stovetop toward the back, covered with a towel. The heat of the oven as it preheats will help the rolls to rise quickly. Let them rise for 20-30 minutes.

Bake for 25 minutes, or until tops are golden brown on top and rolls are cooked through completely (if you tap on one in the center, it should sound hollow).

When they're done, brush with remaining tablespoon of melted butter. Wait for them to cool for 10 minutes so you can handle them, pull apart, and serve.
Notes
Don't have a 9" round pan? You can also use a 10" cast iron skillet, or a rectangular baking dish in a 4x3 grid. The bigger the baking dish, the further apart the rolls will be, which may mean a shorter cooking time and less "pulling-apart." Keep an eye on them as they bake!
Common substitutions: Use water instead of milk, and sugar instead of honey.
If you don't have a stovetop on top of the oven, such as with a built-in oven or something, you can place the rolls in the microwave with the door closed, covered with a towel, with a mugful or two of boiling water next to them, while the oven preheats. The steam from the water will help create enough warmth for the rolls to rise effectively.
Nutrition
Calories:
186
kcal
|
Carbohydrates:
27
g
|
Protein:
4
g
|
Fat:
7
g
|
Saturated Fat:
4
g
|
Cholesterol:
31
mg
|
Sodium:
259
mg
|
Potassium:
69
mg
|
Fiber:
1
g
|
Sugar:
7
g
|
Vitamin A:
228
IU
|
Calcium:
31
mg
|
Iron:
1
mg
Nutrition Information Disclaimer
The provided nutrition information is my best estimate and does not include any added sodium from seasoning to taste, any optional ingredients, and it does not take brands into account. I use an automatic API to calculate this information. Feel free to calculate it yourself using one of these tools:
Very Well Fit Nutrition Information Calculator