This New England Baked Haddock Recipe is so comforting, delicious, and easy to make! This easy, family-friendly dinner uses only THREE ingredients and requires only FIVE MINUTES of hands on time.
If you are from New England, you have had New England Baked Haddock. If you aren't or haven't had it… you need to get it in your mouth ASAP. And I mean like, now.
You only need THREE ingredients for this baked haddock recipe: fish, butter, and bread crumbs, plus some salt and pepper. And lemon and parsley, if you want to get a little crazy. This is such a simple and inexpensive meal to make.
This is a very traditional dish in New England, and is often served as the fish option at weddings and other shindigs. It can be ordered at almost any seafood restaurant (sometimes, it's made with cod), and is so melt-in-your-mouth yummy, it will be hard to go back to eating fish any other way!
New England baked haddock is perfect for when you want something pescatarian, but a little more soul-satisfying than your average light and healthy fish recipe.
It's almost like fish meets casserole. It's warm and hearty, and will satisfy even the meat lovingest of the meat lovers as a main course.
Traditionally, New England baked haddock is made using Ritz crackers (which are, incidentally, from New England) crumbled up with butter and spread on top of the fish, then baked in the oven with lemon and herbs. Delicious.
However, you can get the same delicious effect by using breadcrumbs and lots of butter (to get that awesome buttery Ritz-y taste).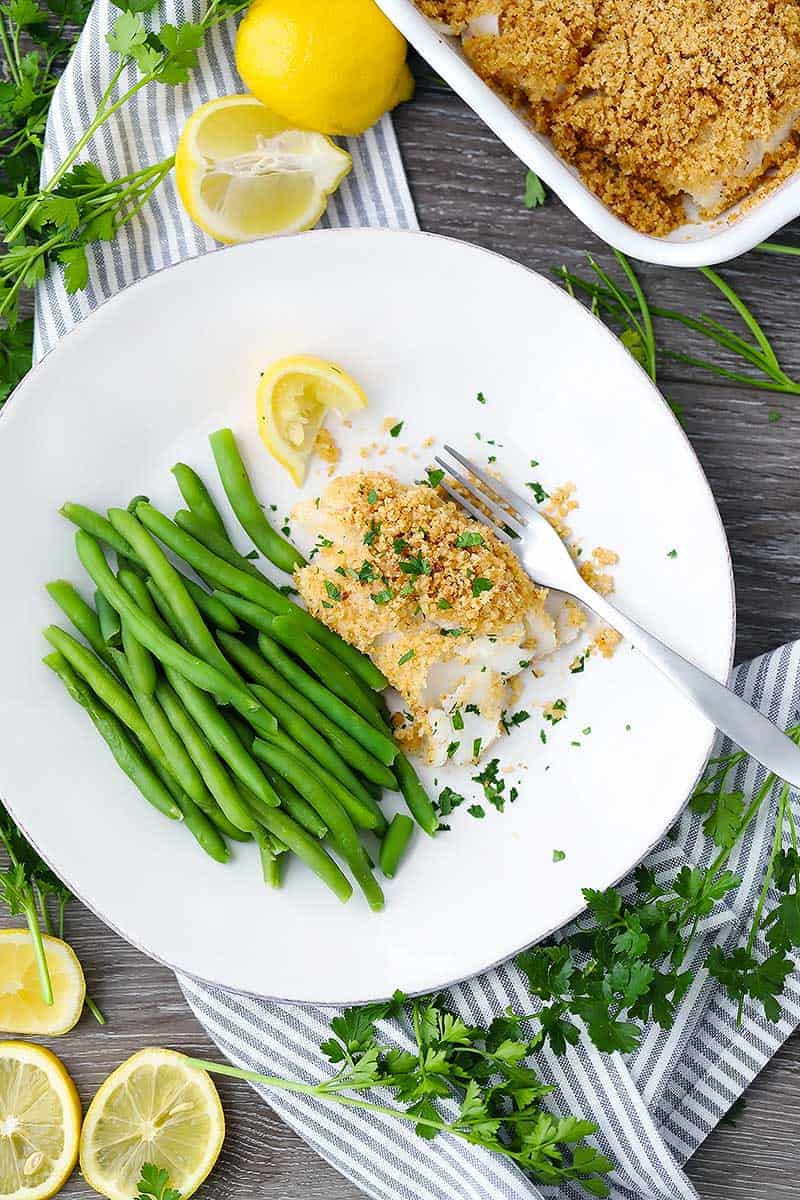 Ritz Crackers vs. Breadcrumbs
I prefer using breadcrumbs instead of Ritz crackers. Here's why.
For one thing, they're already broken up, so you don't have to worry about that extra step of smashing the Ritz crackers into crumbles. Just pour the breadcrumbs in a bowl, add some butter, and mix together.
For another thing, breadcrumbs are a little more flexible. You can easily make your own out of scratch-made or fresh bread, which means you'll be more in control of the ingredients in the bread.
And there are so many kinds of breadcrumbs out there, including gluten-free or whole wheat versions, so it's a great way to meet certain dietary needs easily.
That said, please feel free to use Ritz crackers, or another similar buttery cracker, in place of the breadcrumbs! Just crush them up (you can use a rolling pin to crush them in a zip-top bag) and add a little less butter than the recipe calls for with breadcrumbs.
What else can I add to the breadcrumb topping?
This recipe is SUPER basic- only three ingredients. You can add herbs, garlic (powder or fresh), and other seasonings to the breadcrumb mixture if you want!
Or you can season the fish with more than salt and pepper. I think Italian seasoning or lemon pepper would be great.
My store doesn't carry haddock! What can I use instead?
Now that I live in Texas, it's hard for me to find haddock at the store.
If you can't find it, or if you just don't like it, you can use any other mild white fish, such as tilapia, cod, pollock, flounder, or halibut. I've even gotten super Southern on this and used catfish- it was great!
If you like this New England Baked Haddock recipe, try these other easy fish recipes:
Here's the printable recipe!
New England Baked Haddock
New England baked haddock recipe is one of the most delicious fish dishes you will ever have, yet it is so simple! With only three ingredients and 5 minutes of hands-on time, you will have an elegant, crowd-pleasing meal.
Print
Pin
Rate
Ingredients
1-1.5

lbs.

haddock

patted dry (or cod)

1

cup

plain breadcrumbs

or seasoned, see note

6

tablespoons

salted butter

melted (see notes)

kosher salt and black pepper

lemon wedges and fresh parsley

for serving (optional)
Instructions
Preheat oven to 350 degrees.

Put a spoonful of the melted butter in a

baking sheet

or dish and spread to coat the bottom.

Combine the bread crumbs (1 cup) with the rest of the 6 tablespoons of melted butter.

Salt and pepper both sides of the fish liberally (I used about 1 teaspoon kosher salt and 1/4 teaspoon pepper), and lay in the buttered baking dish.

Spread bread crumbs – all of them – evenly over the top of the fish. I use my hands to sprinkle it on (it won't really stick like traditional breading – it's more like a topping).

Bake for 15 minutes, or until fish is cooked thoroughly (and flakes easily).

Serve with a squeeze of lemon juice and a garnish of fresh parsley, if desired.
Notes
Looking for more flavor? This recipe is basic and simple, which I LOVE. But if you're looking for bolder flavor, try adding spices or herbs to the breadcrumb mixture, such as fresh parsley, dill, chives, garlic (powder or fresh), onion powder, and/or lemon zest, or use Italian Style Seasoned Breadcrumbs. Grated parmesan cheese would also be delicious added in!
If you use unsalted butter, I recommend adding 1/4 teaspoon salt to the breadcrumb mixture, in addition to seasoning the fish.
If your fish is particularly thick, you may need more time to cook it. The cooking time indicated is for fish about 3/4″-1″ thick. Keep in mind, oven temperatures vary as well.
How to use Ritz crackers: New England Baked Haddock is traditionally made with crushed Ritz crackers. You can use them if you prefer- just put them in a zip-top bag and use a rolling pin to crush them. Then, use in place of the breadcrumbs in the recipe and use only 3 tablespoons of melted butter instead of 6.
The provided nutrition information does not include any added sodium from seasoning to taste, any optional ingredients, and it does not take brands into account. Feel free to calculate it yourself using this calculator or by adding the recipe to Yummly.
Nutrition
Calories:
341
kcal
|
Carbohydrates:
19
g
|
Protein:
22
g
|
Fat:
18
g
|
Saturated Fat:
11
g
|
Cholesterol:
106
mg
|
Sodium:
589
mg
|
Potassium:
377
mg
|
Fiber:
1
g
|
Sugar:
1
g
|
Vitamin A:
590
IU
|
Calcium:
67
mg
|
Iron:
1.5
mg
This New England Baked Haddock recipe first appeared on Bowl of Delicious in September 2014. I've updated it to include a video, updated tips and tricks, and clearer instructions.