These Norwegian Butter Cookies, or Serinakaker, are perhaps the Perfect Cookie. They're super buttery, as the title suggests, and are similar to shortbread without being too crumbly. They are delicate and melt-in-your-mouth with subtle almond and vanilla flavors, and are so pretty sprinkled with sliced and chopped almond pieces.
If you are looking for a good Christmas cookie for this holiday season, I strongly suggest these!
When this article from food52 about Norwegian butter cookies popped up on my Facebook newsfeed last week, I knew I had to make them.
If you follow my blog, you know I'm part Greek- my other half is Norwegian. And yet, I haven't posted any Norwegian recipes!
So here we go. This is an EXCELLENT place to start. (And no, I won't be writing about Lutefisk anytime soon. Sorry to disappoint.)
These cookies are adapted from the food52 recipe to be a bit easier to make and have more almond flavor- a very common flavor in Scandinavian desserts.
Be warned: this recipe uses three sticks of butter. That's 1.5 cups. They ARE butter cookies, after all! I recommend two things when choosing a butter:
Use salted butter. Confession: I often use salted butter when baking (gasp!). I love the combination of sweet and salty, and since I use salted butter for other things, it simplifies my life to only buy one kind. This recipe REALLY benefits from the use of salted butter in creating a more complex flavor from very simple ingredients.
Use high quality butter. I'm a big fan of Kerrygold products- once you try their salted butter spread on a hot piece of bread straight out of the oven, your life will be changed in ways you can't even imagine. Not only is the taste of their butter out of this world, but it's also healthier since it's made from the milk of grass-fed cows. The color of it is brighter yellow than conventional butter, and it contains a better balance of healthy fats than other kinds because the cows' diet is healthier. Guys, they aren't even paying me to write about this. I just love their butter so much I had to tell you about it! And their CHEESE! Try the sweet cheddar when you get the chance.
The directions for this recipe aren't like your typical cookie, where you mix the dry and liquid ingredients separately. Instead, the softened butter is blended with the flour to make a consistency similar to sand, kind of like cutting butter into flour for pie crust. I used a handheld electric mixer for this task and it was easy. Then, the other wet ingredients like eggs and extract are added to the dough.
Some recipes say to refrigerate the dough before forming, but I didn't have a problem using it immediately. If you want to make the dough ahead of time, it can be refrigerated in an airtight container or covered with plastic wrap for a few days.
Finally, I recommend a small cookie scoop for measuring out the batter. It ensures the cookies are (mostly) uniform in size, and makes the task of rolling the dough into balls much easier.
If you like this recipe, you'll love all these other holiday baking recipes, including this Dutch Butter Cake (also made with almonds and almond extract).
Recipe for Norwegian Butter Cookies (Serinakaker) below!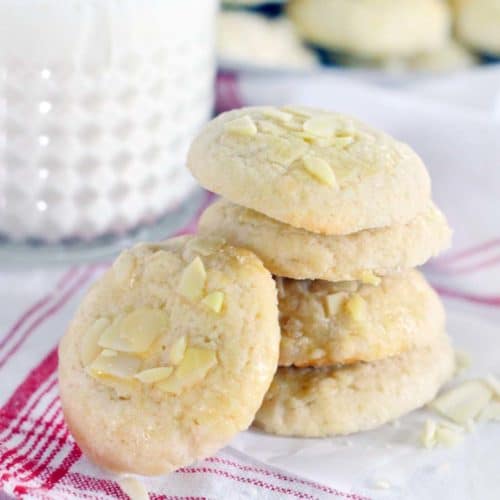 Norwegian Butter Cookies (Serinakaker)
These Norwegian Butter Cookies (Serinakaker) are delicate and buttery, similar to shortbread but less crumbly, with melt-in-your-mouth almond and vanilla flavors. They are the PERFECT cookie, especially if you're looking for a new Christmas cookie recipe!
Save this Recipe
Saved!
Print
Pin
Rate
Instructions
Preheat your oven to 350 degrees F and line one or two baking sheets with parchment paper.

In a large bowl, mix together softened butter (1.5 cups), baking powder (1/2 teaspoon), kosher salt (1/2 teaspoon), and flour (4 cups) with an electric hand mixer until well blended and the texture resembles coarse sand.

Add the sugar (1.5 cups) and mix until well combined.

Add the vanilla extract (2 teaspoons) and almond extract (1/2 teaspoon) and two of the eggs, then mix until well combined.

Using a small cookie scoop, measure out equal portions of the dough and roll into balls. Place on baking sheet and, using your thumb, press on the center of each ball to create a small indentation (if you find that the dough is too sticky, keep a small bowl of water next to you to dip your thumb into every so often).

Beat remaining egg in a small bowl and brush the tops and sides of each indented cookie with the egg. Sprinkle with the almonds.

Bake for 16 minutes, or until cookies are only JUST beginning to brown.
Notes
For a nut free version, omit the almond extract and the almonds.
The provided nutrition information does not include any added sodium from seasoning to taste, any optional ingredients, and it does not take brands into account. Feel free to calculate it yourself using this calculator or by adding the recipe to Yummly.
Nutrition
Serving:
1
cookie
|
Calories:
97
kcal
|
Carbohydrates:
12
g
|
Protein:
1
g
|
Fat:
5
g
|
Saturated Fat:
3
g
|
Cholesterol:
20
mg
|
Sodium:
63
mg
|
Potassium:
21
mg
|
Fiber:
1
g
|
Sugar:
5
g
|
Vitamin A:
154
IU
|
Calcium:
7
mg
|
Iron:
1
mg
Nutrition Information Disclaimer
The provided nutrition information is my best estimate and does not include any added sodium from seasoning to taste, any optional ingredients, and it does not take brands into account. I use an automatic API to calculate this information. Feel free to calculate it yourself using one of these tools:
Very Well Fit Nutrition Information Calculator