If you read my blog, you know that sometimes, when Trader Joe's has produce in bulk for a really good price, I buy it. Then, I am stuck with tons of produce wondering, "what in tarnation am I going to do with all this?"
This is the burden I have to bear as a girl who loves both food and bargains.
So now I find myself with a surplus of blueberries and peaches. So I made these DELICIOUS Banana Blueberry Oat Muffins, made with 100% whole grains and absolutely no refined sugar!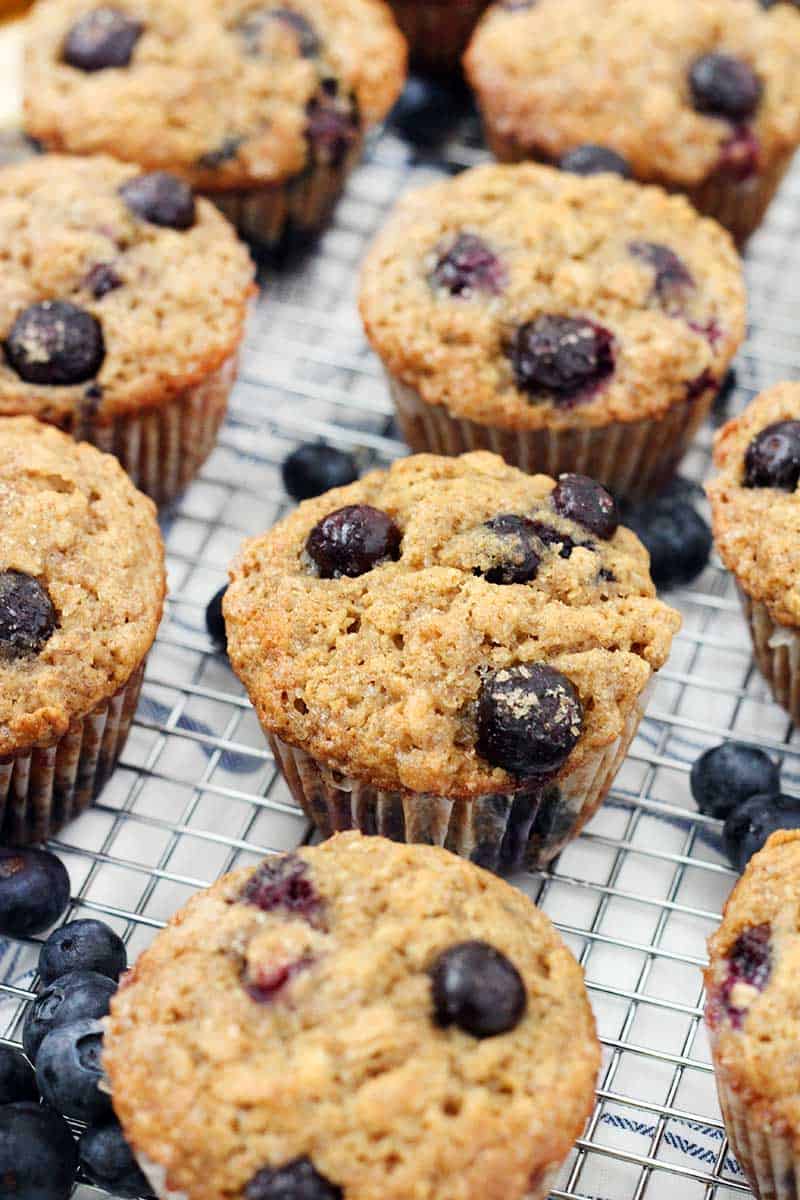 It's a good thing I bought blueberries in bulk because it took me several attempts to get this right. Baking with whole grains is much different than baking with all-purpose flour.
For one thing, whole grain baked goods can come out fairly dense. I have found that the biggest thing that helps avoid this is to not over-mix the batter.
When you hear cooks on TV saying "stir until just combined," they mean it. The more you mix, the denser it will be.
So when you add the flour and oats to the wet ingredients, make sure you only just combine it, and then gently fold the blueberries into the batter.
A note about over-ripe bananas: please, please, whenever you have bananas about to go bad, don't throw them out! Put them in your freezer until you want to use them for muffins, bread, or banana chia seed pancakes.
Freeze them whole, and when you need to use them, microwave for 45 seconds and remove the fruit from the peel. The peel will turn black and look unappetizing, but the inside is soft, sweet, and perfect for baking.
While we are on the subject of freezers, these muffins can be frozen for up to 6 months in an airtight container or bag. When you want one, simply remove from the freezer and microwave for 30 seconds to one minute for a quick and easy breakfast.
To serve, I recommend cutting the muffin in half, spreading butter on it, and grilling cut-side down for a couple of minutes in a cast iron skillet.
Hey, there has to be butter somewhere, right?
The result will be a toasty, buttery, crunchy outside with a soft, warm inside. Yum, I think I will go make one right now!
Of course, they are delicious on their own as well :-)
Now I have to think of something to do with those peaches… peach cobbler?
Any other ideas?
Here's the printable recipe for these Banana Blueberry Oat Muffins! And be sure to check out this easy recipe for
Ultra-Moist Healthy Banana Bread
for another way to use ripe bananas.
Banana Blueberry Oat Muffins (made with whole wheat flour and honey)
These Banana Blueberry Oat Muffins are made with 100% whole grains, no processed sugar, and coconut oil instead of butter! They're hearty and delicious, and my toddler LOVES them.
Save this Recipe
Saved!
Print
Pin
Rate
Instructions
Add coconut oil (1/2 cup) and honey (1/4 cup) to large mixing bowl. If coconut oil is solid, microwave for 15 seconds, until honey and oil are softened.

Cream together with a mixer on high speed.

Add eggs (2) and Greek yogurt (1/2 cup). Mix together until very well combined.

Add the 2 mashed bananas, vanilla (1 teaspoon), cinnamon (1 teaspoon), pinch of nutmeg, baking powder (1 teaspoon), baking soda (1 teaspoon), and salt (1/2 teaspoon). Mix until well combined.

Add flour and oats- stir until just combined.

Fold berries (1.5 cups) in to mixture.

Sprinkle the tops of each muffin with turbinado sugar (optional).

Bake at 375 degrees F for 20-25 minutes, or until toothpick inserted into center comes out clean.
Notes
Storage: These muffins can be kept at room temperature in an airtight container for 5 days. They can be frozen in an airtight container or bag for up to 3 months.
Not a fan of coconut oil? Extra-virgin olive oil can be used instead. Substitute the same amount.
Honey Substitute: You can also use brown or white sugar, or maple syrup, instead of honey.
You can use frozen berries for this, but keep in mind, it's likely that the muffins will be more colored blue/purple.
To make them gluten-free: you can use a gluten-free flour mix substituted with a 1:1 ratio (I have not tried this personally, but I have readers who have substituted with no problem).
For a dairy-free version, use your favorite dairy-free yogurt.
The provided nutrition information does not include any added sodium from seasoning to taste, any optional ingredients, and it does not take brands into account. Feel free to calculate it yourself using this calculator or by adding the recipe to Yummly.
Nutrition
Serving:
1
muffin
|
Calories:
221
kcal
|
Carbohydrates:
28
g
|
Protein:
5
g
|
Fat:
10
g
|
Saturated Fat:
8
g
|
Cholesterol:
27
mg
|
Sodium:
203
mg
|
Potassium:
222
mg
|
Fiber:
3
g
|
Sugar:
10
g
|
Vitamin A:
60
IU
|
Vitamin C:
3.5
mg
|
Calcium:
38
mg
|
Iron:
1.1
mg
Nutrition Information Disclaimer
The provided nutrition information is my best estimate and does not include any added sodium from seasoning to taste, any optional ingredients, and it does not take brands into account. I use an automatic API to calculate this information. Feel free to calculate it yourself using one of these tools:
Very Well Fit Nutrition Information Calculator