Has anyone else noticed it's NOVEMBER? Already?! This means that we have finally caved and turned on the heat in our house. It means that fall is over and winter is upon us (at least up here in New England). It also means the holidays are fast approaching. Where does the time go?
As much as I prefer summer any season to winter, I do get really really really excited about the holidays. Giddy, in fact. And what screams "holidays" more than fresh cranberries? Well, a lot of things, actually. BUT, fresh cranberries are definitely a staple of the season, as are oranges. And so, I made these cranberry orange biscotti to welcome in the holiday season!
When you put cranberry and orange together something magical happens. The combination is tangy, sweet, and irresistible. These cranberry orange biscotti are made with whole wheat flour (which is PERFECT for biscotti), crunchy, and amazingly delicious when dunked in black coffee. Which is precisely what Zach and I did for a good long while on Sunday. That, and stare out the window at the last glimpses of fall leaves, before they vanish into the long, barren dark of winter. Siggghhhh.
OK, I'll stop being dramatic now :-)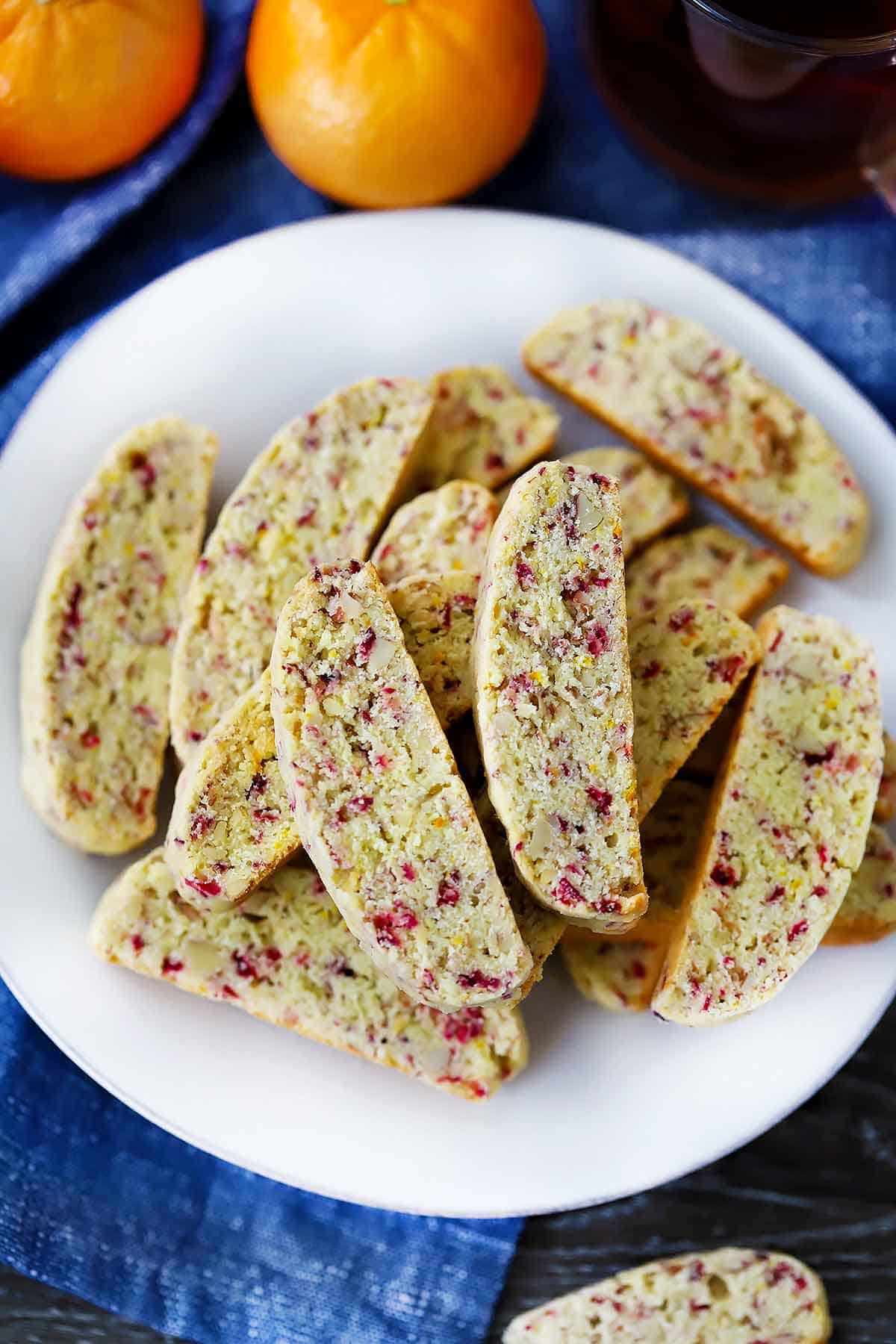 OK I'm going to be honest: there is a slightly tricky part to making these. Making biscotti involves forming the dough into thin loaves. The dough is pretty sticky, which makes it difficult to handle. When you get to this part, I suggest spooning the dough into a long shape onto your prepared pan, flouring your hands and the top of the dough well, and then forming into a loaf. And an important thing to remember: it's ok if the loaf is ugly and bumpy. After it cooks it will be smoother, and you will cut it up into slices, anyway! Plus, it looks rustic and homemade when it's not perfect. And homemade is always better :-)
How, you ask, did I manage to chop up those fresh cranberries so finely? I will tell you. I have this awesome attachment to my immersion blender that is like a mini food processor, which is perfect for small amounts of food (herbs and the like). You can use a knife to finely chop the cranberries, or a regular blender or food processor if you don't have one of these nifty attachments. I have to say though, it has come in quite handy!
These are a great thing to bring to the host of a holiday dinner or to wrap up as a gift this season. They stay fresh in an airtight container for about a week, and freeze well. OOO! IDEA! They would probably be excellent dipped in or drizzled with dark chocolate, if you want to make them extra fancy-like. Yup… definitely doing this next time I make them!
I highly suggest that this weekend you buy the ingredients for these cookies, spend a little time baking them, cozy up on the couch, and dunk them in coffee for a little while. It's the perfect fall/winter activity :-)
Recipe below. Enjoy!
Cranberry Orange Biscotti
These cranberry orange biscotti are crunchy, tangy, sweet, and irresistible. ESPECIALLY when dunked in hot coffee. Great gift idea for the holidays!
Print
Pin
Rate / Comment
Instructions
Cream together butter and sugar. Add eggs one at a time, and mix for a few more minutes until well combined.

Add the salt, orange juice and zest, and baking powder. Mix until well combined.

Gently stir in the flour until just combined. Fold in the almonds and chopped cranberries.

Divide dough into two parts. Spoon the dough onto the prepared parchment paper and, using extra flour to coat your hands and the top of the dough, form into two long flat loaves (approximately 4" by 13" each). This can be a bit tricky- don't distress if the loaves aren't beautiful :-)

Bake the loaves for 30 minutes or until just starting to become golden brown.

Remove from oven and allow to cool for 10 minutes. Turn oven temperature down to 300 degrees.

Once cool, slice the loaves into 3/4" slices and place back on the baking sheet.

Bake for another 20 minutes.

For best results, dunk in hot coffee :-)
Notes
Freezer directions: These biscotti can be frozen in an airtight container or bag for up to 6 months.