This easy Chicken and Dumplings recipe is SO FAST AND EASY to make from scratch in only 30 minutes if you use rotisserie chicken and store-bought (or other pre-made) broth! It's a fast, easy comfort food to make on busy nights. The fresh thyme in the perfectly fluffy dumplings sets it over the edge! The chicken and dumplings broth can be made thick and luscious like a gravy, or more thin like a soup depending on preference.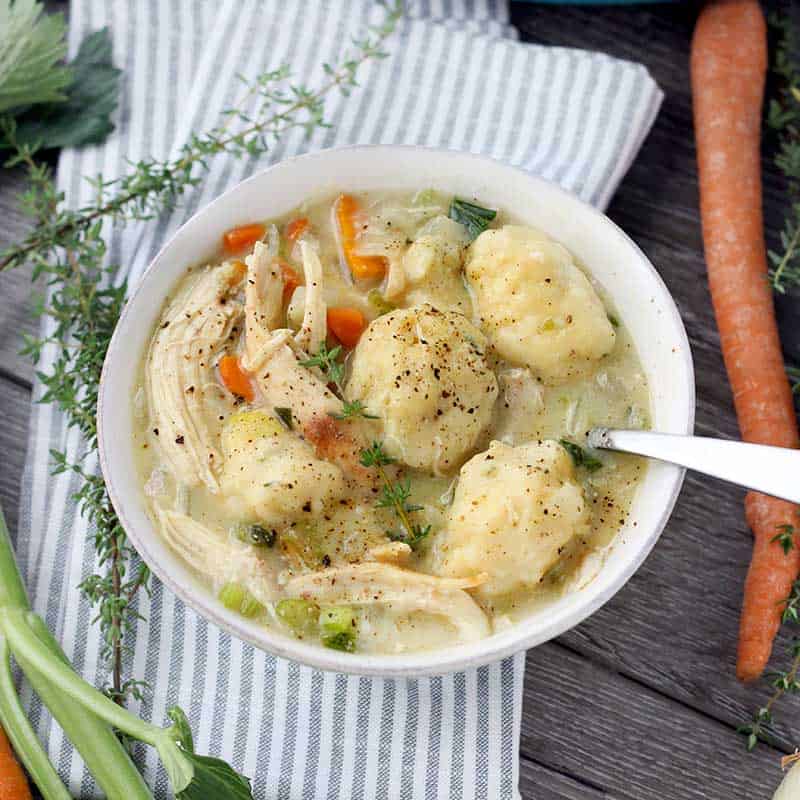 This, my friends, is comfort food at its finest. It has all the taste of chicken pot pie without the effort (because who has time to deal with a pie crust on a busy weeknight?).
Between the fluffy dumplings with a biscuit-like texture, the juicy, tender shredded chicken, and the creamy, thick broth, this easy chicken and dumplings recipe will have you and your whole family literally RUNNING to the dinner table!
In this post I'll explain how to make this easy chicken and dumplings from scratch in only 30 minutes with a few simple shortcuts, and give my best tips and tricks for getting the fluffiest dumplings that still hold their shape!
Why this chicken and dumplings recipe is SO FAST!
Traditionally, chicken and dumplings is a labor-intensive process, involving boiling an entire chicken to make stock, waiting for it to cool, and de-boning it, not to mention making dumpling dough by rolling and flattening out biscuit dough. It makes a mess and takes hours.
But almost every "quick and easy" recipe for chicken and dumplings I've come across uses processed ingredients like condensed canned creamed soup and pre-made biscuit dough.
I wanted to make a version of chicken and dumplings that was fast and easy to make but used as few pre-made, processed ingredients as possible.
You can make this chicken and dumplings recipe in only 30 minutes if you use shredded rotisserie chicken (or leftover roast chicken, poached chicken, or meat from a slow cooker whole chicken) and store-bought chicken broth helps save loads of time without sacrificing any of that down-home, from scratch taste! Easy peasy.
How to make Easy Chicken and Dumplings
I'm telling you, this recipe for chicken and dumplings could not be easier. It cooks up super fast in only one pot!
First, sauté some diced carrots, onions, and celery in some butter. Tip: use the rib AND the leaves from the celery, if you have them. The leaves are packed with flavor!
Then, sprinkle some flour on the veggies and stir around to coat, and add some chicken stock and bring to a boil. The flour will help thicken the gravy-like broth to a perfect consistency.
While the soup is coming to a boil, mix the dumpling dough: flour, salt, baking powder, fresh thyme, melted butter, and milk.
Once the soup comes to a boil, add some milk and the cooked chicken to the pot. Add scoops of the dumpling dough to the broth, cover the pot, and simmer for 15 minutes. Done! Told you that was easy.
One thing to keep in mind: if the soup doesn't seem that thick at first, don't worry. Some of the flour from the dumpling dough will also seep into the broth, thickening it a bit more, and it will also thicken as it cools some.
Tips and Tricks for making the BEST fluffy Dumplings
There are two kinds of dumplings used for chicken and dumplings. The first is a flat dumpling- the dough is rolled out and cut, then dropped in the soup. The result is a thick noodle-like consistency (like Cracker Barrel's chicken and dumplings).
The other kind of dumpling is more biscuit-like: fluffy, round balls of dough that expand and cook after being dropped in the soup. This chicken and dumplings has the fluffy kind of dumplings.
Here are the best tips to getting the fluffiest dumplings that won't fall apart with the PERFECT texture:
Use white flour, not whole wheat. Whole wheat tends to be a bit dense and has less gluten, so the result won't be as fluffy. If whole grains are super important to you, try a combination of half white and half whole wheat flour.
Don't overmix the dough. Stir it until it's just combined and you can't see any powdery flour anymore.
Use a cookie scoop to scoop the dough into the soup. This will ensure that all the dumplings are evenly sized and fairly round.
No peeking! Keep the lid on for 15 minutes while the dumplings cook. This will trap the steam and also ensure you don't stir it, which may smush the dumplings and affect their texture.
How to make the broth thick and gravy-like
Craving a more substantial broth? Some readers have commented that the base of this chicken and dumplings is a bit thin for their taste.
If you want a more gravy-like base to this chicken and dumplings recipe, just increase the amount of flour added to the veggies. Add about 2 tablespoons more flour, more or less depending on preference.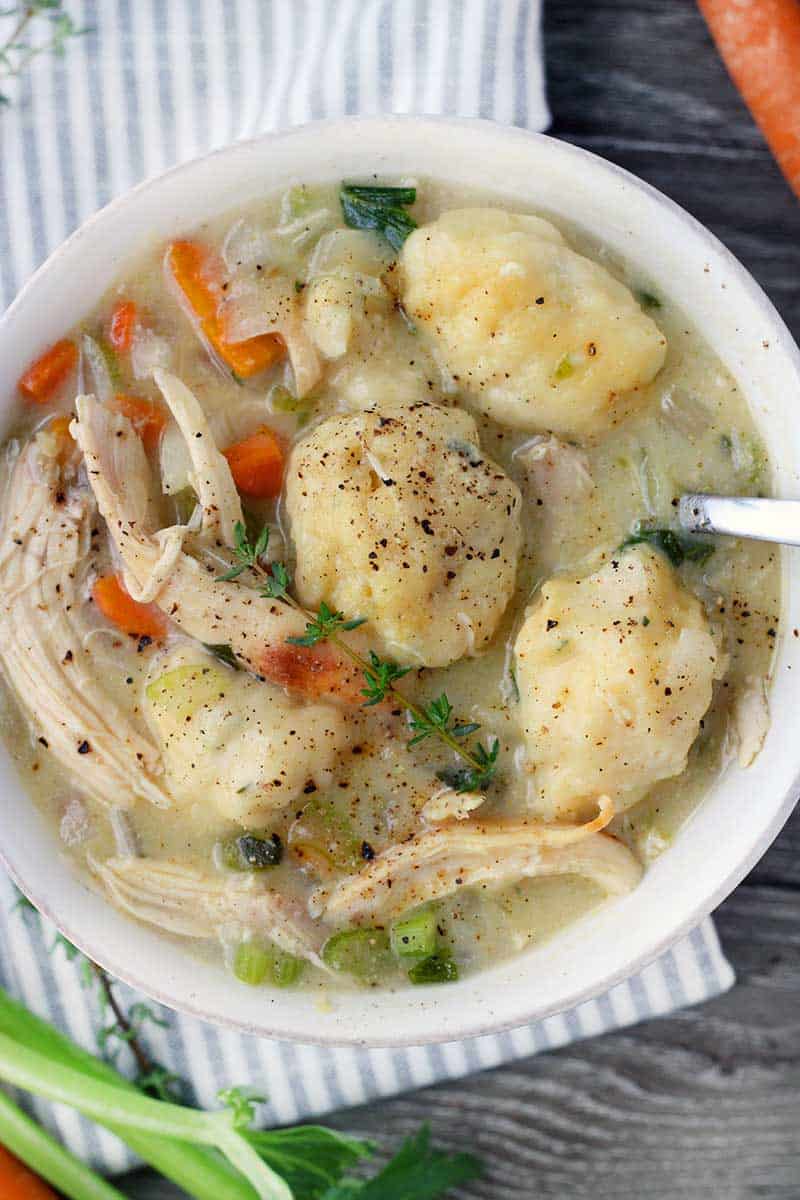 Other easy comfort food recipes?
Did you know commenting and rating recipes is one of the best ways you can support your favorite food bloggers? If you made this recipe, please click the stars below to comment and Rate this Recipe and/or share photos on social media using the hashtag #bowlofdelicious or tagging @bowlofdelicious!
Easy Chicken and Dumplings from Scratch
This Chicken and Dumplings recipe is SO EASY to make from scratch if you use rotisserie chicken and store-bought broth! It's a fast, easy comfort food to make on busy nights. The fresh thyme in the dumplings sets it over the edge.
Print
Pin
Rate
Ingredients
4

tablespoons

butter

divided

2

carrots

diced small

2

stalks celery plus their leaves

diced

1

onion

diced

1 1/4

cup

all-purpose flour

divided

4

cups

low sodium chicken stock/broth

1

cup

whole milk

divided

1

teaspoon

kosher salt

1

teaspoon

baking powder

1

teaspoon

chopped fresh thyme leaves

or 1/2 teaspoon dried, plus more for garnish

extra salt and pepper
Instructions
Sauté the carrots, celery, and onions in 2 tablespoons of the butter in a large pot over medium high heat until softened a bit and beginning to brown (about 3 minutes).

Add 1/4 cup flour, stir to coat.

Add chicken broth (4 cups) and bring to a boil.

Turn the heat down to simmer and add 1/2 cup milk and the chicken. Season with salt and pepper.

Meanwhile, to make the dumplings, mix together the remaining 1 cup of flour, 1 teaspoon salt, 1 teaspoon baking powder, and 1 teaspoon fresh thyme leaves. Stir in the remaining 2 tablespoons of butter, melted, until flour mixture is crumbly looking. Add the remaining 1/2 cup of milk and stir until JUST combined. Do NOT over mix, or your dumplings may be dense.

Add spoonfuls of the dumpling mixture to the simmering pot- I recommend using a small cookie scoop for this (a tablespoon can also be used).

Cover and simmer on low for 15 minutes, or until dumplings are fluffy, cooked, and float to the top. No peeking!

Serve garnished with extra fresh thyme and fresh ground pepper, if desired.
Notes
If you are sensitive to salt, cut the salt in the dumplings in half, as they are quite salty. I like them that way, but some readers have recommended taking the amount of salt down. Also, if you are using fine grain salt instead of kosher, use 3/4 teaspoon, as 1 teaspoon will be too much.
Readers have commented that this recipe doesn't make as much as they would like. Please double it if you and your family have a big appetite!
You can freeze the leftovers, or double the batch and freeze one for later in an airtight container for up to 6 months.
If you prefer a really thick base, you can add 1-2 more tablespoons of flour to the veggies before adding the broth and milk.
If you don't like thyme, you can use other herbs– parsley, oregano, or even dill- or leave them out entirely.
Feel free to add more veggies toward the end of cooking, such as frozen peas or corn, or a few handfuls of baby spinach.
I love making this in a Dutch Oven, because it stays hot for a while if dinner is ready early. The one in the photos is a Cuisinart 5.5 qt. Oval Dutch Oven but lately I've been recommending the Lodge Dutch Oven.
The provided nutrition information does not include any added sodium from seasoning to taste, any optional ingredients, and it does not take brands into account. Feel free to calculate it yourself using this calculator or by adding the recipe to Yummly.
Nutrition
Serving:
1.5
cups
|
Calories:
433
kcal
|
Carbohydrates:
39
g
|
Protein:
25
g
|
Fat:
18
g
|
Saturated Fat:
9
g
|
Cholesterol:
88
mg
|
Sodium:
1645
mg
|
Potassium:
709
mg
|
Fiber:
2
g
|
Sugar:
5
g
|
Vitamin A:
5595
IU
|
Vitamin C:
21.1
mg
|
Calcium:
160
mg
|
Iron:
3.5
mg
This chicken and dumplings recipe first appeared on Bowl of Delicious in September, 2016. It has been edited to include a video, process shots, and more detailed instructions, tips, and tricks.