This Roasted Sweet Potato Hummus is so simple and so yummy. It's a fairly traditional hummus recipe with roasted sweet potatoes added for extra nutrition and a slightly sweet, toasty flavor. It's vegan, healthy, and packed full of deliciousness!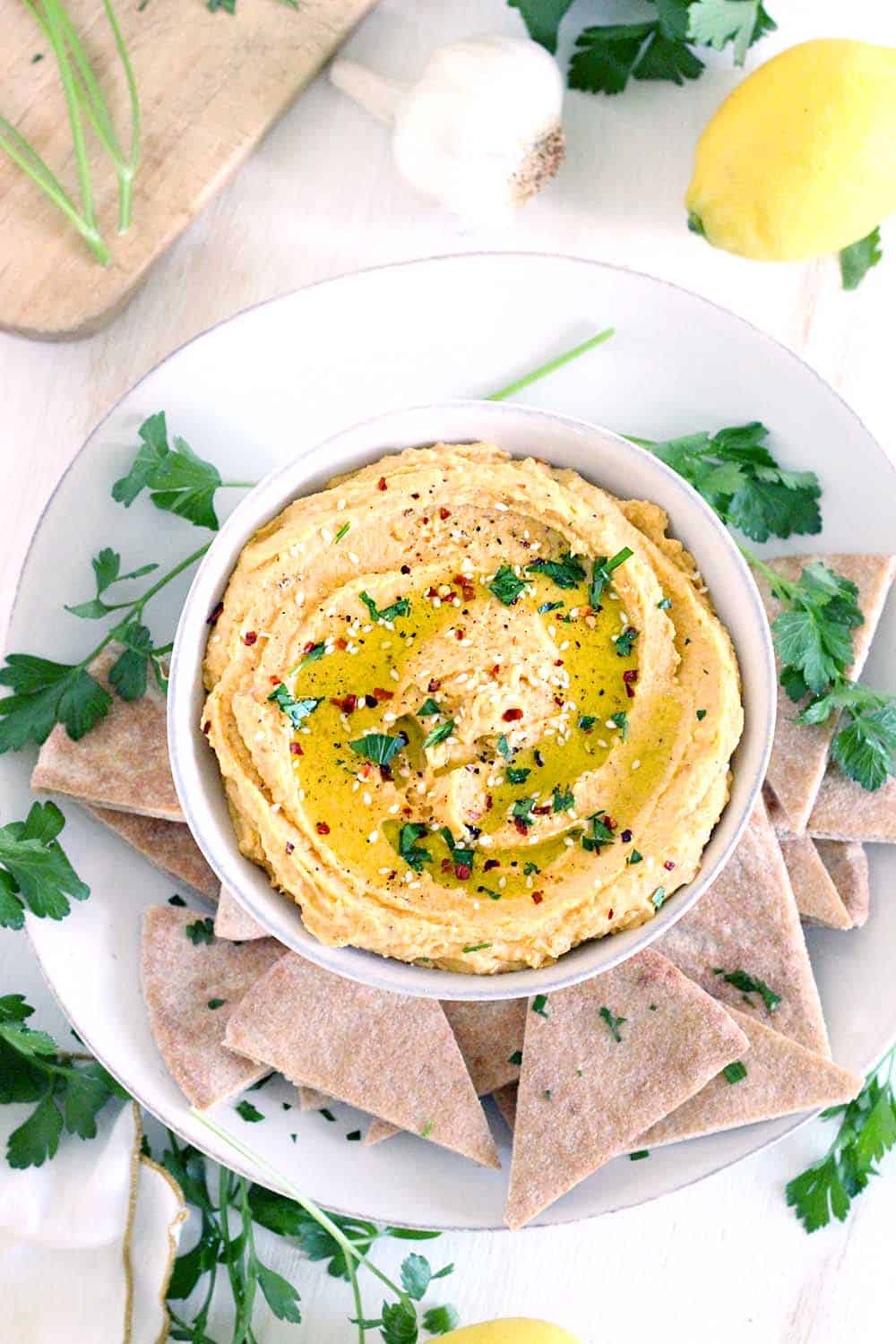 I've been LOVING hummus lately. It packs such a nutritional punch and it's so addictive, but I don't feel bad about being addicted to it. I love store-bought hummus and admittedly eat it a lot, but making it yourself is a) so easy, and b) SO cheap, that it's hard not to do.
This recipe takes a bit more time than a traditional hummus, since you roast sweet potatoes first. But boy oh boy, it's worth it. Sweet potatoes make this healthy snack even MORE healthy and nutrient-packed, and the flavor they add is phenomenal. You can use leftover roasted sweet potatoes if you're making them for dinner, which may save you some time!
Making hummus involves nothing more than blending some ingredients together in your food processor or blender. Some people take the skins off the chickpeas before using them- this creates a smoother, creamier hummus. However, this is a blog about food for busy people, and as a busy person, I don't have time for that.
To create a smooth hummus WITHOUT the labor of peeling the chickpeas, I recommend the following:
Use the liquid from the can of chickpeas, or cooking liquid if you made them from dry, and
Blend the ingredients together thoroughly before adding liquid, then add the liquid gradually WHILE the food processor/blender is on.
The chickpea liquid is thicker than water, and when added gradually, it helps emulsify the hummus. Blending the ingredients thoroughly before adding it ensures the solids are pulverized completely, making it smoother. It might not be *quite* as smooth as taking the skins off the chickpeas, but to me, this is just one of those things that isn't worth the time or effort.
I love hummus served with an extra drizzle of extra virgin olive oil on top. I also added sesame seeds for a little crunch, crushed red pepper for some heat, and minced fresh parsley to brighten it up a bit.
Hummus is usually served as a dip with pita bread or crudités. It's also GREAT spread on sandwiches (I made a simple one this morning with cucumbers inside a pita pocket), or as a substitute for mayonnaise in chicken or tuna salad (like this curried chicken salad). You can even spread it on chicken before baking it, which creates a crusty outside and keeps the meat juicy.
Love hummus as much as I do? This is my THIRD hummus recipe on the blog. You should try this Sriracha Carrot Hummus and Roasted Garlic Hummus, too! And for a chickpea alternative, try using a bag of frozen peas to make pea hummus/purée.
Recipe for Roasted Sweet Potato Hummus below :-)
Roasted Sweet Potato Hummus
Roasted sweet potatoes add a slightly sweet, toasty flavor to this otherwise traditional hummus recipe. A gluten-free, vegan snack that's great on sandwiches or served with pita bread or crudités.
Save this Recipe
Saved!
Print
Pin
Rate
Instructions
Toss the sweet potatoes with 1 tablespoon of the olive oil and kosher salt/pepper to taste. Roast on a parchment-lined rimmed baking sheet at 425 degrees for 20 minutes, or until potatoes are tender and beginning to brown.

Remove from oven and allow sweet potatoes to cool for at least 10 minutes.

Add cooled sweet potatoes, drained chickpeas (15 oz. can), remaining 3 tablespoons of olive oil, 2 smashed garlic cloves, lemon zest and juice (from 1 lemon), tahini (3 tablespoons), salt/pepper (to taste), cumin (1/2 teaspoon), and cayenne pepper (1/8 teaspoon) to food processor (or blender). Blend together until completely pulverized- about 2 minutes.

While food processor is running, add reserved chickpea liquid 1/4 cup at a time, until hummus has reached desired consistency. Keep in mind, it will thicken as it cools- the food processor heats the ingredients up a bit.

Taste and adjust seasoning as necessary.

Garnish with extra olive oil, sesame seeds, crushed red pepper, and/or minced fresh parsley, if desired.

Serve spread on sandwiches, with pita bread or crudités, or as a substitute for mayo in chicken or tuna salad.
Notes
Tahini substitute: You can use peanut butter or almond butter instead of tahini, which is a similar paste made from sesame seeds instead of nuts.
Use leftover roasted sweet potatoes to save time!
The provided nutrition information does not include any added sodium from seasoning to taste, any optional ingredients, and it does not take brands into account. Feel free to calculate it yourself using this calculator or by adding the recipe to Yummly.
Nutrition
Calories:
158
kcal
|
Carbohydrates:
12
g
|
Protein:
4
g
|
Fat:
11
g
|
Saturated Fat:
1
g
|
Sodium:
159
mg
|
Potassium:
157
mg
|
Fiber:
3
g
|
Sugar:
1
g
|
Vitamin A:
2326
IU
|
Vitamin C:
1
mg
|
Calcium:
33
mg
|
Iron:
1
mg
Nutrition Information Disclaimer
The provided nutrition information is my best estimate and does not include any added sodium from seasoning to taste, any optional ingredients, and it does not take brands into account. I use an automatic API to calculate this information. Feel free to calculate it yourself using one of these tools:
Very Well Fit Nutrition Information Calculator