This Beef Barley Soup is PACKED with good-for-you vegetables, like mushrooms, peas, carrots, and potatoes. Using already cooked beef, such as leftover prime rib or pot roast, cuts down on the cooking time.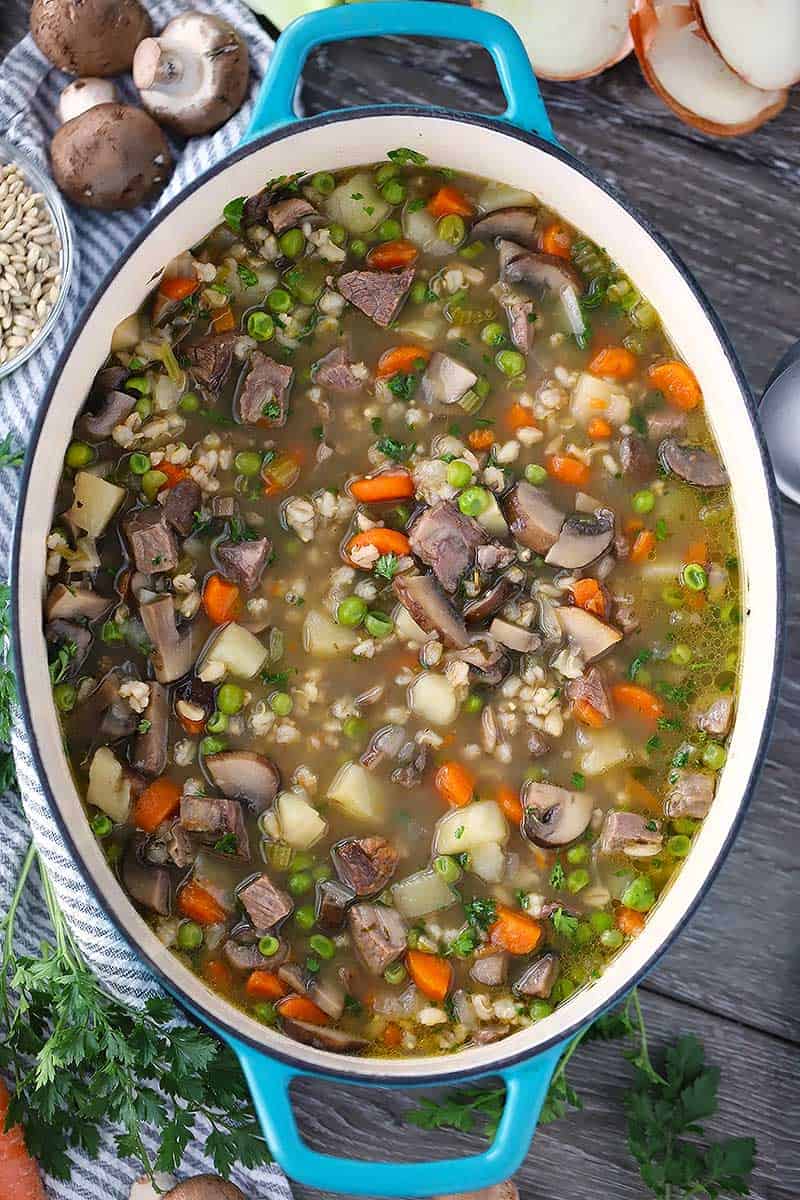 I know, I know. Leftover prime rib in a SOUP? Blasphemy.
But you guys, I made SO MUCH PRIME RIB for Christmas dinner. Too much. It was my first time making it and now I know better for next time.
So I made beef broth from scratch with the bones and chopped up the leftover meat to add to this soup. And you know what? IT WAS AMAZING.
You could use leftover steak, pot roast, beef tenderloin, or roast beef in this beef barley soup… literally whatever you have. (Or, if you don't have already cooked beef, you can use chuck or round roast. See recipe notes for how.)
Can Beef Barley Soup be frozen?
This beef barley soup is one of those soul-satisfying, hearty, delicious meals that you simply can't live without during the cold months. It's packed with protein, grains, and vegetables- a complete meal made in one pot that makes a TON and freezes beautifully.
In fact, I packed up half of it, froze it, and took over to our friends who are due with their second baby in only another week. It's such a good thing to stock your freezer with!
I like to freeze soups in an airtight container. When I'm ready to eat it, I run some hot water over the container to loosen it up. Then, I pop out the entire frozen block into a pot and heat it up on the stove. If it seems too thick, I'll add a little bit of water to thin it out (since some of the liquid can evaporate in the freezer).
Is Beef Barley Soup Gluten-Free?
For the longest time, I thought that the only food containing gluten was wheat. Nope! Barley is another grain that contains gluten, along with rye, spelt, and a few others.
So if you're looking for a gluten-free version, don't use barley. Instead, substitute rice. Or, you could even use gluten-free oats! There are a lot of savory oat recipes out there, including some Irish soups and stews, and it would have a similar texture and starchiness to barley.
Can I make this Beef Barley Soup in my slow cooker?
This recipe for Beef Barley Soup is made on the stovetop, but it's easy to adapt it to the slow cooker.
I prefer using the stovetop because it's faster (and I was hungry), and because you can sauté the vegetables directly in the pot which results in deeper flavor.
But to make this in your slow cooker, just add all the ingredients except for the beef, peas, and parsley to your crockpot. Cook on low for 6-8 hours or high for 3-4 hours, or until the barley is tender. Stir in the remaining ingredients when it's done and allow to heat up for another 5-10 minutes. Easy peasy!
I like this recipe for beef barley soup because it's packed with so many vegetables. It's a new year, and although I don't usually make specific food resolutions in terms of a strict diet, I have been thinking about how to eat more vegetables.
This beef barley soup is a bit healthier than others in the fact that it uses less beef and more veggies. A whole pound of mushrooms, a ton of peas, carrots, and celery, with a few potatoes thrown in there.
There are so many reasons to eat more vegetables and less meat- the health aspect, the environmental impact, the cost… and while I am not a vegetarian, I absolutely want to start packing more vegetables into my diet in 2019.
Did you make any New Years Resolutions around food? I'd love to know what they were in the comments!
If you like this Beef Barley Soup with Mushrooms, you'll love this Barley and Lentil Salad with Fresh Dill Vinaigrette, this Instant Pot Split Pea Soup, and this One-Pot Orzo with Mushrooms, Browned Butter, and Thyme.
You also may be interested in how to sauté the mushrooms so they're packed with flavor and perfectly browned. And you've got to check out this recipe for stuffed portobello mushrooms for more mushroom deliciousness!
Here's the printable recipe!
Beef Barley Soup with Mushrooms
This Beef Barley Soup is packed with vegetables, including mushrooms, peas, potatoes, and carrots. It's hearty and packed with flavor, and using already cooked beef cuts down on cooking time.
Save this Recipe
Saved!
Print
Pin
Rate
Ingredients
1

tablespoon

butter

or olive oil

1

yellow onion

diced

2

ribs celery

diced

2

carrots

diced

16

oz.

baby portobello mushrooms

sliced

2

white potatoes

diced (about 2 cups)

8

cups

beef broth

3/4

cup

pearled barley

2

cups

cooked beef

cut into cubes or shredded (see note)

1

cup

frozen peas

2

tablespoons

chopped fresh parsley

kosher salt and black pepper
Instructions
In a large pot or dutch oven, melt the butter (1 tablespoon) over medium-high heat. Add the onions, celery, and carrots. Sauté for about 5 minutes, until softened and starting to brown.

Add the mushrooms and a pinch of salt. Stir together and sauté, stirring only occasionally, until mushrooms are softened and most of their liquid has released and evaporated (about 5 minutes).

Add the potatoes, beef broth (8 cups), and barley (3/4 cup), along with some more salt and pepper. Bring to a boil, cover, and simmer on low for 40 minutes, or until barley is cooked.

Stir in the cooked beef, frozen peas (1 cup), and chopped fresh parsley (2 tablespoons). Cook for two more minutes, until everything is heated through.

Season to taste and serve.
Notes
I used leftover prime rib for this recipe. You can use leftover pot roast, steak, tenderloin, or any other leftover beef you have.
If you don't have cooked beef, you can use 1 lb. of beef chuck or round roast cut into 1/2″ pieces. Brown the pieces in butter or oil in the pot, remove and set aside. Then, continue with directions. When you add the beef broth, potatoes, and barley to the pot, add the beef as well, and simmer for about an hour until the beef is tender and the barley is cooked.
This beef barley soup can be frozen for up to 6 months in an airtight container.
For a gluten-free version, substitute rice or gluten-free oats for the barley.
The provided nutrition information does not include any added sodium from seasoning to taste, any optional ingredients, and it does not take brands into account. Feel free to calculate it yourself using this calculator or by adding the recipe to Yummly.
Nutrition
Calories:
208
kcal
|
Carbohydrates:
27
g
|
Protein:
14
g
|
Fat:
5
g
|
Saturated Fat:
2
g
|
Cholesterol:
22
mg
|
Sodium:
944
mg
|
Potassium:
729
mg
|
Fiber:
6
g
|
Sugar:
4
g
|
Vitamin A:
2815
IU
|
Vitamin C:
16.5
mg
|
Calcium:
53
mg
|
Iron:
3.5
mg
Nutrition Information Disclaimer
The provided nutrition information is my best estimate and does not include any added sodium from seasoning to taste, any optional ingredients, and it does not take brands into account. I use an automatic API to calculate this information. Feel free to calculate it yourself using one of these tools:
Very Well Fit Nutrition Information Calculator