This. This is going to change my life. An Easy Chicken Tikka Masala recipe from the comfort of my own home? In only 30 minutes? Yes, please!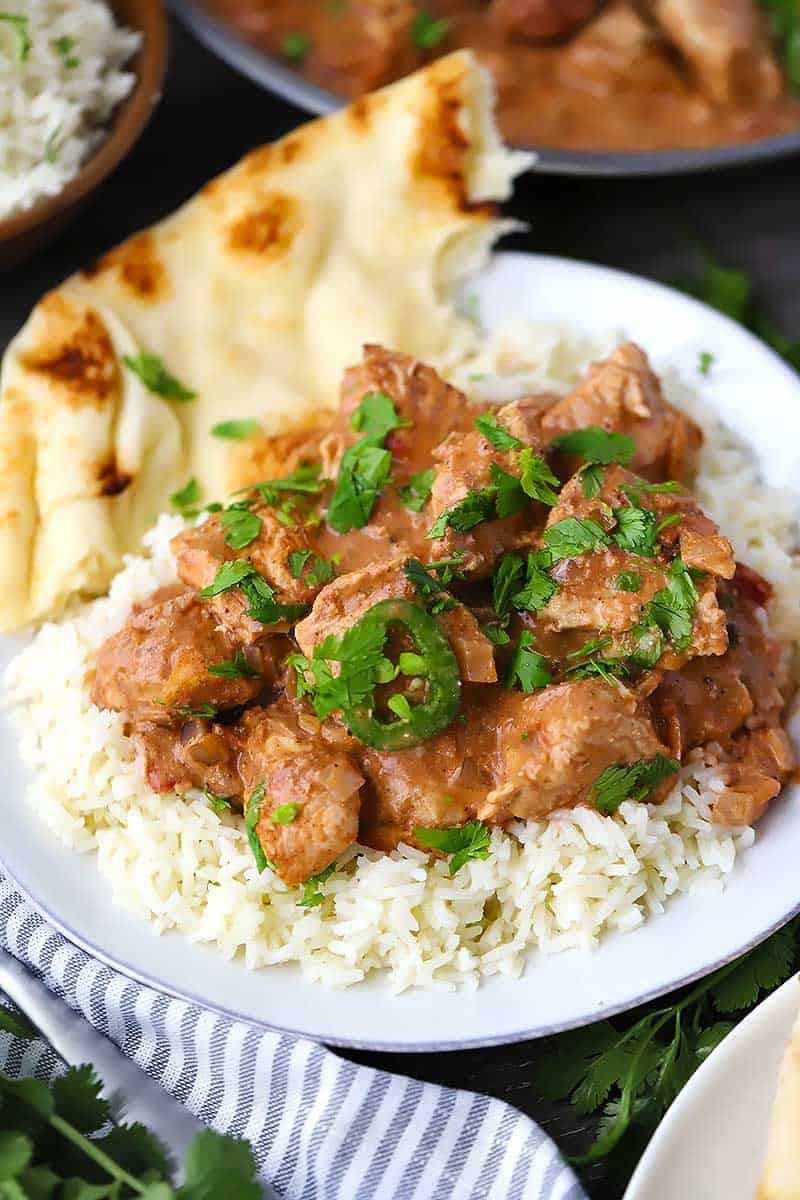 And it's guaranteed to be healthier, and cheaper, than your favorite Indian restaurant, without sacrificing taste!
Don't be scared because you've never made it before- it's SO EASY to make. Promise.
Indian food is one of my favorite things to eat, but living in a small town, we have to drive at least a half an hour to the closest Indian restaurant.
This easy recipe for chicken tikka masala, which is always my go-to order, helps me satisfy the craving without packing up the the whole family to go out to dinner.
What spices are in Chicken Tikka Masala?
The thing that makes this recipe extra super easy (and extra super yummy): garam masala. It's a spice mixture that you can buy or make yourself, consisting of all kinds of yummy aromatic spices like cardamom, cumin, coriander, and ginger.
When you already have the spices mixed, it's easy to grab a tablespoon of it from the pantry to flavor this entire meal, along with cayenne pepper for some spice.
True, authentic Indian cooks often toast whole spices in a skillet before crushing it themselves using a mortar and pestle.
While this can introduce complex and delicious flavors you otherwise wouldn't get, I'll choose the pre-mixed, pre-ground garam masala almost every time just to make my life easier.
A happy compromise is achieved in this recipe by adding the spices to the onions and letting them toast for a while before adding the tomatoes helps bring out that extra level of toasty flavor.
Where did Chicken Tikka Masala originate?
Chicken Tikka Masala is actually a curry, consisting of Chicken Tikka (chicken marinated in yogurt and spices, then cooked in a tandoori grill), served with a creamy, tomato-based sauce over rice.
Actually, there's some speculation that Chicken Tikka Masala originated in the UK, rather than India. Chicken Tikka is authentically Indian, but it's thought that putting it in the creamy sauce was developed by Indian immigrants to the area to satisfy the desire of British people to have their meat served in gravy.
The sauce is often bright red or orange in color- this is achieved by adding spices like turmeric, or in some cases, food dyes.
This recipe isn't as brightly colored as those I've seen in restaurants, kind of like this egg drop soup, but it's still delicious.
How do you make Chicken Tikka Masala?
First, you'll marinate the chicken in a simple mixture of Greek yogurt, garam masala, salt, and pepper. It's good to let it sit for at least 20 minutes, but ideally let it sit overnight.
If you don't have time to do this step or forget, fear not. It will still be delicious. You can even use leftover cooked chicken from another meal or a store-bought rotisserie, if you want to keep things really simple.
Then, brown the chicken in some butter. No need to fully cook it- you're just trying to get it some color.
Remove the browned chicken and add some onions to the pot, along with some more butter. You want to soften the onion a lot, but avoid browning it.
I find the flavor a bit better if I let the onions sweat, rather than brown. It takes a little longer but I think it's worth it.
Then, add ginger, garlic, spices, crushed tomatoes, and the chicken back into the pot. Simmer until the chicken is fully cooked, and stir in some heavy cream.
You can also use regular milk, or even coconut milk instead.
I like serving this over cumin-scented basmati rice. I add whole cumin seeds to basmati rice while it cooks- see recipe notes for more on how to do this.
After a quick garnish of fresh cilantro and some sliced fresh jalapeños (or not, whatever floats your boat), the chicken tikka masala is ready to eat. Don't forget the naan to mop up the delicious sauce!
As a bonus, this recipe is a great thing to make in advance- it reheats beautifully for dinner later in the week or to take for meal prep lunches all week long.
And you can freeze it for up to 6 months in an airtight container!
If you like this recipe, you'll love this Curried Chicken Salad with Apples and Raisins, this Oven-Broiled Tandoori Chicken (which you can use in this recipe, if you prefer), and this Red Lentil Dal with Poached Eggs and Cucumber Yogurt Sauce.
Here's the printable recipe for this Easy Chicken Tikka Masala!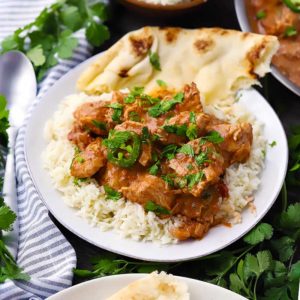 Easy Chicken Tikka Masala
Chicken Tikka Masala is an easy-to-make, popular Indian recipe that's guaranteed to be healthier (and cheaper!) than at your favorite Indian restaurant without sacrificing taste!
Save this Recipe
Saved!
Print
Pin
Rate
Ingredients
1.5

pounds

chicken breast or thigh meat

cut into 1-inch cubes

1/2

cup

Greek yogurt

1.5

tablespoons

garam masala

divided

1

teaspoon

kosher salt

1/4

teaspoon

black pepper

4

tablespoons

butter

divided

1

onion

diced (about 1 cup)

1

tablespoon

fresh ginger

grated (see notes)

2

cloves

garlic

minced (about 1 tablespoon)

14.5

oz.

canned crushed tomatoes

or pureed

1/4

teaspoon

cayenne pepper

1/2

cup

heavy cream

whole or coconut milk can also be used

Naan bread

cooked basmati rice, fresh cilantro and sliced jalapeños, for serving ((optional- see notes))
Instructions
Marinate the chicken in the yogurt (1/2 cup), 1/2 tablespoon of the garam masala, kosher salt (1 teaspoon) and black pepper (1/4 teaspoon) for at least 20 minutes or overnight.

Heat 2 tablespoons butter in a large, deep skillet or pot over medium-high heat.

Brown the marinated chicken on both sides over very high heat- it shouldn't be fully cooked, you're just trying to get some color on it (about 2-3 minutes on each side). Remove from the pot and set aside.

Add remaining 2 tablespoons butter to pot and sauté the onions over medium heat until very soft, about five minutes.

Stir in the remaining 1 tablespoon garam masala and cayenne pepper (1/4 teaspoon). Sauté for a minute or so, until spices are toasted and fragrant.

Add the 2 cloves minced garlic and minced fresh ginger (1 tablespoon) and sauté for approximately 1 minute, or until fragrant.

Pour in the 14.5 oz. crushed tomatoes and add the browned chicken. Bring to a simmer, cover, and cook on low for about 15 minutes, or until chicken is fully cooked.

Stir in the heavy cream (1/2 cup). Taste and adjust seasoning if necessary.

Serve over rice with naan, garnished with chopped fresh cilantro and sliced fresh jalapeños, if desired.
Notes
You can serve this with plain basmati rice (or another variety), but I recommend adding some whole cumin seeds when you cook it to pump up the flavor. I usually toast 1 cup of basmati rice in 1 tablespoon butter along with 1/2 teaspoon whole cumin seeds for 2-3 minutes. Then, I add 1 3/4 cups water, bring to a boil, cover, and turn the heat to low to cook for about 15 minutes. Delicious!
A note about the ginger: I keep fresh ginger in the freezer and use a microplane grater to grate it directly from the freezer when I need it. This way, you don't need to worry about fresh ginger going bad, if you use it infrequently.
You can freeze this in an airtight container for up to 6 months, and you can make it ahead of time to reheat for dinner or lunches throughout the week.
To make this dairy-free/whole30/paleo compliant, use ghee instead of butter, skip the marinating, and use coconut milk in place of the cream.
This recipe first appeared on Bowl of Delicious on December 13, 2014. It's been updated to include more information, updated photos, a video, and some small recipe adjustments.
The provided nutrition information does not include any added sodium from seasoning to taste, any optional ingredients, and it does not take brands into account. Feel free to calculate it yourself using this calculator or by adding the recipe to Yummly.
Nutrition
Calories:
461
kcal
|
Carbohydrates:
14
g
|
Protein:
21
g
|
Fat:
36
g
|
Saturated Fat:
18
g
|
Cholesterol:
133
mg
|
Sodium:
896
mg
|
Potassium:
553
mg
|
Fiber:
5
g
|
Sugar:
7
g
|
Vitamin A:
1175
IU
|
Vitamin C:
13.3
mg
|
Calcium:
103
mg
|
Iron:
2.1
mg
Nutrition Information Disclaimer
The provided nutrition information is my best estimate and does not include any added sodium from seasoning to taste, any optional ingredients, and it does not take brands into account. I use an automatic API to calculate this information. Feel free to calculate it yourself using one of these tools:
Very Well Fit Nutrition Information Calculator