Beef and Broccoli is an easy Chinese-inspired stir-fry recipe you can make from home in 20 minutes- it's healthier than take-out! The sauce uses very few pre-made condiments, opting instead for lots of flavor from adding fresh ginger, orange zest and juice, and garlic. The flank steak beef is SUPER tender, and it's delicious served over cooked rice, quinoa, or noodles, or a low-carb alternative like cauliflower rice or zoodles.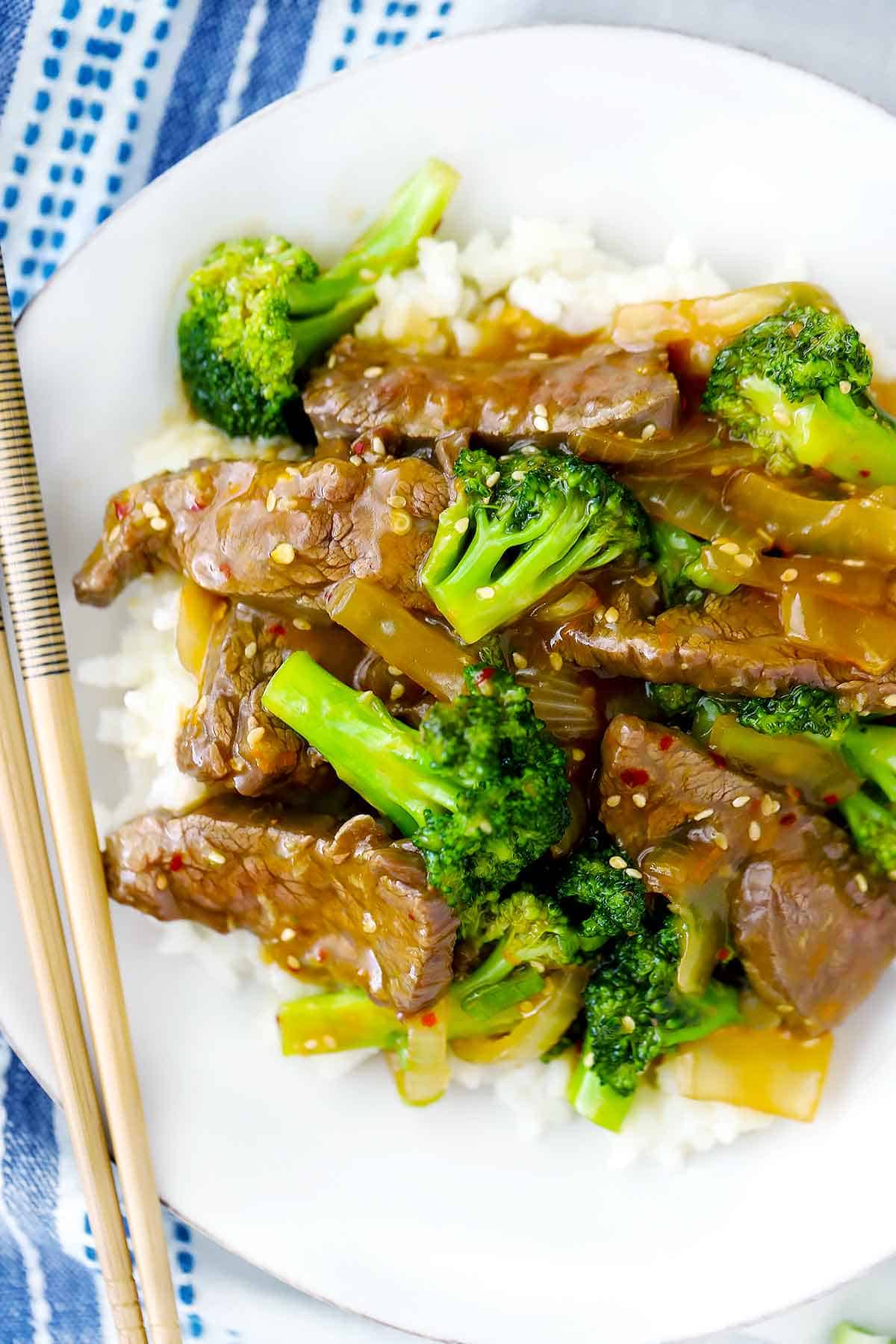 No need to go to Panda Express for your next beef and broccoli fix! And no need to go to the store to get thousands of condiments for this recipe.
This recipe is great for a more minimal kitchen. I often don't have the ingredients to make authentic Chinese stir fry sauces at home so I used ingredients I had on hand to make this shortcut beef and broccoli, without skimping on flavor.
So I set out to make a beef and broccoli recipe that relied on fresh, simple ingredients for flavor without relying on store-bought condiments. There are SO many beef and broccoli recipes out there that require hoisin sauce, oyster sauce, rice wine… the list goes on and on. All you need for this recipe (besides the obvious- beef and broccoli) is soy sauce, fresh ginger, fresh orange, and a few other things you probably already have in your pantry.
What cut of beef should you use for beef and broccoli?
The most common cut of beef used in beef and broccoli is flank steak. It's what I used to make this. But you can use flat-iron, or another cut of steak, too.
I like using flank steak because it's cheap and one of the healthiest cuts of beef– it's leaner and has more protein than many other cuts. It's packed with flavor and super tender- if you cook it right.
How to cook flank steak so it's tender
The two key things to make sure you cook the flank steak so it's not tough and chewy are:
Don't overcook it, and
Slice it across the grain
A lot of people think it's necessary to marinate flank steak for a long time, so the acid breaks down the connective tissue. While there is some truth to this, it's also really easy to cook flank steak so it's melt-in-your-mouth tender by simply not overcooking it.
For this beef and broccoli recipe, the beef marinates for just a few minutes while you prep your other ingredients in soy sauce (this is for flavor, not to make it more tender) and is sautéed briefly before the other ingredients are added to the skillet. It finishes cooking in the sauce, resulting in super tender beef and broccoli!
Should I use fresh or frozen broccoli?
I used fresh broccoli. And I used larger florets so I could include the stem (I hate wasting broccoli stems!). Here's a tutorial on how to cut broccoli into florets!
You can also use frozen broccoli. Broccoli is blanched (boiled briefly) before it's frozen, so it comes already partially cooked. Because of this, you won't need to cook it as long as fresh, and it also may come out a bit mushier in texture. Still delicious, though :-)
If you use fresh broccoli, cook it for a little while before adding the sauce. If you use frozen, I recommend thawing it first and adding it with the sauce, toward the end of cooking.
Tips for success
Gather and prep all your ingredients (zest and juice the orange, mince the garlic, etc.) before beginning to cook. This recipe moves quickly. And because it's so important to not overcook the flank steak, you'll want to be ready to go with all your ingredients!
Mix the beef with the soy sauce before you prep your other ingredients. This will give it the most time to absorb all the flavors from the soy sauce.
A microplane zester will be your best friend for this recipe. You can use it to zest the orange, mince the garlic, AND grate the ginger.
Other Easy Stir Fry recipes
Did you make this Easy Beef and Broccoli Recipe? Please comment below and Rate this Recipe!
Easy Beef and Broccoli
This Beef and Broccoli recipe is an easy and simple stir fry, flavored with fresh ginger and orange with almost no store-bought condiments- skip the takeout and try this homemade beef and broccoli!
Save this Recipe
Saved!
Print
Pin
Rate
Ingredients
1

lb.

flank steak

sliced thinly against the grain (flat iron or another cut can also be used)

4

tablespoons

soy sauce

divided

2

tablespoons

corn starch

2

tablespoons

brown sugar

1/4

teaspoon

crushed red pepper

omit if you don't like spicy, or add more if you want.

zest and juice of one orange

about 1 tablespoon zest and 1/4 cup juice

1

tablespoon

fresh ginger

minced or grated

1

clove

garlic

minced

1

teaspoon

sesame seeds

preferably toasted

2

tablespoons

water

plus more if needed

2

tablespoons

canola oil

or other oil, such as olive or coconut

1

yellow onion

quartered and thinly sliced

2

cups

broccoli florets

from 1 large or 2 small heads of broccoli

cooked white or brown rice, cauliflower rice, or noodles

for serving (optional)

sliced green onions and more sesame seeds

for serving (optional)
Instructions
Mix the sliced flank steak (1 lb.) with the half of the soy sauce (2 tablespoons) in a bowl. Set aside to sit for a minute or two.

Whisk together the corn starch (2 tablespoons) with the remaining soy sauce (2 tablespoons) in a small bowl or glass measuring cup until it's smooth and there are no lumps remaining. Add the brown sugar (2 tablespoons), crushed red pepper (1/4 teaspoon), orange juice and zest, minced fresh ginger (1 tablespoon), minced clove of garlic, sesame seeds (1 teaspoon), and water (2 tablespoons). Whisk together until well combined and sugar has dissolved a bit. Set aside.

Heat the canola oil (2 tablespoons) in a large skillet or wok over medium-high heat.

Add the sliced onion to the skillet and cook until softened and beginning to brown, about 3 minutes.

Turn the heat down to medium and add the marinated beef to the skillet. Continue to cook until beef is browned a bit on the outside but NOT cooked through, stirring occasionally (about 2 minutes).

Add the broccoli and sauté for one more minute, until it begins to turn bright green.

Pour the sauce into the skillet. Cook for about 2 more minutes, stirring frequently, until sauce is thickened and beef is fully cooked. If sauce gets too thick too quickly, you can add more water. If it takes too long to get thick, turn up the heat a bit.

Serve beef and broccoli on top of cooked rice or noodles and garnish with chopped green onions and more sesame seeds, if desired.
Notes
Time saving tip: Precook the rice over the weekend or buy frozen, pre-cooked rice from the store.
Money saving tip: Flank steak is already inexpensive, but you can use a cheaper non-beef alternative, such as chicken thighs or tofu, if you prefer. You can also omit the orange zest and juice, or use bottled OJ as an alternative.
Make it paleo/grain free: Use arrowroot powder instead of cornstarch, and use honey or maple syrup in place of the brown sugar. And be sure to use coconut aminos or another soy sauce substitute.
I used regular sodium soy sauce for this. If you use low sodium, I recommend replacing the 2 tablespoons of water with more soy sauce so it's salty enough.
The provided nutrition information does not include any added sodium from seasoning to taste, any optional ingredients, and it does not take brands into account. Feel free to calculate it yourself using this calculator or by adding the recipe to Yummly.
Nutrition
Calories:
298
kcal
|
Carbohydrates:
17
g
|
Protein:
28
g
|
Fat:
13
g
|
Saturated Fat:
3
g
|
Cholesterol:
68
mg
|
Sodium:
1086
mg
|
Potassium:
609
mg
|
Fiber:
2
g
|
Sugar:
8
g
|
Vitamin A:
321
IU
|
Vitamin C:
43
mg
|
Calcium:
65
mg
|
Iron:
3
mg
Nutrition Information Disclaimer
The provided nutrition information is my best estimate and does not include any added sodium from seasoning to taste, any optional ingredients, and it does not take brands into account. I use an automatic API to calculate this information. Feel free to calculate it yourself using one of these tools:
Very Well Fit Nutrition Information Calculator
This post originally appeared on Bowl of Delicious in April 2014 as "Five Spice Orange Beef and Broccoli." The recipe, photos, and text have been edited to be simpler, easier, and more delicious!