Here's a step-by-step tutorial for how to cut broccoli into florets when you pick up a whole head from the store! Cutting a crown of broccoli (or cauliflower) into both large AND small florets is easy, fast, and doesn't have to create a huge mess. This method of cutting broccoli is clean and you get the most out of this healthy vegetable with almost no waste!
Cutting broccoli was an enigma to me for a long time. I'd usually just hack at it until I had reasonably sized broccoli for whatever I was making. I was often left with a HUGE mess on my cutting board of stray pieces of broccoli and tiny green buds. Until I saw the light! Er, I mean, learned the correct way to cut broccoli.
It's actually SUPER easy to cut broccoli into beautiful florets. Even those tricky middle-of-the-crown pieces. The trick lies in never touching the dark green buds with a knife. You'll do all the cutting on the stems. I'll show you how.
You can use the cut broccoli florets for so many things, including in salads, to use in recipes, or just to enjoy as a healthy snack with your favorite dip.
Here's the easy, mess-free way to cut broccoli into big or small florets.
How to cut a broccoli crown into florets
The first step to cutting a head of broccoli is to separate the edible florets/stems from the tough, thick center stem.
Hold the broccoli with the stem facing up on your cutting board. Use your knife to make downward cuts, separating the florets from the thick center stem, leaving about 1″ of the stem intact. This part of the stem is edible and tender and delicious, so you want to make sure you preserve it!
How to cut florets in half without making a mess!
You'll now have a bunch of florets- some already the perfect size but some huge and needing to be cut down. In this step, we're aiming to have about 1 square inch of dark green buds on top. Here's how to cut down the larger florets WITHOUT making a huge mess!
Hold a large floret with the stem facing up on your cutting board. Carefully make an incision vertically down through the center of the stem about 1/2 inch long.
Then, use your hands to grab each half of the stem and pull the floret apart. Ta-da! Two perfectly sized florets ready to meet all your broccoli needs.
How to cut small, bite-size broccoli florets and stems
The larger florets you just cut are perfect for some recipes. But sometimes you need smaller, bite-size florets. Like if you're trying to sneak them into boxed mac and cheese for your kids. Been there. Done that. Here's how to cut the larger florets down to smaller florets AND stems, which you can also use for cooking!
First, cut the stem off the large floret very close to the base, where the green buds start to form.
Then, in a similar way to when you cut the large florets down, use a knife to carefully slice partway into the base, holding the floret upside down on the cutting board.
Pull apart the floret. You may have to do this two or three or even four times per larger floret, depending on how small you want the florets to be.
How to wash and store cut broccoli
I recommend washing the broccoli AFTER cutting it into florets for two reasons. First, it's easier to cut if it's dry to start with. And second, it will get cleaner because there is more surface area available to wash once it's cut. I usually just throw all the florets (and stems) in a colander as I finish cutting them and then give them a rinse.
Once you're done washing it, make sure you shake as much water off as you can. This will help you cook it better as well as keep it fresher for longer if you are storing it.
You can store the cut broccoli in an airtight container in your fridge for about 5 days, maybe even longer. This is GREAT for meal prepping- get the broccoli all set for any recipes you have planned for the week to save some time later! Or add a few broccoli florets to your packed lunch with some ranch dressing, dill dip, or homemade hummus for dipping. Yum.
What to do with the broccoli stems, stalk, and leaves
You can use the small, tender broccoli stems for basically any recipe that calls for broccoli.
But the thick, center stalk from the broccoli crown is tough and fibrous. I honestly usually toss it (or throw it in my compost). But you CAN eat it- some people peel it because the inside is more tender than the rest. You could throw it in a soup and puree it or use it in a stir fry.
Here's a great resource on everything you need to know about eating the broccoli stalk!
The leaves from broccoli are completely edible. You can throw them in a salad, or use them in any recipe that calls for greens (such as in this Chicken Soup with Sweet Potato, Quinoa, and Greens).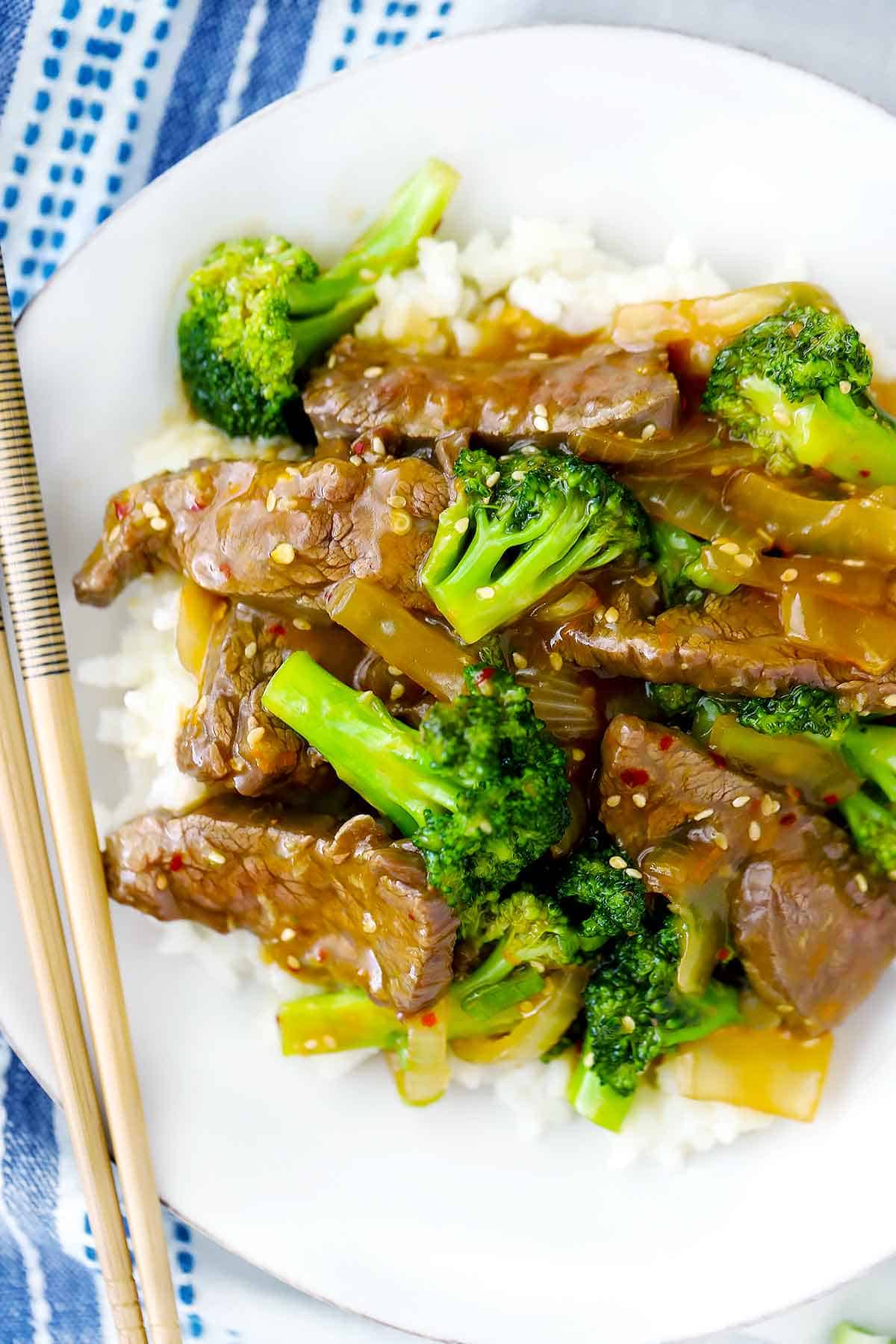 Easy recipes using broccoli florets
And if you use this technique for cutting cauliflower florets, be sure to try this roasted cauliflower with raisins and pine nuts!
Did you try this method of cutting broccoli (or cauliflower) into florets? Please comment below and Rate this Recipe!
How to Cut Broccoli
A step by step tutorial for how to cut broccoli into large or small florets from a crown, separate the stems, and not leave a mess of green buds behind on your cutting board!
Save this Recipe
Saved!
Print
Pin
Rate
Instructions
Hold the broccoli with the stem facing up on a cutting board and use your knife to remove the florets from the crown, leaving about 1 inch of stem on each piece.

When you get to the center of the crown, place the stem flat on the cutting board and cut down to separate the large bunch of florets from the thick stem.

Hold a larger floret with the stem facing up on the cutting board and slice vertically into the stem about 1" inch.

Use your hands to pull apart the two florets.

To make smaller florets, continue at this point. Use your knife to cut the stem off of the floret close to the base where the buds start. Set stem aside.

Use your knife to slice just a little big through the base of the small floret.

Pull small floret apart into two pieces.

Place the florets in a colander and rinse. Shake dry. You're now ready to eat it raw or use it to cook with!
Notes
Store cut, prepared broccoli in an airtight container for up to 5 days in your refrigerator.
Nutrition
Calories:
52
kcal
|
Carbohydrates:
10
g
|
Protein:
4
g
|
Fat:
1
g
|
Saturated Fat:
1
g
|
Sodium:
50
mg
|
Potassium:
480
mg
|
Fiber:
4
g
|
Sugar:
3
g
|
Vitamin A:
947
IU
|
Vitamin C:
136
mg
|
Calcium:
71
mg
|
Iron:
1
mg
Nutrition Information Disclaimer
The provided nutrition information is my best estimate and does not include any added sodium from seasoning to taste, any optional ingredients, and it does not take brands into account. I use an automatic API to calculate this information. Feel free to calculate it yourself using one of these tools:
Very Well Fit Nutrition Information Calculator