This is a post about steamed broccoli. But bear with me. I know it's not the most exciting thing in the world… usually. But when it's paired with this simple and scrumptious dip made from a mixture of soy sauce and mayonnaise, it takes the otherwise bland (but ridiculously healthy) side dish to whole new levels.
I know, I know. It sounds weird. I thought so too, when one of my old roommates made this as a side to her dinner one night years ago. Then I tried it, and I've made it countless times since. It's absolutely DELICIOUS, low-carb, and perfect on the side of an Asian dish (we had it with sushi from our grocery store for dinner tonight), or simple seared steak, chicken, or fish.
The mayo soy sauce dip is SO GOOD. It's salty, creamy, and packed with that awesome umami flavor you get from soy sauce. No need to do anything to the broccoli- not even salt and pepper. The dipping sauce packs such a flavor punch that no other seasoning is necessary, making this a ridiculously easy side dish to whip up any time. Everything takes a mere 5 minutes from start to finish!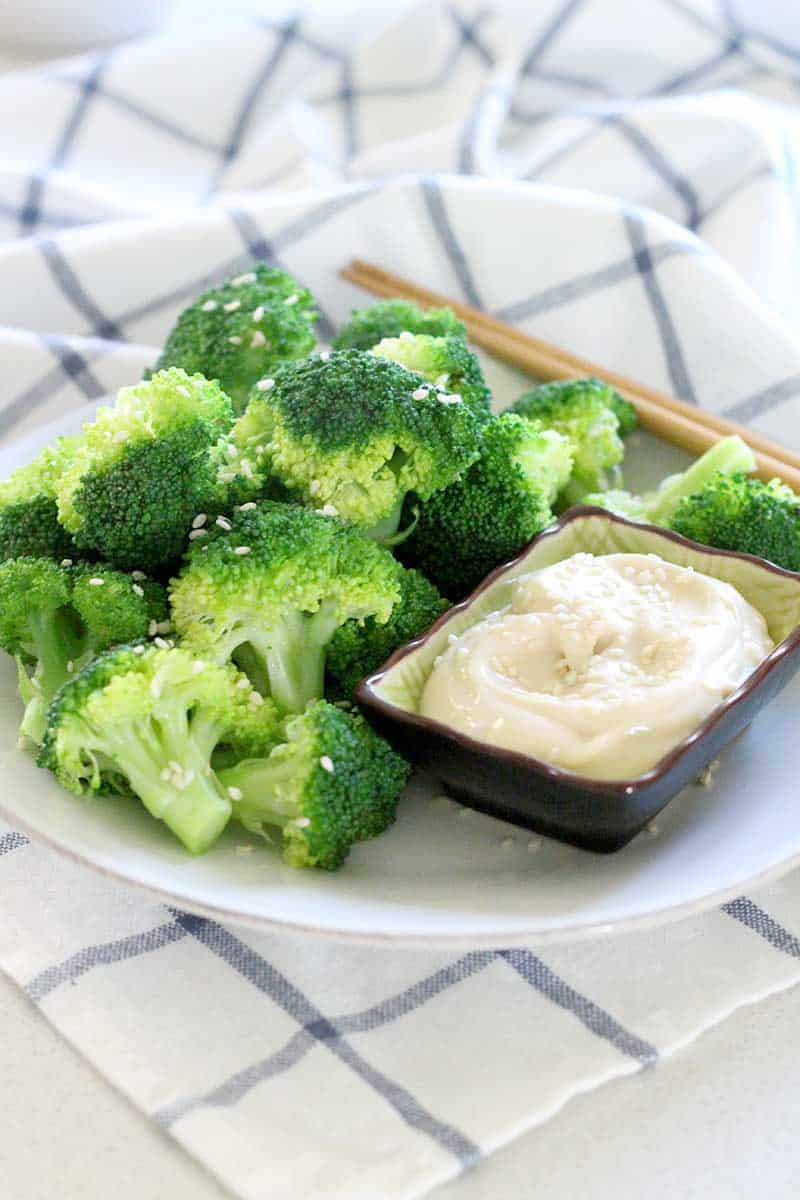 I recommend making some extra sauce to slather on sandwiches or wraps.
You'll want to make sure to not cook the broccoli too much. It's easy to overcook the broccoli when steaming it on the stove- no more than 2-3 minutes is necessary to achieve crisp-tender perfection. When it turns a bright, beautiful green color, you'll know it's done.
You probably don't even need an official recipe for this one since it's so easy, but here are the instructions for you anyway :-) Enjoy!
Try this steamed broccoli on the side of Honey Soy Chicken Breasts.
Steamed Broccoli with Soy Sauce Mayonnaise Dip
Steamed broccoli is anything but boring when paired with this DELICIOUS dip made from mayonnaise and soy sauce- an awesome healthy, low-carb side!
Save this Recipe
Saved!
Print
Pin
Rate
Instructions
Steam the broccoli florets (1 lb.) in a steamer basket for 2-3 minutes until bright green and crisp-tender (not too cooked).

Meanwhile, mix together the soy sauce (1/2 teaspoon) and mayonnaise (1/4 cup).

Serve the broccoli with the sauce and garnish with sesame seeds, if desired.
Notes
The soy sauce/mayonnaise dip is delicious with other steamed or roasted veggies, such as green beans or cauliflower.
The provided nutrition information does not include any added sodium from seasoning to taste, any optional ingredients, and it does not take brands into account. Feel free to calculate it yourself using this calculator or by adding the recipe to Yummly.
Nutrition
Calories:
134
kcal
|
Carbohydrates:
8
g
|
Protein:
3
g
|
Fat:
11
g
|
Saturated Fat:
2
g
|
Cholesterol:
6
mg
|
Sodium:
168
mg
|
Potassium:
358
mg
|
Fiber:
3
g
|
Sugar:
2
g
|
Vitamin A:
706
IU
|
Vitamin C:
101
mg
|
Calcium:
53
mg
|
Iron:
1
mg
Nutrition Information Disclaimer
The provided nutrition information is my best estimate and does not include any added sodium from seasoning to taste, any optional ingredients, and it does not take brands into account. I use an automatic API to calculate this information. Feel free to calculate it yourself using one of these tools:
Very Well Fit Nutrition Information Calculator