Here is a rare, non-recipe post! I wanted to take some time to explain one of my greatest kitchen loves, and hopefully convince you to jump on the bandwagon with me :-)
I love, love, LOVE my cast iron cookware. I have four skillets: a 12-inch, a 10-inch, and two tiny 5-inch skillets. I knew Zach was "the one" when he got me my first for Christmas after we had just begun dating. And I have to say: he, too, has benefited greatly from this timeless gift. :-)
If you are thinking about getting one, or hear good things about it but are scared to make the jump to cast iron, I hope this post will convince you that cast iron cookware is AWESOME and that it's easier than you think to take care of it.
So, why are they so great?
I want every home cook out there to share in the same joy that I get when I use mine (cooking nerd alert). Do you have one? If not, here are the reasons why I love mine.
They are cheap! Compared to other high-quality stainless steel, non-stick, or copper cookware, cast iron is a fraction of the price (and, in my opinion, much better at cooking food).
They are naturally non-stick! After seasoning it and using it for a few times, you can fry an egg, cook tofu, or saute other delicate items with ease in a cast iron skillet. Traditional non-stick pans are coated in Teflon, which is more delicate and if not used properly, can cause harmful chemicals to seep into the air and into your food.
Because of their heavy weight, they retain heat well to cook food very evenly and keep it warm even after cooking. They are great to serve food directly out of in the middle of the table since it will stay nice and toasty warm for a good while. (Just be careful to not touch the skillet directly!)
They can be used on the stovetop or in the oven. This is great for things like browning meat and then finishing cooking in the oven, for making cornbread or casseroles, or, in tiny skillets, for making individual portions of food you can eat directly out of, like baked gnocchi.
They increase the iron content of your food! The longer the food is in contact with the skillet, the higher the iron content will be.
They will last a lifetime. Talk about a smart investment!
They are pretty! They add a traditional, rustic flair to any kitchen. I like the look of mine so much (and also am aware that they are very heavy) that I usually keep mine on my stovetop even when I'm not using it.
Seasoning cast iron: What is it, and how do you do it?
Seasoning refers to the oil build-up on a cast iron skillet that makes it naturally non-stick. A well-seasoned skillet will have been used multiple times and will have had multiple occasions for oil to build up. Some cast iron skillets will come "pre-seasoned" and some will not. Regardless of which kind you buy, I would recommend taking these initial steps at home to make sure you are building a great base seasoning layer right from the beginning.
Preheat your oven to 350 degrees.
Wash the skillet: Before you season the skillet for the first time, this is the ONLY time you are allowed to wash it with warm, soapy water (if you want to give it a cleaning after getting it home from the store or your grandmother's attic). Use a sturdy sponge or stiff brush to clean it- really get in there, especially if it's a used skillet.
Apply oil to the skillet: Apply a thin layer of oil to the inside and outside of the skillet (you can put a couple of tablespoons inside the skillet, then use a paper towel to spread it evenly around the entire thing). This initial seasoning layer will help seal in the cast iron and prevent rust, which is why you apply it to both the inside and the outside. Traditionally, most people use vegetable oil or shortening, but you can use any oil of your choice. If you want to go really old-school here, you can even use bacon grease!
Bake the skillet for one hour: Place in the center of the preheated oven on the top rack, upside down. Place a pan or a sheet of foil on the bottom rack to catch any drips.
Allow to cool in oven: Turn off heat and allow the skillet to cool in the oven. This will allow the oil layer to penetrate further and save you from potentially burning yourself!
Cook fatty things for the first few times you use it: Your skillet will now be ready to use! Still, a good seasoning layer depends on multiple uses of the skillet. It will get better and better with each layer of oil you apply. I recommend using the skillet for the first few times cooking things like bacon, burgers, or other fatty things that won't stick easily (don't do fried eggs the first time you use it!) to continue building the seasoning layer.
A well-seasoned skillet's patina will be shiny, smooth, and non-stick. If your food is sticking or the skillet looks dull, rusty, or bumpy, it may be time to do this process over. However, I haven't had to re-season mine since I got it about three years ago, since I follow good cleaning procedures and use it so frequently.
Cleaning/caring for cast iron: it's easier than you think.
To an unseasoned cast iron cookware user (GET IT?!), the care of cast iron can seem a little daunting. Fear not, my friends. Once you get used to the new routine (I'll admit, it does take some getting used to since caring for it is different than other cookware), you won't think twice about it. Here is how to make sure you are taking care of your skillet properly.
How to clean without using soap: Do not wash with soap!!! The natural non-stick surface of a cast iron skillet is created by oils from the food you cook. Using soap dissolves these oils. Instead, use warm water and a clean towel to wipe down the skillet. Very often, you will be able to do this right from the stovetop (just wipe the inside clean with a warm damp towel) instead of hauling it all the way to your sink!
How to clean stuck-on messes: Even though cast iron is non-stick if properly cared for, food can sometimes stick to it, especially when it is newer and the non-stick coating hasn't been fully developed. If this happens, add some kosher salt to the skillet and, using a damp warm towel, scrub the skillet by rubbing the salt into the stuck-on parts. The abrasive nature of the salt should dislodge the mess. Alternatively, you can heat the skillet on the stove and add water to it. Heat the water (don't boil) for a little bit and use a metal spatula to scrape up the stuck-on parts. (This is similar to deglazing when you make a pan sauce.)
Drying and oiling the skillet: After cleaning, make sure the skillet is dry. If water is left on it, it may rust (which is fine- you can clean the rust off and after oiling it again, it should be fine to use!). You can dry using a towel or by putting the skillet back on the stove and heating up for a bit. After the skillet is dry, put a small amount of oil (canola, olive, or other oil of your choice) in the middle of the skillet, and use a clean towel to rub the oil into the bottom and sides of the inside of the skillet. This should be a thin coat- the oil shouldn't be accumulating anywhere.
Storing the skillet: I stack all my cast-iron together on one shelf, and usually leave my biggest skillet out on the stove at all times (because it's pretty). Some people will add a paper towel on top of their skillet for storage, so if something else is placed on top of it, the bottom doesn't get oily. Usually, cast iron skillets come with a hole in the handle, so if you have a sturdy hook, you can also hang them. Cast iron's only downfall is that it is heavy, so make sure to store it in a place that is easily accessible and you won't throw your back out when you are putting it away or getting it out!
What kinds/sizes should you buy?
You can do all kinds of things with your traditional ten or twelve inch cast iron skillet, and would recommend one of these to start (the other things on this last are useful, but not absolutely necessary). Since I have a *teeny* obsession with cast iron, I have more than just the one :-) Here are the cast iron items that I own, plus some accessories. Clicking on the pictures and links will take you to amazon.com, where you can buy them!
Must-have: 12-inch and 10-inch skillets. I have one of each. I use the 12-inch one most frequently since it has a larger surface area for things like searing chicken or cooking long strips of bacon. The 10-inch is great for smaller portions and for things like skillet cornbread. If you are going to have one piece of cast iron cookware, go for one of these. If I had to recommend one, I'd say get the 12-inch. It's more versatile and you can cook more large portions in it (which I always tend to do, since I often cook in bulk and freeze/store the remainder for a busy day). If you tend to cook smaller portions, get the 10-inch. (I have both Emeril's brand and Lodge brand – both are equally great).
Tiny, adorable, 5-inch skillets: These are great for serving individual portions of food- just take directly out of the oven and eat out of the skillet! (well, maybe allow to cool for a few minutes or so) :-) Perfect for individual casseroles or pot pies, or my favorite: baked gnocchi with marinara, mozzarella, and fresh basil. The cast iron keeps the food warm while you eat, so it doesn't cool off. Plus, fewer dishes!
Pizza Pan: There are many cast iron products that are not traditional skillets. Similar to a baking stone, a cast iron pizza pan is heated in the oven to a very high temperature , then the assembled pizza is placed on the pan to get a crispy crust and melty cheese on top. You can also bake artisan bread on it! You can also use it on the stovetop as a large, round griddle- perfect for pancakes.
Grill/Griddle: This is a large grill pan on one side and griddle on the other that spans over two burners on your stovetop. You can also use it as a large, rectangular baking stone for pizza or bread in the oven by using the flat side. It's great for indoor grilling, but I have to say: because the grill side is not flat, it is difficult to clean. I tend to use the flat side more frequently. It's also a great thing to use under the broiler, since it can withstand very high heat.
Handle Mitts: These are great for putting on the skillet after taking it off of the stove/out of the oven. That way when you serve things, you won't accidentally reach for the handle to steady the pan and burn yourself (been there, done that. It's not fun.). Plus, they are super cute! Alternatively, you can just wrap a kitchen towel around the handle for the same effect.
Buying anything on Amazon through the links on this page will cost the same to you, but will provide Bowl of Delicious! with a small commission, supporting the blog and helping me spread the word about real food for busy people :-)
Tips for using and cooking with cast iron:
Cast iron takes a long time to heat up, since it is so heavy. Once it is heated, it retains its heat beautifully and cooks food evenly. When you are about to cook something, let the burner heat the skillet a little longer than you normally would.
Because it goes from the stovetop to the oven, it's a great tool for browning meat on the stove and finishing cooking in the oven. You can then take the skillet back out and make an awesome pan sauce on the stovetop with the drippings from the meat. Best one-pot meal ever!
The build-up of oils can dirty a dishtowel you use on it to dry. Designate one old dish towel for cast iron usage so you don't get sad ruining your pretty ones!
Remember, cast iron stays hot for a long time, so use caution when going to touch it– always use a dishtowel or potholder to handle it, even 15 minutes after cooking sometimes!
If you haven't made cornbread in a skillet, it's a must-try. I use the recipe from the Homesick Texan.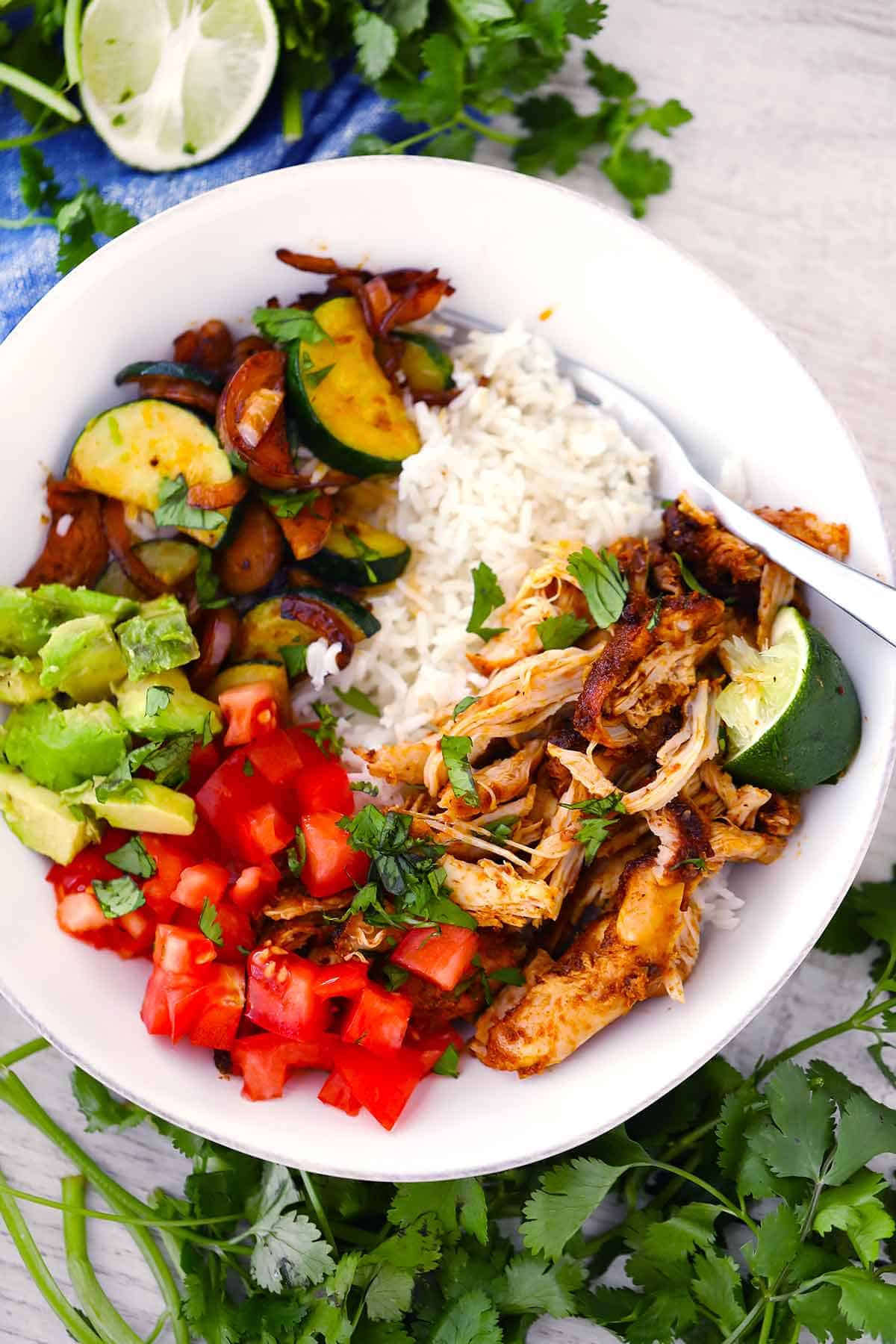 Now, go! Be brave! Use your skillet!
I hope I have at least started to convince you to get yourself a cast iron skillet and begin using it, but the only way to be 100% sold is to try it yourself! You may want to bookmark this page so you can refer back to it if you run into any issues. In addition, please feel free to leave comments below with other tips and tricks that I did not mention, or questions if you have them!