Welcome to my new favorite lunch, and hopefully soon-to-be your favorite lunch, too!
This Mediterranean Chickpea and Feta Salad Wrap is bursting with healthy and delicious things and smothered in a yogurt-based creamy Greek dressing. It's WICKED HEALTHY and WICKED DELICIOUS! I double dog dare you to make it this week. Or next week. Or next month. As long as you make it sometime, we can still be friends :-)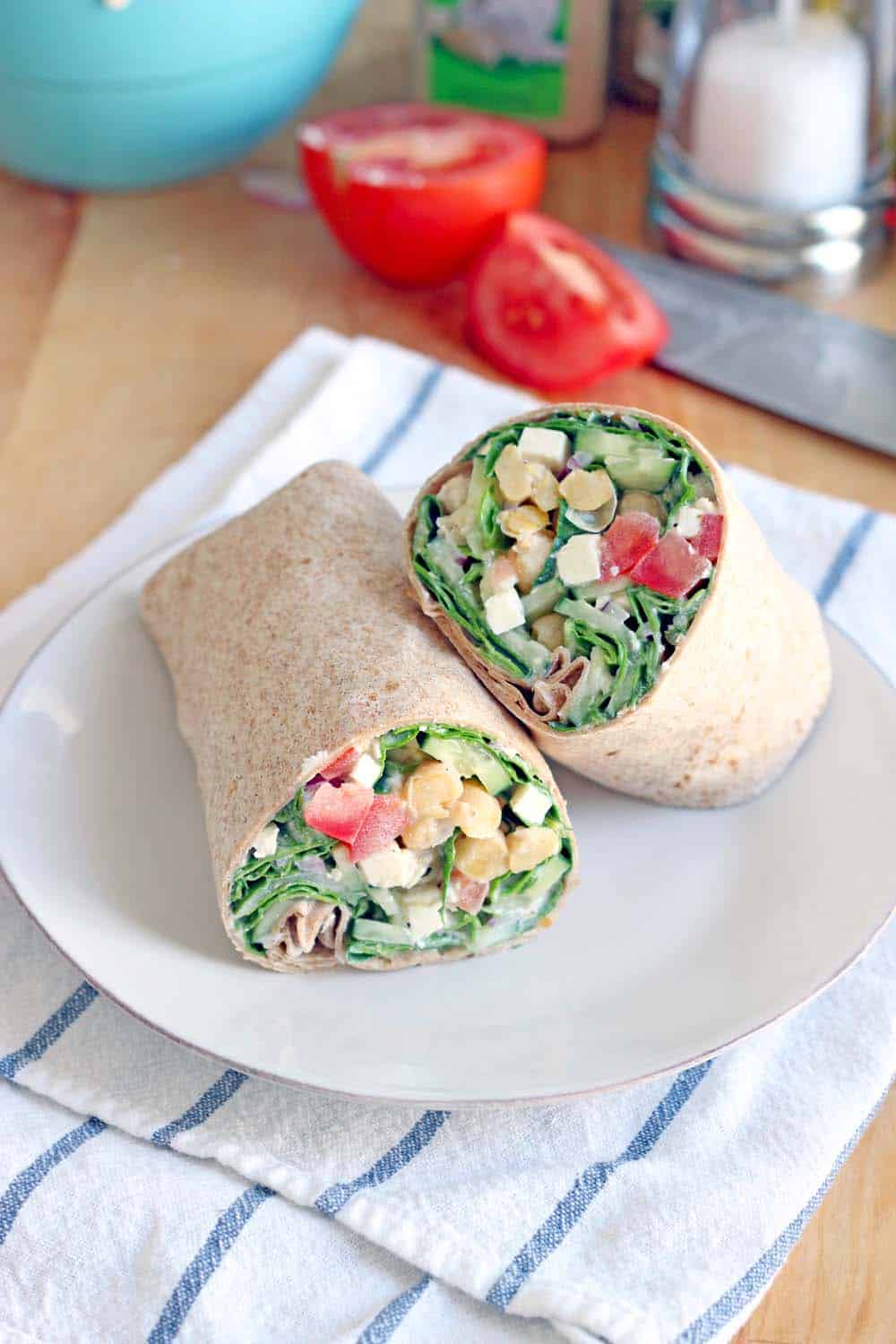 If you are anything like me, you are a bit wary of salads as a meal. I love them, but often when I eat one I am hungry again a mere half an hour after eating it (especially vegetarian ones). This salad, however, is very filling, AND vegetarian. So filling, in fact, that I was unable to finish the whole thing for lunch today! Which, come to think of it, might haven been on account of the buffalo hummus and tortilla chips I snacked on right before… but still. I am not usually one to get too full to not finish a salad. Just sayin'.
Anyway, this wrap so satisfying, yet so light and healthy, that it will keep you going all day long and won't weigh you down or make you sleepy like some other lunches can. It's refreshing from the cool crisp cucumbers and greens, and salty/tangy from the feta and creamy yogurt dressing. Yum yum yum.
So, here's the thing about putting a salad in a wrap. You should mix everything in a mixing bowl first, INCLUDING the dressing, then wrap it up in a tortilla. You know how sometimes when you get a wrap sandwich, or a burrito, you bite one side and it's REALLY GOOD, because it has all the good stuff? And then you bite the other side and it's super blah because it's just lettuce and no dressing? This method ensures that every single bite has an equal opportunity to be delicious. You'll get feta, chickpeas, vegetables, and dressing in almost every bite you take.
First, mix the dressing ingredients in a medium mixing bowl (Greek yogurt, red wine vinegar, olive oil, salt, pepper, oregano, and garlic powder). Then, add some greens (I used a mixture of baby spinach and arugula), cucumber, tomato, red onion, feta cheese, and cooked chickpeas (you could also theoretically use roasted chickpeas for this- it would give it a nice crunch and an extra burst of flavor!) to the bowl. Mix it up so the dressing coats everything, and wrap in a whole wheat tortilla like a burrito. That's it! You're done!
The whole thing takes a mere 5 minutes to make, start to finish. It's so easy, and it's the perfect thing to pack for lunch for school or work.
I have one regret: I did not add olives to mine :-( I added them to the recipe below, because they would be EXCELLENT on this sandwich, but feel free to leave them out if you are not an olive person.
Enjoy!
Mediterranean Chickpea and Feta Salad Wrap with Creamy Greek Dressing
This Mediterranean Chickpea and Feta wrap is packed full of healthy vegetables and smothered in a yogurt-based creamy Greek dressing. The perfect thing to pack to take for lunch to school or work! Plus, a special trick that ensures every single bite of this wrap includes a little bit of everything!
Save this Recipe
Saved!
Print
Pin
Rate
Ingredients
For each sandwich:
2

tablespoons

Greek yogurt

1

teaspoon

red wine vinegar

1

tablespoon

olive oil

1/4

teaspoon

oregano

1

pinch

garlic powder
kosher salt

to taste

black pepper

to taste

1/2

cup

baby spinach

or other baby greens

1/4

cup

cooked chickpeas

drained and rinsed

1/4

cup

chopped cucumber

2

slices

red onion

1/4

cup

feta cheese

chopped

1/4

cup

tomato

chopped

1/4

cup

pitted olives

chopped

1

large whole wheat tortilla wrap
Instructions
In a medium mixing bowl, whisk together yogurt, vinegar, olive oil, oregano, garlic powder, salt, and pepper. Taste and adjust seasonings if needed.

Add remaining ingredients except tortilla; mix to coat evenly in dressing.

Add mixture to the tortilla, wrap like a burrito.

Eat!
Notes
I added the measurements for the recipe, but when I made this I just estimated. This recipe is very forgiving, and you certainly don't need the exact measurements listed above :-)
The provided nutrition information does not include any added sodium from seasoning to taste, any optional ingredients, and it does not take brands into account. Feel free to calculate it yourself using this calculator or by adding the recipe to Yummly.
Nutrition
Calories:
486
kcal
|
Carbohydrates:
38
g
|
Protein:
16
g
|
Fat:
31
g
|
Saturated Fat:
9
g
|
Cholesterol:
35
mg
|
Sodium:
1371
mg
|
Potassium:
359
mg
|
Fiber:
7
g
|
Sugar:
7
g
|
Vitamin A:
2008
IU
|
Vitamin C:
12
mg
|
Calcium:
346
mg
|
Iron:
2
mg
Nutrition Information Disclaimer
The provided nutrition information is my best estimate and does not include any added sodium from seasoning to taste, any optional ingredients, and it does not take brands into account. I use an automatic API to calculate this information. Feel free to calculate it yourself using one of these tools:
Very Well Fit Nutrition Information Calculator