I can't believe these oven-fried chicken tenders take only thirty minutes, use only THREE INGREDIENTS, and come out perfectly golden, crispy, and with all the taste of fried chicken without the hassle of deep-frying. They're perfect for kids and adults alike!
You can cut them up and throw them in one of those salad kits from the store for an easy dinner. Or toss them in buffalo sauce and make the best buffalo chicken sandwich in the world. You can eat them with fries and ketchup. Or can cut them up and put them in chicken salad.
These oven-fried chicken tenders are SO versatile, and SO delicious.
And they're simple- super simple. I don't want you going into this recipe thinking you're going to get some gourmet delicacy. These chicken fingers are like what you get in your traditional state-fair "chicken tender basket." The kind you get at a ski lodge or theme park.
Because sometimes, you just need some simple kid-friendly comfort food in your life, no matter how old you are.
If I'm being honest, I didn't even give one bite of these to my kids. Zach and I ate them all. And I have no regrets.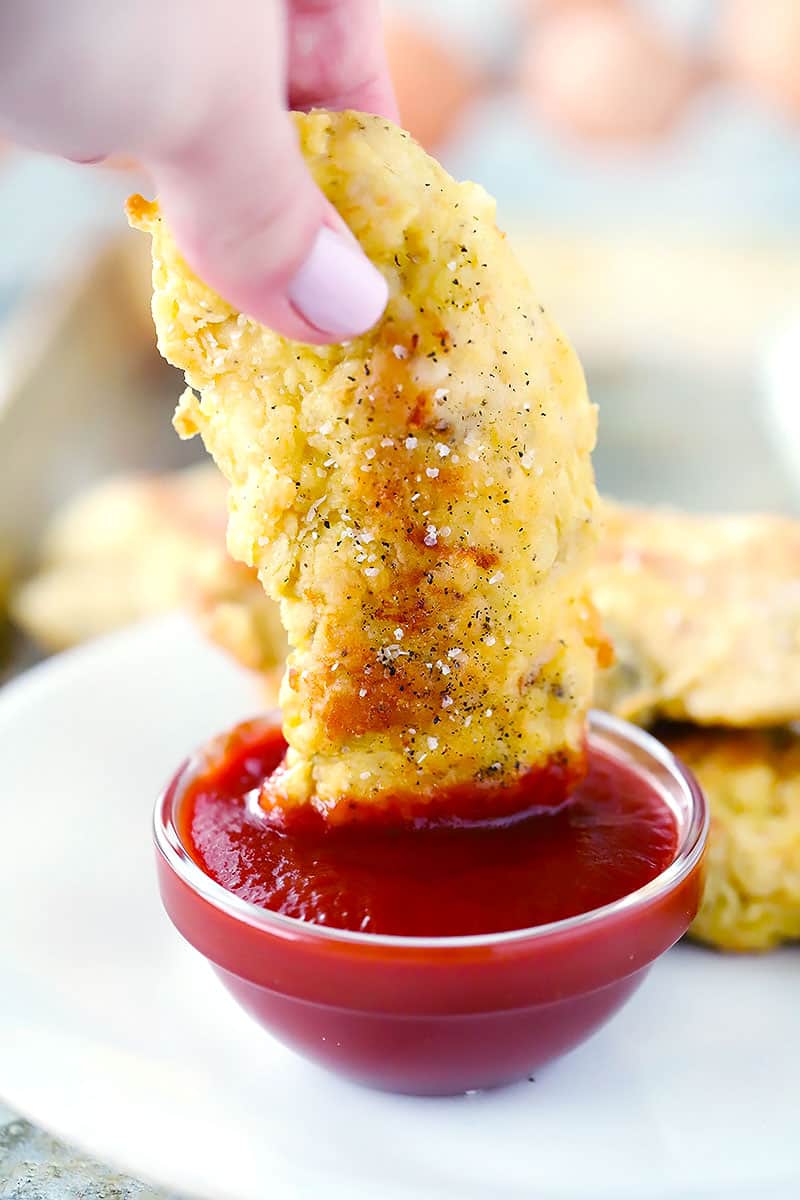 How to make Oven-Fried Chicken Tenders with only THREE ingredients!
The only three ingredients you need for these oven-fried chicken tenders are: chicken (duh), flour, and eggs. I'm not counting oil, salt, and pepper in there, since I'm assuming you already have them.
Told you these were simple.
Since there aren't a lot of ingredients happening here, you need to make sure you use PLENTY of salt and pepper to ensure they are seasoned enough. In fact, I seasoned these chicken fingers three times!
First, I seasoned the chicken directly with some kosher salt and black pepper. It's easiest to evenly distribute the seasoning if you use your hands to rub it into the chicken.
But if getting that intimate with raw chicken weirds you out, you can always use a spoon, or sprinkle the salt and pepper evenly over the surfaces of the chicken.
Then, I beat two eggs and added salt and pepper to them as well.
Coat each piece of chicken in some egg, then dredge in plain flour. Then, back into the egg, and back into the flour, shaking off any excess.
Place the chicken on a well-greased rimmed baking sheet, then flip it over so the top is oiled. This will help crisp it up- more on that in a moment.
Bake them for 10 minutes, flip 'em, then bake for 10 more minutes. Done! SO easy!
And when they're out of the oven, go ahead and give them a little bit more salt and pepper love. Just in case.
How to get CRISPY oven-fried chicken tenders
It IS possible for these oven-fried chicken tenders to get nice and crispy and golden!
But first, a disclaimer: NOTHING will make chicken tenders as crispy as actually deep frying them. So go ahead and temper your expectations just a tad.
The key to crispy oven-fried anything is using plenty of oil and high heat. I use this same trick for my oven-fried catfish.
Place 1/4 cup canola oil on the bottom of a rimmed baking sheet. Spread it around just a little, but no need to coat the whole thing, only the part where the chicken is going to be in the center.
Then, when you place the chicken on the baking sheet, press it down into the oil and flip it over, so the top AND bottom are oiled. This will help each side crisp up as it bakes at a really high temperature in the oven.
You can also add other ingredients to your flour mixture that are naturally more crispy, such as breadcrumbs or parmesan cheese. Personally, I think that although these add a bit of a crunch, it's a different kind of crispy than you get from that "fried" crisp. They are delicious, though!
What else can I add to these chicken tenders?
While we're on the topic of adding ingredients to these simple chicken tenders, here are a few suggestions.
Add herbs, like parsley, thyme, or oregano, or spices like garlic, minced onion, creole seasoning, etc. to the egg or flour mixture to spice things up a bit.
Add hot sauce to the egg mixture if you like heat.
After you're done cooking them, toss the chicken fingers in buffalo sauce or BBQ sauce. YUM.
This is such a simple, basic recipe, that it's really easy to go in and make it your own!
And if you're looking for a gluten-free, grain-free, lower-carb, paleo version of these, you can use almond flour instead of all-purpose. Try these Paleo Oven-Fried Chicken Tenders.
If you like these Three-Ingredient Crispy Oven Fried Chicken Tenders, you'll love these other minimalistic recipes: Two-Ingredient Cripsy Oven Baked BBQ Chicken, this Four Ingredient Southern-Style Oven Fried Catfish, and Two-Ingredient Dairy Free Rice Pudding.
And here's an awesome homemade honey mustard sauce for dipping.
Here's the recipe!
Three-Ingredient Crispy Oven Fried Chicken Tenders
You only need THREE ingredients, plus a little oil, salt, and pepper, to make perfectly golden, battered, simple oven-fried chicken tenders. Cut them up for salads, sandwiches, or eat them with fries and ketchup!
Save this Recipe
Saved!
Print
Pin
Rate
Instructions
Preheat oven to 425 degrees F.

Pour oil (1/4 cup) onto rimmed baking sheet and spread around so it coats the center- no need to go all the way to the edges. You want it to be a thick coating.

Season the chicken with 1/2 teaspoon kosher salt and 1/4 teaspoon black pepper. Make sure it's evenly coated on the chicken by using your hands to mix it together, or stirring thoroughly with a spoon.

Beat the two eggs well with the 1/2 teaspoon kosher salt and 1/4 teaspoon black pepper in a shallow bowl.

Put the flour (3/4 cup) in another shallow bowl.

Coat one chicken tender in the egg, then dredge in the flour, shaking off any excess. Then, coat again in the egg and dredge again in the flour.

Add the chicken tender to the prepared baking pan, pressing down to coat the bottom in the oil. Then, flip it over, so the top is covered in oil.

Repeat with remaining chicken tenders.

Bake for 10 minutes at 425 degrees. Flip each chicken tender, being careful to remove each with a spatula thoroughly so you don't lose any batter. Bake for another 10 minutes.

Season lightly with a little bit more salt and pepper right after they come out of the oven.
Notes
Money Saving Tip: You can use chicken thighs instead of breast cutlets if you want- just cut them lengthwise into thin pieces.
Time Saving Tip: I recommend buying chicken breast tenders already cut so you don't have to spend time doing it yourself.
You can add herbs, breadcrumbs, or parmesan cheese to the flour mixture, spices or hot sauce to the egg mixture… this recipe is very basic and can be modified easily!
Looking for a paleo, lower carb, or gluten-free option? Try these Paleo Oven-Fried Chicken Fingers.
The provided nutrition information does not include any added sodium from seasoning to taste, any optional ingredients, and it does not take brands into account. Feel free to calculate it yourself using this calculator or by adding the recipe to Yummly.
Nutrition
Serving:
2
chicken tenders
|
Calories:
370
kcal
|
Carbohydrates:
18
g
|
Protein:
29
g
|
Fat:
19
g
|
Saturated Fat:
2
g
|
Cholesterol:
154
mg
|
Sodium:
163
mg
|
Potassium:
475
mg
|
Fiber:
1
g
|
Sugar:
1
g
|
Vitamin A:
155
IU
|
Vitamin C:
1.3
mg
|
Calcium:
22
mg
|
Iron:
1.9
mg
Nutrition Information Disclaimer
The provided nutrition information is my best estimate and does not include any added sodium from seasoning to taste, any optional ingredients, and it does not take brands into account. I use an automatic API to calculate this information. Feel free to calculate it yourself using one of these tools:
Very Well Fit Nutrition Information Calculator