This Mexican Pulled (or shredded) Chicken is an easy, healthy recipe to add to burritos, tacos, enchiladas, or served as a main course. Chicken thighs are marinated in a smoky, flavorful spice mixture and seared, creating the most delicious crispy, crunchy browned bits, then shredded with two forks.
This is the only chicken recipe you will ever need for all your Mexican-inspired recipe needs. It's absolutely delicious eaten on its own, in enchiladas or tacos, on salads, in even soup.
I like sautéing veggies in the skillet after the chicken cooks and serving everything on top of rice with chopped tomato and avocado for a healthy burrito bowl.
And it's the perfect thing to cook in bulk to enjoy in different ways throughout the week!
I set out to recreate Chipotle's grilled chicken to make homemade burrito bowls and, after doing some research on copycat recipes, found myself without a vital ingredient: chipotle peppers in adobo. To get a similarly smoky taste, I used smoked paprika in the marinade instead, along with ground coriander, cumin, and garlic powder.
Using boneless, skinless chicken thighs ensures juicy, tender shredded meat that cooks up quickly, and I love that they're inexpensive. But you can use chicken breasts as well.
How to make Mexican Shredded Chicken
Just marinate the chicken, sear on each side in a skillet until cooked, and pull the meat apart with two forks! It's super easy. Here are the details.
First, mix the marinade– a combination of olive oil, smoked paprika, ground coriander, ground cumin, garlic powder, salt, pepper, and lime juice and zest.
Then, coat the chicken in the marinade. I like pouring the marinade over the chicken in a glass container with a lid, but you can use a bowl or even a gallon sized plastic bag. Make sure all the chicken is evenly coated– the marinade is very thick.
Allow the chicken to marinate for at least 20 minutes, but if you're a planner, a few hours and up to 24 hours is best for the most flavor.
Sear the chicken in a nonstick skillet on each side for 5-7 minutes. I did this on medium-high heat to start, then had to turn the heat down to medium because my burners are very hot. Keep an eye on it and make sure it's not burning. Cook for another 10 minutes or so.
Once the chicken is fully cooked, remove it to a cutting board and allow to rest for at least 5 minutes. This will help redistribute the juices and keep things moist.
Finally, use two forks to shred the chicken into small pieces.
If you like, you can add the shredded chicken back into the skillet to coat in the cooking juices. This will add more flavor. I recommend tasting it first though, as the marinade is strong and the chicken is probably already very flavorful.
Instead, I like to use what's left in the skillet for sautéing vegetables, like zucchini and summer squash, to go with this Mexican pulled chicken.
Ingredient Substitutions
Lemon or orange zest and juice can be used instead of lime. If using orange, it will add sugar, so keep an eye on it when it cooks as it may have a tendency to burn faster.
Ground coriander can be omitted- the most important spices are the smoked paprika, cumin, and garlic.
If you like things spicy, try substituting 1 teaspoon of the smoked paprika with chipotle pepper powder, or adding 1/4-1/2 teaspoon cayenne pepper to the marinade.
Chicken breasts may be substituted for chicken thighs (see below).
Can I use breasts instead of thighs?
Yes, but keep in mind, chicken breasts are easier to overcook and can become dry.
I recommend cutting breasts into smaller pieces, about 2-3 inches in size, to cut down on cooking time. Or, you can use chicken cutlets instead of full breasts.
I also recommend searing for less time on each side, and then covering the skillet. Continue to cook on medium or medium-low heat until they're cooked all the way through. This will trap the steam inside and help keep things juicy.
Finally, they will need less time to cook overall if you cut them into smaller pieces. After searing for 3-5 minutes on each side, cook covered for about 10 minutes and check for doneness. Keep an eye on them so they don't overcook.
What if I don't have a nonstick skillet?
I recommend a 12-inch nonstick skillet for this pulled chicken recipe, but if you don't have one, no worries!
With a nonstick, the oil in the marinade is enough for cooking the chicken. If using a cast iron, stainless steel, or other skillet, just add a little more oil to the skillet before searing.
Be sure to heat cast iron well before adding the chicken to get a good sear. It can take a few minutes to fully heat a cast iron skillet. You'll know it's hot when you can't hold your hand a couple inches away from the surface for more than a few seconds.
And finally, if your skillet is smaller than 12-inches, you may need to cook the chicken in 2 batches. If there isn't enough surface area for each piece, you won't be able to get a good sear on the chicken.
How to serve Mexican Pulled Chicken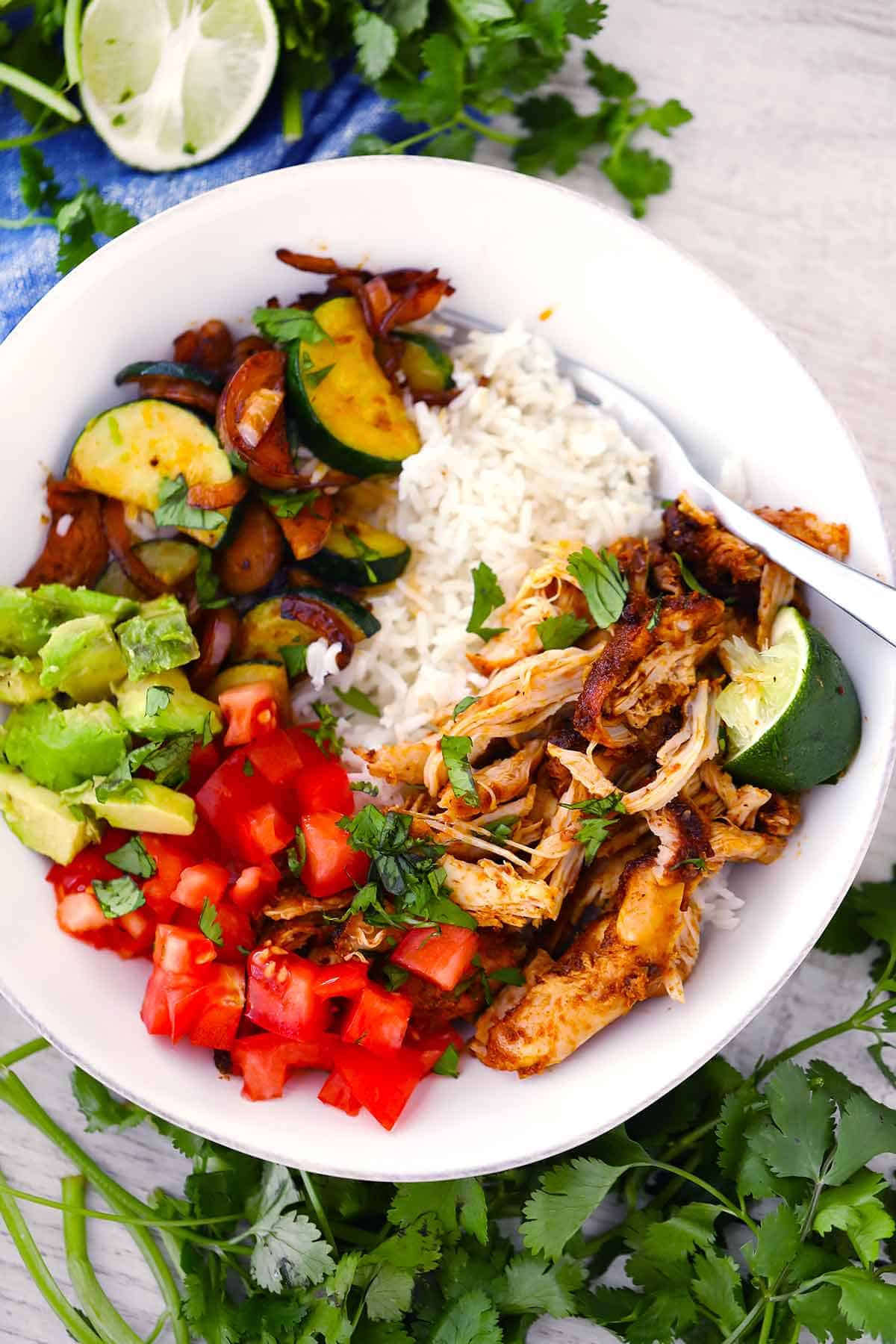 Other easy chicken recipes
Browse all my low carb recipes here.
Did you know commenting and rating recipes is one of the best ways you can support your favorite food bloggers? If you made this Mexican pulled chicken recipe, please click the stars below to comment and Rate this Recipe!
Mexican Pulled (Shredded) Chicken
This Mexican Pulled Chicken is juicy and smoky- tender chicken thighs are shredded with two forks, perfect for burrito bowls, tacos, enchiladas, and more!
Save this Recipe
Saved!
Print
Pin
Rate
Instructions
Mix the olive oil (2 tablespoons), smoked paprika (1 tablespoon), ground coriander (1 teaspoon), ground cumin (1 teaspoon), garlic powder (1 teaspoon), kosher salt (1 teaspoon), black pepper (1/2 teaspoon), and lime juice and zest (from one lime) in a small bowl or glass measuring cup.

Place the chicken thighs in a container, bowl, or large plastic bag. Pour the marinade on top (it will be thick) and or stir to coat each piece of chicken evenly (if in a bag, just smoosh it around until everything is evenly coated). Cover and refrigerate for at least 20 minutes, or as long as 24 hours.

Heat a large (12-inch) non-stick skillet over medium high heat (see notes for other skillets). Add marinated chicken; sear without moving on one side for 5-7 minutes (check that it's not burning after 2-3 minutes- you may want to turn the heat down to medium if you have very hot burners or flip it earlier if it's cooking fast).

Once the seared side is browned and looking crispy, flip to other side and sear, until chicken is cooked through to 165 degrees F or meat is no longer pink (another 5-10 minutes, depending on thickness and size of chicken. Turn the heat down to medium or medium-low if both sides are seared but inside is not yet cooked the whole way). If you have a lid to your skillet, you can cover it to speed up the cooking time a bit.

Remove chicken from skillet to a cutting board. Allow to rest for 5 minutes, then shred with two forks. Optional: for an extra punch of flavor, you can return the shredded chicken to the skillet to coat in the cooking juices.

Serve with a squeeze of fresh lime juice garnished with fresh cilantro, if desired. Use in enchiladas, on tacos or burritos, in bowls, or on its own as a main course.
Notes
To use boneless chicken breasts, I recommend a few adjustments to cut down on cooking time so they aren't dry. First, cut them into small pieces about 2-3 inches in size. Sear them for 3-5 minutes on each side to get a browned, crispy crust, then turn the heat down to medium or medium low and cover the skillet (if you have one) to keep the steam in and help keep them juicy. Cook like this for about 10 more minutes, then check the temperature to see if they are done. If not, check again frequently so you don't overcook them.
To use a cast iron, stainless steel, or other nonstick skillet, add 1-2 more tablespoons of olive oil to the skillet and swirl to coat before searing the chicken.
Ingredient substitutions: Lemon may be substituted for lime, ground coriander may be omitted if you don't have any, 2 cloves fresh minced garlic may be substituted for garlic powder.
Storage: This shredded chicken will stay good in an airtight container in the fridge for about 3 days. Freeze completely cooled shredded chicken for up to 4 months in a sealed zip top bag with as much air squeezed out as possible (or in an airtight container filled up almost full) and defrost for 24 hours in the fridge before you're planning on using it.
Nutrition
Calories:
184
kcal
|
Carbohydrates:
1
g
|
Protein:
22
g
|
Fat:
10
g
|
Saturated Fat:
2
g
|
Cholesterol:
108
mg
|
Sodium:
490
mg
|
Potassium:
316
mg
|
Fiber:
1
g
|
Sugar:
1
g
|
Vitamin A:
602
IU
|
Calcium:
18
mg
|
Iron:
1
mg
Nutrition Information Disclaimer
The provided nutrition information is my best estimate and does not include any added sodium from seasoning to taste, any optional ingredients, and it does not take brands into account. I use an automatic API to calculate this information. Feel free to calculate it yourself using one of these tools:
Very Well Fit Nutrition Information Calculator
This post originally appeared on Bowl of Delicious in April, 2014. It has been republished with new photos, improved recipe instructions, and more pertinent information.