It's a good thing I live in Texas, because I loveeee Mexican food. Is there anything better than enchiladas smothered in awesome sauce and lots of melty cheese? Answer: no.
But then, there are the sides. Ever since doing the Whole30 in the beginning of this year, I've been trying to stick to a Paleo(ish) diet. And unfortunately, the traditional rice and beans that so frequently are served with Mexican food do not fit the bill.
I needed a low-carb, veggie based side to serve with Mexican food.
This Roasted Mexican Zucchini blows away any Spanish rice I've ever had. It's bursting with flavor- spicy, savory, and slightly smoky.
And it's healthy, low carb, Paleo (if you don't include the cheese), and a great alternative as a side to traditional rice and beans.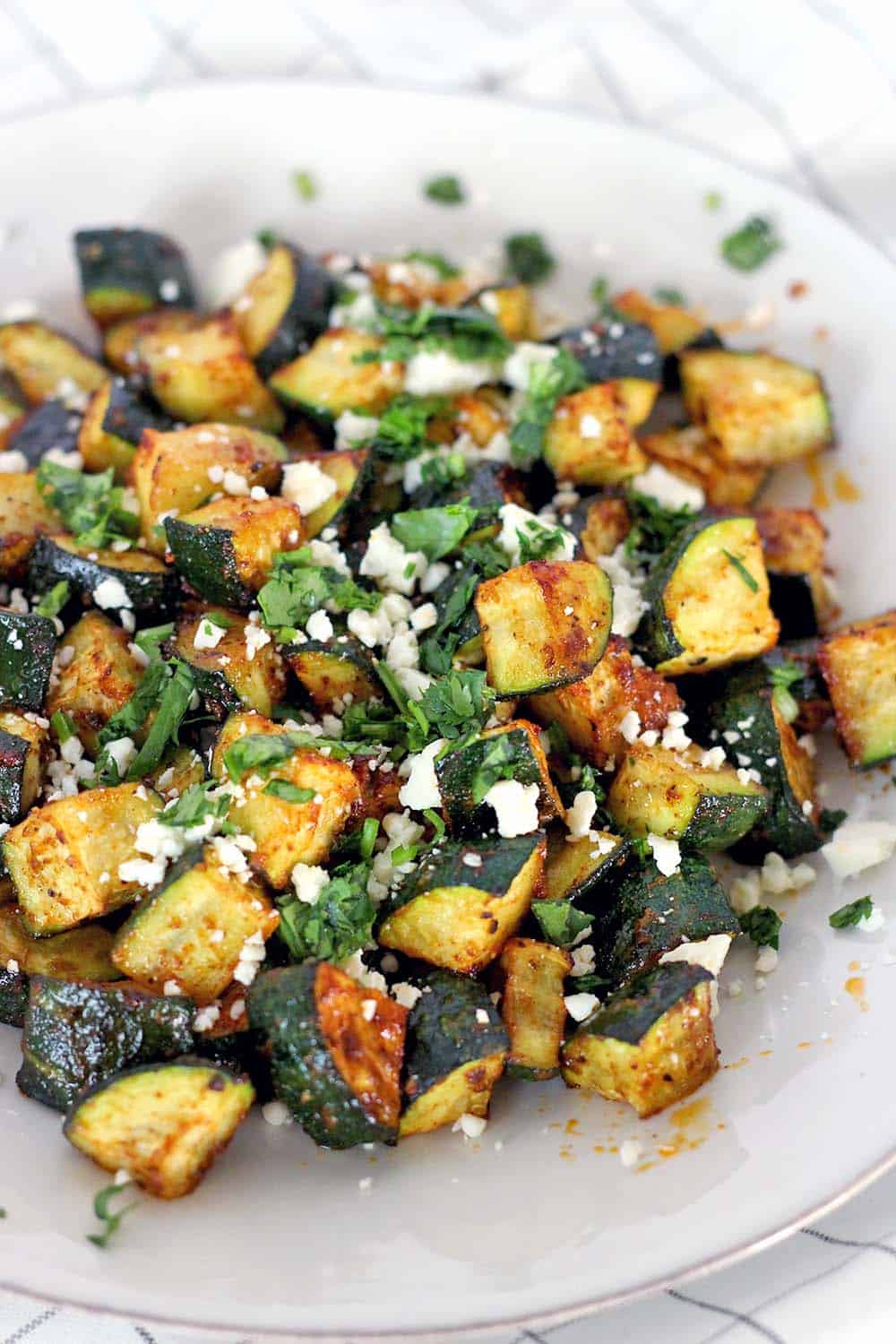 I want to talk about this cotija cheese for a minute, and cheese in general.
The Paleo diet does not allow for grains, legumes, dairy, or refined sugars. This, sadly, means no cheese. That is- if you are strict about it.
But doing the Whole30 taught me to recognize exactly which foods caused me distress- whether it was through indigestion/bloating, weight gain, mood swings, or decreased energy.
I found that the foods that were higher in carbs- grains, sugars, and legumes- affected me much more than dairy.
So while I am trying my hardest to be grain free (for the most part), I am pretty relaxed on the cheese front. I don't want to imagine my life without cheese. It's too sad to think about.
So, inspired by Mexican street corn (which, by the way, is absolutely delicious), I sprinkled a moderate helping of cotija cheese on top of this roasted zucchini.
Don't get me wrong: the zucchini is delicious on its own.
But the salty crumbly farmers cheese crumbled on top of it gives it an extra zing.
If you've never had cotija cheese, be prepared for your life to change. It's like feta but… (dare I say it?)… BETTER. My Greek ancestors are probably rolling in their graves right now.
It's a bit dryer and harder than feta, which makes it crumble much easier. It's salty and has a similar simple taste to feta, but the flavor seems more concentrated.
Kind of like feta and parmesan had a baby. It's inexpensive, lasts forever in the fridge (seriously- like a month or more), and a little goes a long way.
Put it on tacos, put it on veggies, put it in a salad, or eat it in slices while you are waiting for this zucchini to roast (ahem).
So do yourself a favor: next time you make your favorite Mexican meal (if you need a starting place, try these slow cooker carnitas tacos or this Quick and Easy Black Beans and Rice), make this zucchini to go on the side.
Cotija cheese or not, it will be a delicious complement to whatever you choose to make!
Recipe below, as well as the products I recommend for making this. Enjoy :-)


Roasted Mexican Zucchini
A low-carb side to any Mexican dish- a great alternative to rice and beans! Easy to make and and jam-packed with flavor similar to Mexican street corn.
Print
Pin
Rate / Comment
Ingredients
3-4

medium zucchini

diced

2

tablespoons

olive oil

1/2

teaspoon

chili powder

1/2

teaspoon

garlic powder

1/8

teaspoon

cayenne pepper

salt and pepper

to taste

Crumbled cotija cheese

lime juice, and/or fresh cilantro, for garnish (optional, but highly recommended)
Instructions
Preheat oven to 425 degrees F and line a rimmed baking sheet with parchment paper.

In a medium bowl, mix zucchini, olive oil, chili powder, garlic powder, cayenne pepper, and salt/pepper until well coated.

Spread evenly on baking sheet and roast for 25 minutes, or until zucchini is browned.

Serve sprinkled with lime juice, cotija cheese, and chopped fresh cilantro, if desired.