I just made a huge batch of my favorite chicken salad, and as much as I want to make sandwiches out of this Awesome Chicken Salad with Grapes and Walnuts for the rest of the week, I'm not sure it's going to last as I keep visiting the refrigerator for spoonfuls of it. It has the PERFECT sweet/salty flavor, with a wonderful crunchy texture and might just be the most perfect chicken salad in the world.
This chicken salad recipe was inspired by a sandwich at Galaxy Cafe in Austin, and includes grapes, celery, and walnuts. It's simple, and easy to make in bulk on the weekend so you can have sandwiches or lettuce wraps (or spoonfuls) all week. It's the perfect weekend meal prep recipe.
Sometimes, I substitute sour cream for mayo, like in homemade ranch dressing. For this chicken salad, you can use mayo, sour cream, or a mixture of both.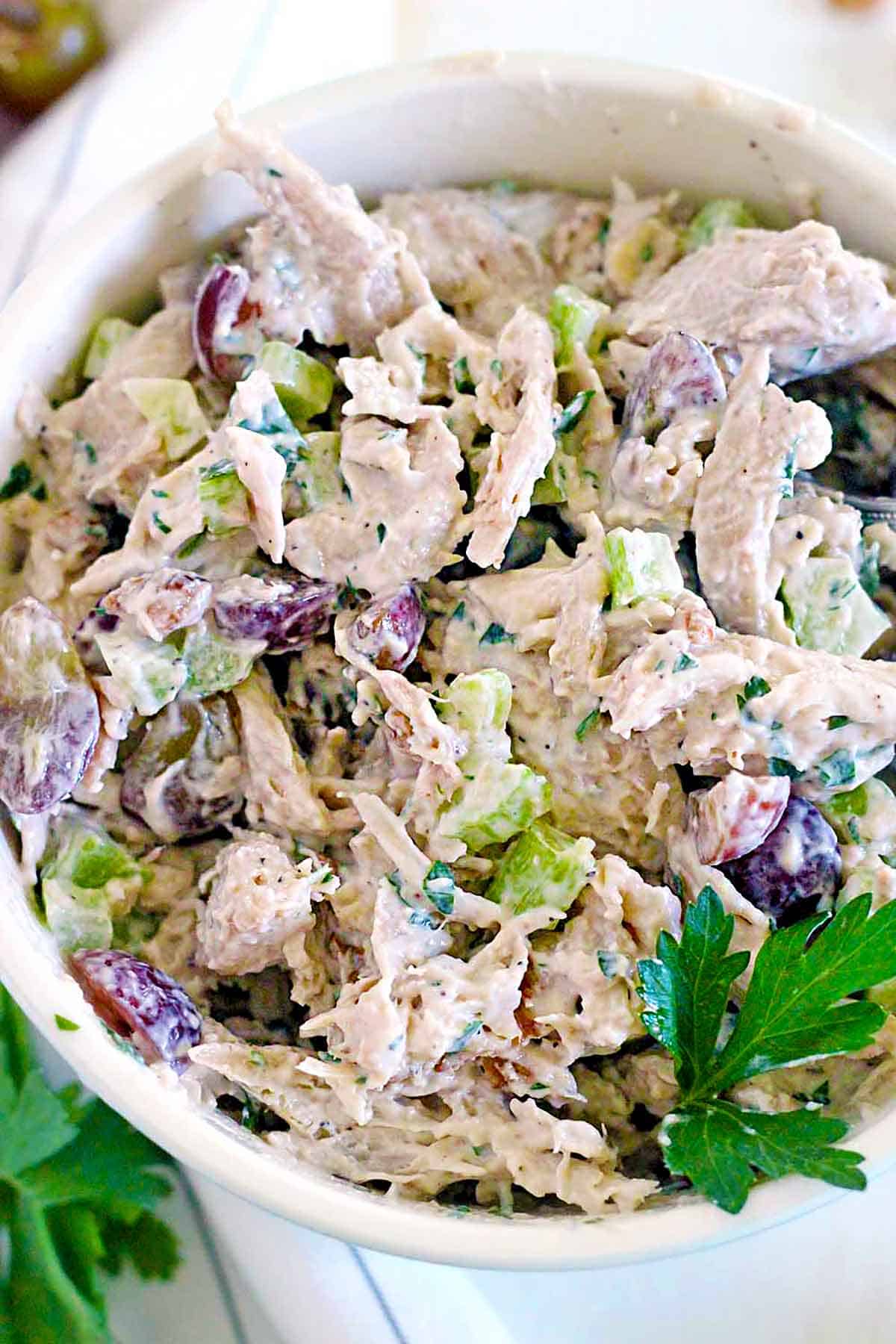 You will need about 1 pound of cooked chicken. I sometimes grill mine on my cast iron grill by brushing with olive oil and adding salt and pepper to each side. This time, I just used leftover rotisserie chicken from the store. You can use leftover roast chicken, or whatever cooked chicken meat you have.
Here's a tip: shred the chicken. Don't chop, shred. I used two forks to do this. When you shred it, there is more surface for the sauce to stick to, and it will stay in your sandwich better without falling out the sides as much. Physics, people.
Quarter some red grapes and slice some celery very thinly. Add them to a large bowl, along with some chopped walnuts.
Add to the bowl 2/3 cup of mayo or sour cream, or 1/3 cup of each. Season with salt and pepper to taste, and mix. Add the shredded chicken to the bowl and mix well.
Go ahead, try a spoonful. Or 7.
This recipe makes a bulk batch of chicken salad with grapes and walnuts, which is enough for 6-8 sandwiches. Elizabeth-sized sandwiches. I don't mess around. If you want less, adjust the ingredients accordingly :-)
Print
Awesome Chicken Salad (with grapes and walnuts)
This simple chicken salad with grapes and walnuts is the perfect meal prep recipe for delicious sandwiches all week. Serve on bread or lettuce wraps for a low carb, paleo option.
Author:
Prep Time:

10 mins

Total Time:

10 mins

Yield:

6
Ingredients
1 lb. cooked chicken, shredded (I used rotisserie)
2/3 cup mayonnaise, sour cream, or a mixture of both
1/2 cup quartered red grapes
1/2 cup finely sliced celery
1/4 cup chopped walnuts
salt and pepper to taste
Instructions
If necessary, cook and shred chicken with two forks. Allow to cool.
In a large bowl, mix grapes, celery, walnuts, mayo or sour cream, and salt and pepper to taste.
Add cooled shredded chicken and mix.
Serve on sandwiches with toasted bread or on top of a green salad.
Notes
This recipe makes chicken salad in bulk. For a smaller portion, reduce amounts accordingly.