This easy Whole Roast Chicken Recipe is cooked to crispy-skin perfection in a Dutch Oven with Lemon, Garlic, and Rosemary Butter slathered on every bite! Add potatoes to the bottom of the pan and you've got yourself a complete, one-pot meal.
This is my favorite recipe for roast chicken. Cooking it in a dutch oven ensures the chicken is moist and flavorful, but still gets that awesome golden-brown, crispy skin.
Here's what I LOVE about this roast chicken recipe:
It uses only five ingredients (assuming you already have butter, salt, and pepper);
The flavor combination of lemon, garlic, and rosemary creates amazing flavor;
There is no waste– the lemon zest, juice, and rinds are used, as well as the onion, garlic, and rosemary scraps;
While it takes a while to roast in the oven, the prep time is only 10-15 minutes!
You can add potatoes to the bottom of the pan to cook and soak up all those delicious juices while the chicken roasts for an easy one-pot meal. YUM!
And the other thing? A whole roast chicken is a foolproof way to impress people. This recipe comes out gorgeous every time, and it's perfect for a dinner party or date but also easy enough to make for your family on a whim.
Tips for making the BEST Whole Roast Chicken
Pat the chicken dry. This will help the skin crisp up to perfection.
Season the cavity. Add a LOT of salt and pepper inside, and stuff it with the lemon rinds, rosemary sprigs and stems, garlic scraps, and onion scraps. This will help keep it moist and flavor it from the inside out.
Add the butter mixture under AND over the breast skin. Use your hands for this (then give them a good wash). It's important to spread the mixture liberally over the entire chicken (every nook and cranny). In addition, I separate the skin from the top of the breast and spread some of the butter underneath, being careful not to tear the skin (intact skin helps the meat stay moist since it keeps the juices in). This creates extra crispy skin and helps flavor the meat better.
Truss the chicken. Not in a complicated way- I just tie the legs tightly together using kitchen twine. This helps keep everything nice and neat and compact for even, consistent cooking. If the legs splay out too much, they will cook too quickly, causing them to become dry.
Roast high, then low. Roast the chicken at 475 for 15 minutes- this gets the crispy skin process going. Then, turn the heat down and roast at 350 for approximately 20 minutes per pound, or until the internal temperature reaches 165 degrees (I stick my meat thermometer into the thickest part of the breast as far as it will go, then retract it just a little so it's not touching the bone. It won't read accurately if it is touching a bone)
Let it sit for at least 10 minutes when it's done. This will ensure that a) the chicken isn't too hot to handle when you carve it, and b) that the juices have a chance to redistribute. If you cut into it too quickly, the juices will escape too fast and the chicken will become dry.
Roasting a Whole Chicken in your Dutch Oven
I have a blue Cuisinart Classic Enameled Cast Iron 5-1/2-Quart Oval
dutch oven, which I LOVE and HIGHLY recommend. Conveniently, it perfectly fits a chicken, and because it gets so hot on the sides , it helps roast it evenly on all sides of the chicken for awesomely crispy skin.
Here are some tips to roasting a whole chicken in your dutch oven:
Layer onions and potatoes (or another root veggie) on the bottom so you have a complete meal. The veggies will soak up all the juices as it cooks.
Keep the cover off when roasting. If the skin browns too quickly on top, you can place the cover on ajar on top to help avoid direct hot heat, or tent it with foil if the cover doesn't fit/the chicken is too tall.
By the way… a Dutch Oven is also an amazing thing to bake crusty, no knead artisan bread in!
If you don't have a Dutch Oven…
You can easily make this recipe in a large casserole dish or roasting pan using the same method!
Or, you can use your slow cooker. Just keep in mind, you won't have any crispy skin if you do this. Slather the chicken in the butter mixture, and set on top of onions (and potatoes, if you want) in your slow cooker. Cook for 4 hours on high. (more on how to cook a whole chicken in your slow cooker)
You may also be interested in another one-pan chicken recipe: Spiced Chicken and Rice with Apples and Raisins. YUM.
Don't throw the chicken bones/carcass out!
Make homemade chicken stock with them. Just store the carcass/bones in your freezer in an airtight bag or container until you're ready to make it!
Recipes to make with leftover roast chicken:
And check out these other easy recipes you can make in a dutch oven from Pinch of Yum!
Did you make this Dutch Oven Whole Roast Chicken? Please comment below and Rate this Recipe!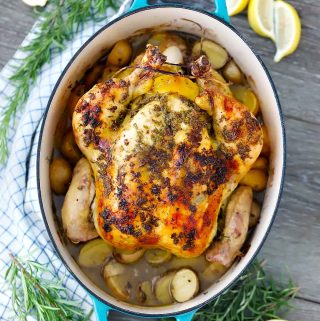 Dutch Oven Whole Roast Chicken
This easy recipe for whole roast chicken is cooked in a dutch oven and has crispy skin smothered in lemon, garlic, rosemary butter! Add potatoes for a complete one-pot meal.
Save this Recipe
Saved!
Print
Pin
Rate
Ingredients
1

whole chicken

about 4-5 lbs.

2

lemons

5

cloves

garlic

3 minced, 2 cut in half

4

sprigs fresh rosemary

3 finely chopped, 1 left whole

2

large onions

halved and thickly sliced, end scraps reserved

4

tablespoons

butter

(1/2 stick)

kosher salt

see notes

black pepper

see notes

1.5

lbs.

potatoes

cut into 1" pieces, optional
Instructions
Preheat oven to 475 degrees F.

Melt butter (4 tablespoons) in small bowl (I used my Pyrex measuring cup); add minced garlic (3 cloves), chopped rosemary (from 3 sprigs, about 2 tablespoons), the zest of the two lemons, and plenty of kosher salt and black pepper to taste. Set aside.

Prepare chicken by removing giblets from cavity and patting dry with paper towels.

Liberally season the cavity with salt and pepper. LIBERALLY.

Cut the zested lemons in half; reserve juice and save rinds.

The butter mixture will have hardened slightly by now. Using your hands, slather the mixture liberally over every part of the chicken and under the breast skin (being careful not to tear the skin).

Stuff the cavity of the chicken with the lemon rinds, onion scraps, remaining 2 garlic cloves, and rosemary sprig/stems. Place in dutch oven on top of sliced onions and potatoes, if using.

Tie the legs of the chicken together tightly using

kitchen twine

.

Pour reserved lemon juice over the chicken.

Roast chicken UNCOVERED for 15 minutes at 475, then reduce heat to 350 and cook STILL UNCOVERED for approximately 20 minutes PER POUND, or until internal temperature reaches 165 degrees (about 1.5 hours for a 4.5 lb. chicken). The chicken should be uncovered the entire time it cooks, unless it seems like it's burning (see notes).

Allow the chicken to rest for at least 10 minutes before carving.
Notes
Basting: If you want to, baste the chicken approximately halfway through cooking process. You don't have to.
Salt and pepper: You want to salt and pepper liberally- I'd say at least 1 tablespoon of kosher salt for a 4ish lb. bird (up to 2 tablespoons, if you have a larger chicken that's more like 8 lbs.). Pepper you can do to your taste- it will give it a nice kick if you use a lot (around 2 teaspoons) but you can definitely get away with only 1/2 teaspoon.
If chicken is burning: you should cook the chicken uncovered in the dutch oven, but if it starts to burn on top and the internal temperature is not high enough yet, you can place the lid on ajar to avoid direct heat and prevent further burning. Or, you can tent it with foil on top.
Other vegetables: You can add carrots or other root veggies, that take a long time to cook, in the bottom of the pan in place of or in addition to the potatoes. Note: I actually prefer to roast my potatoes/veggies separately because they get more browned, but it's super convenient to cook them in the same pot!
Slow cooker instructions: Place sliced onions in bottom of large slow cooker. Prepare chicken as directed above. Cover and cook on low for 8-9 hours or high for 4-5, until the chicken is falling off the bone. (this method will not make crispy skin, but will still be delicious!
Make it paleo/dairy free/Whole30: Use olive oil or ghee instead of butter.
The provided nutrition information does not include any added sodium from seasoning to taste, any optional ingredients, and it does not take brands into account. Feel free to calculate it yourself using this calculator or by adding the recipe to Yummly.
If you are sensitive to lemon flavor, you may want to use only 1 lemon. Same goes for if you are using extremely large or juicy lemons. Some readers have commented that the flavor is too lemony. I LOVE a really lemony chicken but no harm in cutting the amount in half if that's not your thing!
Nutrition
Calories:
554
kcal
|
Carbohydrates:
12
g
|
Protein:
37
g
|
Fat:
40
g
|
Saturated Fat:
15
g
|
Polyunsaturated Fat:
7
g
|
Monounsaturated Fat:
15
g
|
Trans Fat:
1
g
|
Cholesterol:
173
mg
|
Sodium:
237
mg
|
Potassium:
540
mg
|
Fiber:
3
g
|
Sugar:
4
g
|
Vitamin A:
659
IU
|
Vitamin C:
37
mg
|
Calcium:
61
mg
|
Iron:
2
mg
Nutrition Information Disclaimer
The provided nutrition information is my best estimate and does not include any added sodium from seasoning to taste, any optional ingredients, and it does not take brands into account. I use an automatic API to calculate this information. Feel free to calculate it yourself using one of these tools:
Very Well Fit Nutrition Information Calculator
This recipe first appeared on Bowl of Delicious as "Lemon, Garlic, and Rosemary Whole Roast Chicken." It has been updated with new photographs, clearer instructions, and the option of adding potatoes based on suggestions from reader comments.